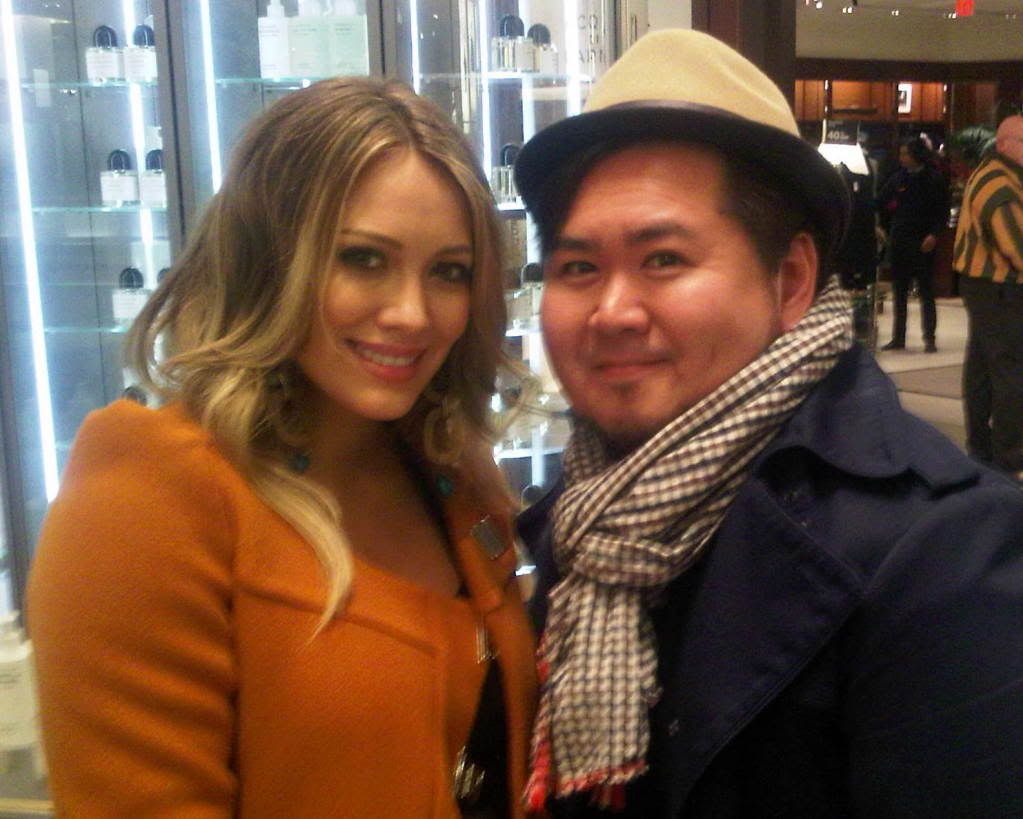 Hilary Duff & Mr. Will-W.
Well, what do ya know? Less than a day after we spot her flying into Toronto, I ran into the Multimedia Empire known as
Hilary Duff
shopping with
BFF
Leah Miller
at
Holt Renfrew
. I was headed to
Pusateri's 25th Anniversary Party
, walking along
Bloor Street,
when I saw the Duo right in front of me. Avoiding the rush of Holiday Shoppers, they did a bit of last-minute Shopping at the Luxury Retailer just before Closing Time. I must say the Mom-to-be was absolutely glowing, looking regal in her burnt orange Coat. It appears
Duff
is loving orange these days as she was seen in a large cozy Scarf
at the Airport yesterday
.
I regret not having a proper Camera, so the Blackberry Photo will have to do for now. After fumbling a bit doing a Self Portrait, Duff asked Miller to intervene and help snap the Shot for us.
The Ladies were browsing Lipsticks when I ran into them and it's good to know Duff knows where to go when she wants the best in the City! Who knows what these two BFFs will be up to next!

UPDATE: As it turns out, Duff will be appearing on the 30-minute Special E! PRESENTS: BIGGEST BREAK-UPS, HOOK-UPS & KNOCK-UPS OF 2011, premiering Friday, December 23, 2011 at 9:30 PM EST. The Special will have the BFFs chatting about the likes of Kim Kardashian, Victoria Beckham, Jessica Simpson and more.