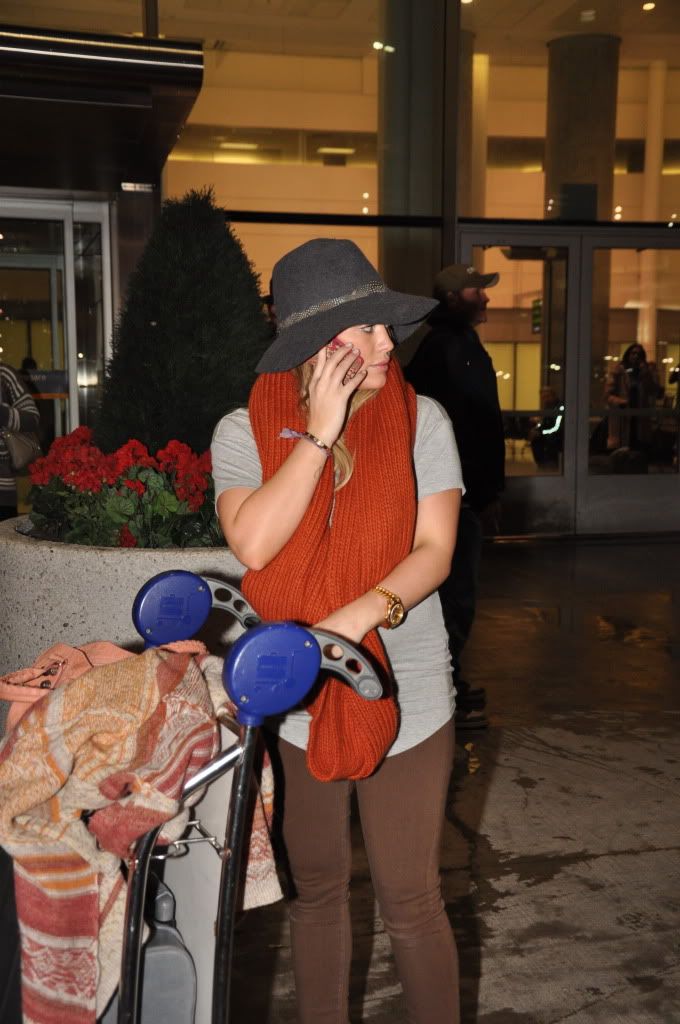 Hilary Duff in Toronto - December 2011
A v. pregnant
Hilary Duff
landed in Toronto from Los Angeles earlier tonight, flying solo to spend some quality time with her
BFF,
Canadian
TV Personality
Leah Miller
.
Duff
, who was spotted pushing her own Luggage Cart - contents spilling over - got a bit of help from the
Paparazzi
after struggling a bit on her own. Where is a Helping Hand when you need it?
Graciously
Duff
thanked the Photographers for helping her out, as is expected from the all-around lovely Multimedia Empire herself. Note that like Mommy-to-be
Jessica Simpson
, who was
just in-town this weekend
,
Duff
also is sporting a big-brimmed Hat.
Duff
is due next Spring and we know so far that the Baby (whose Father is Hockey Player
Mike Comrie
) is a Boy, but the Expectant Mother might have a few hesitations already about his Career Path.
The other day
Duff
was quoted saying, "I would support him no matter what, but I wouldn't tell him to be an Actor or Hockey Player. That would be really rough.".
Just this past March,
Duff
popped-by in Toronto after a long-delayed flight, visiting equally sweet Sister
Haylie
who was
staying with Boyfriend
Nick Zano
. At that point he was filming
ABC Family
TV Movie
, Desperately Seeking Santa
which aired just last week in the U.S.
(Photo credit: Tyrone Kerr)