Nick Zano & Mr. Will-W.
And all the Girls go screaming. Yes, that's hunky
Nick Zano
and he's now in Toronto filming an TV Movie known only as
ABC Family
's
The Untitled Santa Project
due later this year for the Holidays. Although details are pretty nil right now on what the Movie is actually about, we know that
Zano
stars as a character named
David Morretti
, while his Toronto-based Co-Star
Laura Vandervoort
stars as
Jennifer Walker
. This is one of two
ABC Family
Holiday TV Movies being filmed in the City right now alongside
12 Dates of Christmas
, which stars
Mark-Paul Gosselaar
and
Amy Smart
.
Click here
to learn more about that Production.
Filming began just yesterday for The Untitled Santa Project in a Residential area and continued today in an Office setting around Eaton Centre. And a group of Zano's Female Fan Base in Toronto were out in full force showing their support yesterday which touched him enough to Tweet today, "It was great meeting everyone yesterday, thanks for the love Toronto.". Aww!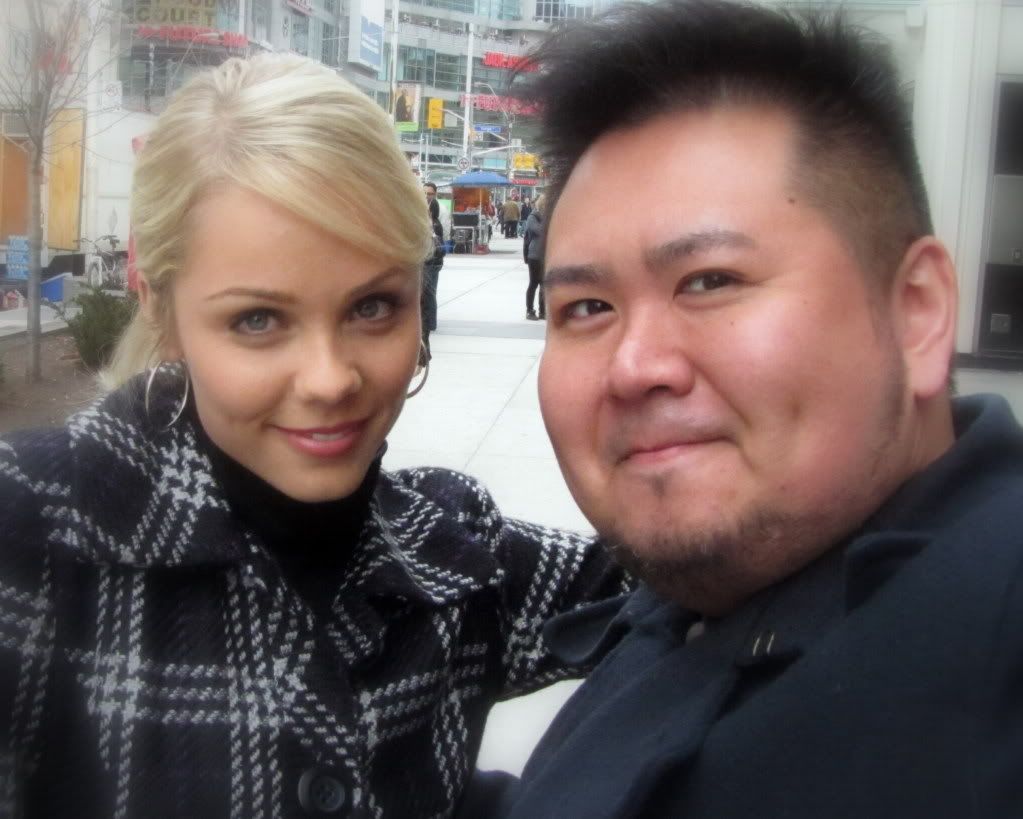 Laura Vandervoort & Mr. Will-W.
Just a couple hours before spotting Zano, I had visited the Set of The Untitled Santa Project and had the privilege of meeting the lovely Vandervoort, who is absolutely radiant in that oh, Rachel McAdams-esque way. She told me that shooting was going well for the Movie so far, however "it will be a very tight timeline, with 19 days of shooting only.". They were filming Office scenes specifically today. Vandervoort has a big title coming out later this year in This Means War, shot in Vancouver just before the Holidays with a hot Cast of Tom Hardy, Chris Pine, Reese Witherspoon and Chelsea Handler.
Myself and a couple lovely Ladies spotted Zano and his gorgeous Girlfriend Haylie Duff, older Sister of Hilary, on their way out to Dinner today and they stopped to pose for a couple Photos. Duff was touched telling us, "It's so cold out! You Guys are so sweet!", while Zano tells me that although this is his first time in the City, he exclaimed "I f.. (full stop) love Toronto!".
Haylie Duff & Mr. Will-W.
Duff
flew in Friday, spending time with Friends
Alanna Masterson
(one of
Hilary
's
BFF
s) and
Tyler Blackburn Shoe Shopping at Holt Renfrew. Masterson and Blackburn
were in-town for the Premiere of their Film,
Peach Plum Pear
at
The Female Eye Film Festival
on Saturday.
Click here
to read about that Film's Premiere.
Expect big things from Zano, who will be appearing in High School Reunion Drama Ten Year alongside Kate Mara, Jenna Dewan and Channing Tatum later this year. He also will be seen in Ass Backwards together with John Cryer and Alicia Silverstone, while Duff stars in intriguing Romantic Comedy Slightly Single in L.A. together with Dewan too later in the year.
(Photo credit: Mr. Will-W.)