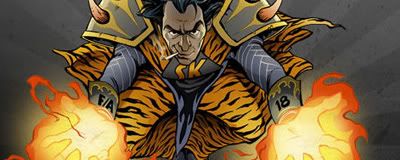 Official Charlie Sheen Tour Animation
Troubled Charlie Sheen as we all know is taking his Violent Torpedo of Truth/Defeat Tour throughout North America and a Toronto stop-off was announced last week for Thursday, April 14, 2011. A second show was added for Friday, April 15, 2011 also.
Prices were just listed on Ticketmaster and range from $93 to $123. Really there isn't a bad seat in the house at Massey Hall as it is an intimate venue, but get this - a VIP Package is available for his die-hard Fans at a ridiculous $750.00 plus applicable Ticketmaster fees.
The package includes the following:
One premium, reserved ticket located in the first 10 rows of the stage
Exclusive Meet & Greet with Charlie Sheen
Personal photograph with Charlie Sheen
Autographed 8x10 photo
Collectible Tour Poster (limited edition, numbered)
Official Meet and Greet Laminate
In case there was any doubt Charlie Sheen was a nice guy, it is noted that $1.00 from each Ticket sold will be donated towards the Japanese Earthquake Relief Fund. Good to see you're showing some kindness in your heart Charlie - now how about some respect towards Women and Yourself for once?
Is anybody actually with me in thinking this Tour might actually get canceled before it's completed? As one Mr. Will-W.:Pop Maven reader commented to me on Twitter yesterday, "Addicts can't commit" and I can't agree more.
If you still want to give an interest-free loan to
Charlie Sheen
you can purchase your Ticket
here
. You've been warned....