Selena Gomez in Toronto - August 2011
If you asked me what I thought of Selena Gomez earlier this year, I honestly didn't have much of an opinion on her. Like rapid wildfire though, the 19 year-old has become one of my new favourite Entertainers. I absolutely adored her in this Summer's Monte Carlo alongside the likes of Leighton Meester, Cory Monteith and Katie Cassidy and even more so, her latest Album When the Sun Goes Down from Universal Music Canada, has been on repeat since I discovered it in July. Who would've known?
Persistently I had sought-out tickets to her sold-out Molson Amphitheatre show last night but had little luck. Luckily though, two additional Ontario dates have been announced for both Oshawa and Hamilton later this year, so there is hope yet!
Gomez
arrived in Toronto on Monday morning along with Boyfriend/Megastar
Justin Bieber
staying in the City's
Yorkville
area. And despite some devout Fans camping outside their Hotel for two days,
Gomez
was relatively low-key during her stay. Although some lucky Fans though did score Autographs outside her Hotel yesterday, one luckier Fan spotted the Couple inside their Hotel and got herself a
Bieber/Gomez
Sandwich Photo (
click here
to see it)!
Amaze
.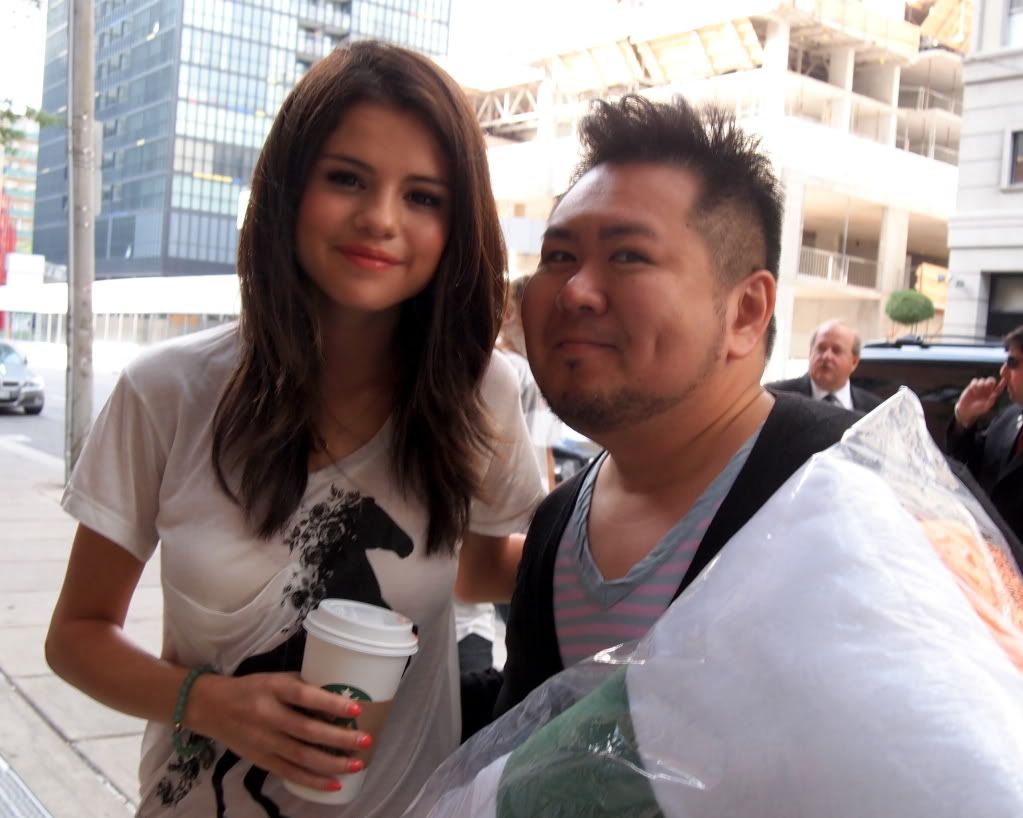 Selena Gomez & Mr. Will-W.
The radiant Grand Prairie, Texas native managed to fit-in a quick round of Press today before heading off to Boston for her next show. Stop-offs included a small number of pre-taped Radio Station interviews including
KISS 92.5
, as well as an appearance on
MuchMusic
's
New.Music.Live.
Also slotted was a private Lunch with Fans atop the
Bell Media
building on
Queen St
. where lucky Contest winners got to spend a bit of time with their talented Idol.
Gomez was spotted out and about looking cute and casual in a V-neck Tee and a pair of pleated Shorts, holding a Grande-sized Coffee from Starbucks - her morning fuel. Accompanying her were her Entourage, including Stepfather Brian Teefey and Bieber's Concert Photographer Alfredo Flores. In the brief amount of face time I had, I was able to: 1) Pass her a Gift of a Sushi Pillow which Teefey collected from me (!) 2) Take a quick Photo with Gomez (!!) and 3) Have her sign a Photo for one of my lucky Readers (!!!). Despite being on a tight time-line, Gomez went above and beyond for some Fans in waiting and brought out a few big smiles, including one from me.
One Paparazzi asked Gomez intrepidly, "What are your thoughts on the rumours of your Break-up with Justin?" which was met with silence and understandably so.
See more Photos of Gomez below:
Now how about that signed Photo? To qualify for the win, leave a comment with the name of the track on When the Sun Goes Down which was co-written by Gomez's Idol, Britney Spears. You have until October 1, 2011 to qualify and all are welcome to enter. Good luck, Mavenati!
When the Sun Goes Down
is now in-stores.
Click here
to preview/order it.
Follow me on
Twitter
here
.
(Photo credit: Mr. Will-W.)