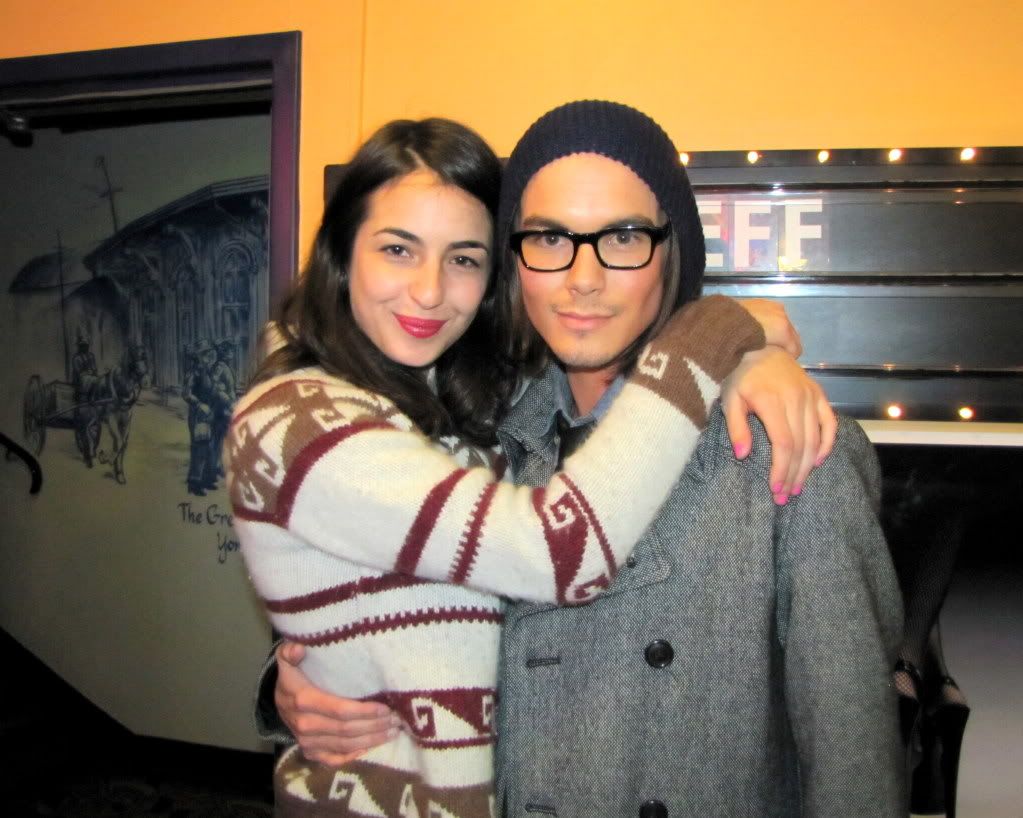 Alanna Masterson & Tyler Blackburn at Toronto Premiere of Peach Pear Plum
The ninth annual Female Eye Film Festival which showcases the work exclusively of female Directors, had one of its Marquee Premieres tonight at Rainbow Cinemas - Market Square. Peach Plum Pear, the directorial debut by Alana Morshead has already been doing the Festival rounds south of the Border, but its Cast made that extra bit of effort to promote it here in Toronto, fielding questions from the audience following its screening.
The Drama which was made for a paltry $80k budget really was a "labour of love" according to one of its stars Mackenzie Phillips, who is already winning acclaim for her performance including a Best Actress Award at the Festival. Phillips tapped into her Maternal instincts for her role of a Woman named Sharon, with a need to care for and protect, in being unable to have Children of her own.

Alanna Masterson, younger sister of That 70s Show star Danny, revealed that this project actually was a collaboration among friends and that she had floored her Friend of five years, Morshead and Screenwriter Samantha Genovese at her Audition - this her first-ever Feature Film. There was a gap of one year between Masterson being cast and the Film actually beginning Production.
On the casting process, we learned that
Masterson
called upon Friends of hers to pitch-in to help take the Project off-the-ground. Her eldest Brother
Danny
is engaged to
Phillips
' Sister
Bijou
and she actually refers to
Phillips
officially
as her "Sister-in-Law".
Phillips
then half-jokingly added, "Are they actually married? That's one wedding I won't be attending!", referencing her recent troubled relationship with her Family following some shocking revelations in her Memoir,
High on Arrival
.
Masterson
, having dated someone from Toronto prior, knows the City quite well and was friends with Toronto Actor
Joris Jarsky
who also appears in the Film.
Many Girls in the audience were extremely excited to see ABC Family's Pretty Little Liars star Tyler Blackburn at the screening, reacting to what seemed like his every move on-screen. Blackburn admits his role was challenging as a troubled young man who leaves on a Road Trip with his Best Friend for mysterious reasons, having to delve deep to make his character Jesse multidimensional. Following the Screening, he spent at least 20 minutes greeting Fans along with Masterson.
Phillips, despite having a bit of a cough still toughed it out, humbly praising her Co-Star Robert F. Lyons in absentia, reminding us how accomplished his Filmography is, suggesting that we "Google him". Masterson chimed-in, "He was in RoboCop!". As expected, Phillips' performance was absolutely engaging and multi-layered, while Masterson's performance was a revelation.
Following the Screening,
Phillips
waved at me and tugged me over, giving me a big hug. She asked me how my ailing Dog
Billy
was doing after
our chat yesterday
. She was happy to hear that he's eating again -
so sweet!
She then invited me to the Film's After Party at
Kultura
, but regretfully it was getting late and I had to go home to check on him.
Love her!
See some more Photos from the Premiere below:

Learn more about
Peach Plum Pear
here
.
(Photo credit: Mr. Will-W.)