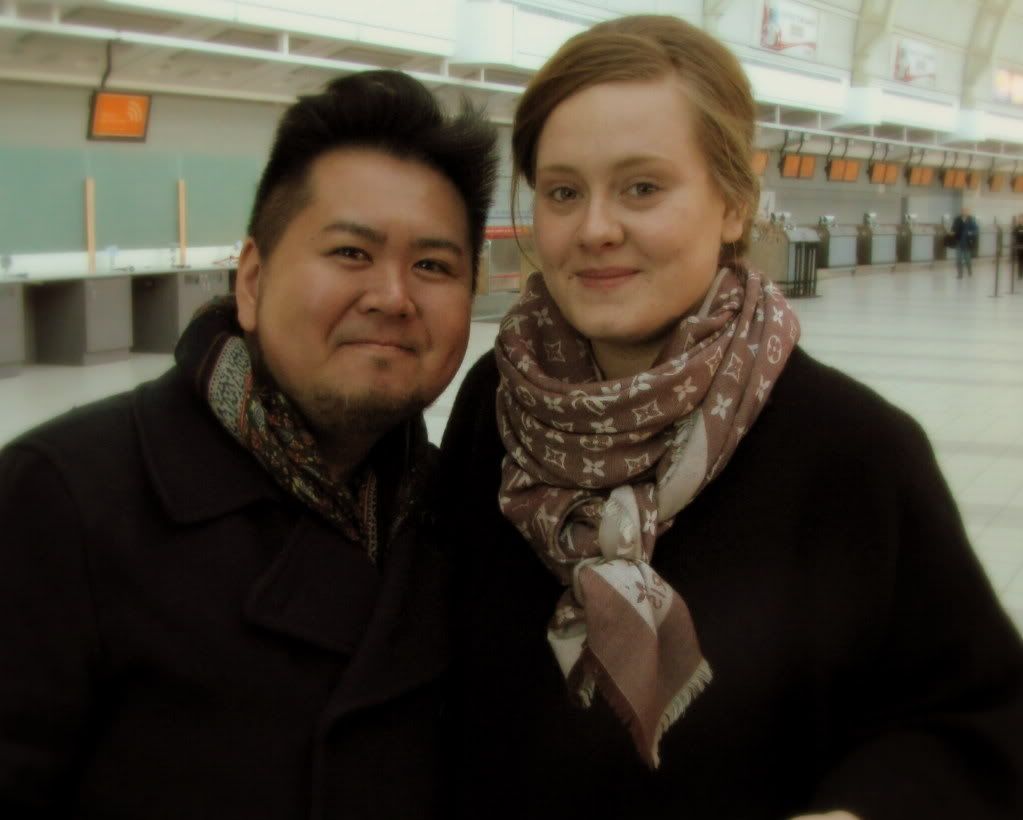 Mr. Will-W. & Adele
I had the wonderful privilege of meeting the beautiful and talented Adele today finally, but mind you, I had to work v. hard for it. After some efforts were made on my part to secure Face-time with Adele during her Promotional Tour for Album 21, I had failed to receive any follow-up whatsoever from her Canadian label, Beggars Group Canada, after being reassured today efforts would be made to fit me in this afternoon.
Originally, I was advised that some Face Time would be secured with
Adele
last night following her MTV LIVE performance
. Now, I am big enough of a Boy to understand that nothing's "for sure" in this World, but on that same token, I'm also big enough of a Boy to know that it is common courtesy to follow-up when someone says they will.
My Readers will know that I have always been an avid supporter of Adele's Music and being ignored outright does not sit well with me, especially when other prominent Labels treat me with the trust and respect I deserve for wanting to help promote and give their Artists a bit of exposure. Believe me, I tried. I called, left a message, e-mailed and sent text messages.
Never to be one to back-down to defeat, I did a bit of groundwork and arrived early at the Airport. Waiting about patiently for an hour, a glimmer of hope came suddenly when some familiar faces appeared through the Sliding Doors. And there she was, pushing forth her own Luggage under the warmth of her Louis Vuitton Scarf. Adele!
Sans Cosmetics and Faux Lashes, she looked simply radiant still. Approaching her, I explained my ordeal succinctly to her and genuinely touched by my devotion, her eyes welled-up a bit and we exchanged a big hug. And she was so lovely and understanding about it all. I then exchanged greetings with her Friend Michael who told me that he came across my Blog earlier in the day. Adele then asked him to snap a Photo of us joking, "Your Camera's a bit too fancy for Michael!". He managed beautifully as you can see above.
We chatted about her time spent in the City and although she did go out and have some fun, she confessed "I'm completely exhausted and cannot wait to get home to bed.". Of course, Adele has a good Friend of hers eagerly awaiting her arrival, her Dachshund Louis Armstrong. She clarified for me that he's actually a Sausage Dog as they call them in the UK; Dachshunds in Canada. We Dog Lovers understand one another.
Recognizing that their Entourage was leaving Michael and her behind, I wrapped-up quickly and wished them a safe flight, before exchanging one final hug. Such a great honour, I will always remember. I am thoroughly impressed at you guys for making 21 the number one album in Canada and the U.S. this week. Good taste prevails!
Adele without hesitation personalized some items for my Readers and now is your chance to win a Signed Photo (above) from the immensely talented Adele. To qualify for the win, please leave answer the question: How many copies of 21 were sold in the U.S. in its first week? Your deadline is April 1, 2011. All are welcome to enter. Good luck, Mavenati!