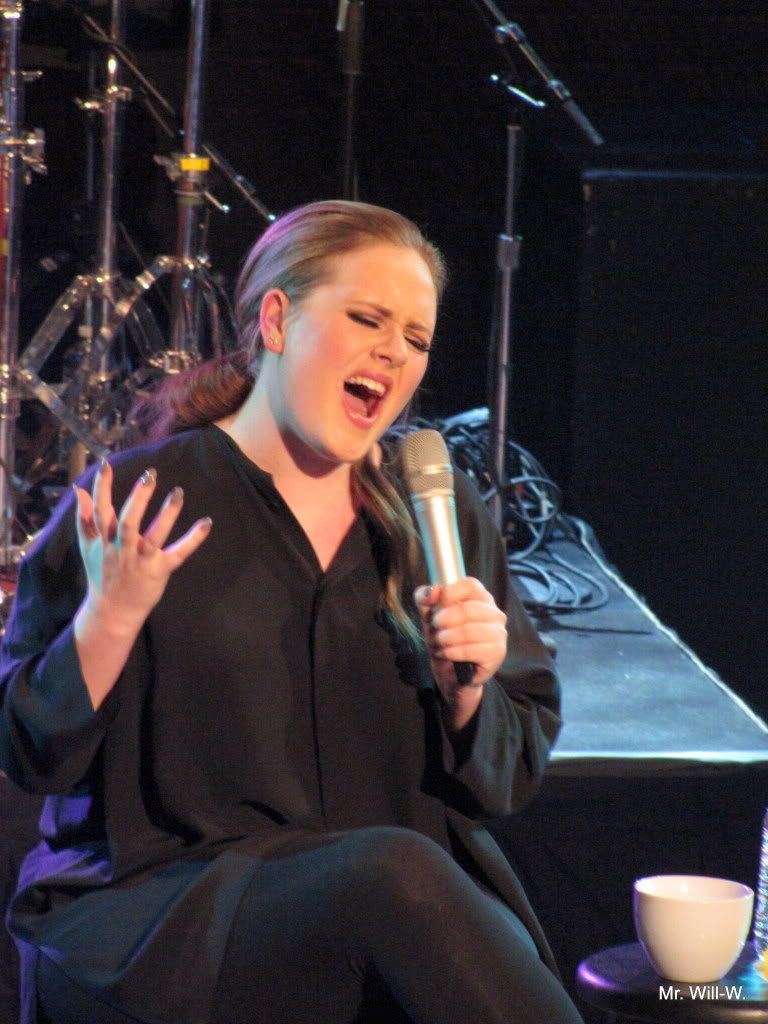 Adele at MTV LIVE - March 2011
Alas, soulful British Siren Adele has arrived in Toronto safe and sound to promote her sophomore Disc 21. She did however, have a few scary moments during her bumpy flight from Los Angeles, which had her downing in her words, "a lot of Wine" to help calm the nerves. All is well now. Especially considering she just received news today that the Album has reached number one in Canada. A similar fate is expected south of the Border.
Performing tonight before an intimate audience on MTV Canada's staple program MTV LIVE, Adele performed five songs (a mix of old and new) and answered some thought-provoking questions, giving the lucky audience some insight into the Character behind that infectious laugh which Mega-Producer Ryan Tedder for one, can distinguish without fail.
Adele
reveals that she and
Tedder
had once crossed paths in an Elevator in their Hotel, and even with her hidden behind some balloons, he knew that those giggles he heard had belonged to none other than her. Getting along rather famously, they had then begun to collaborate on what would become some of
21
's more poignant moments like the gritty
Rumour Has It
and heart-wrenching
Turning Tables
. The latter was written on the simple instruction to
Tedder
of creating something "bitter".
Voila!
It was completed in less than 30 minutes. Quicker than a Pizza Delivery.
The vivacious Songstress has come far from her days as an eleven year-old Girl in Tottenham, England, obsessed with the UK's
Pop Idol
franchise and
Spice Girls
. Jokingly, she calls her hometown a "shit town", considering the world her eyes have been opened to in her travels abroad now as a
Grammy
and
BRIT
Award-winner. She admits that her new-found Fame still phases her with the likes of
Diddy
and
Snoop Dogg
counted among her legions of Fans. Those being Artists she grew-up listening to, recalling
Diddy
in his former life as
Puff Daddy
, differentiating herself from them still as a Fan.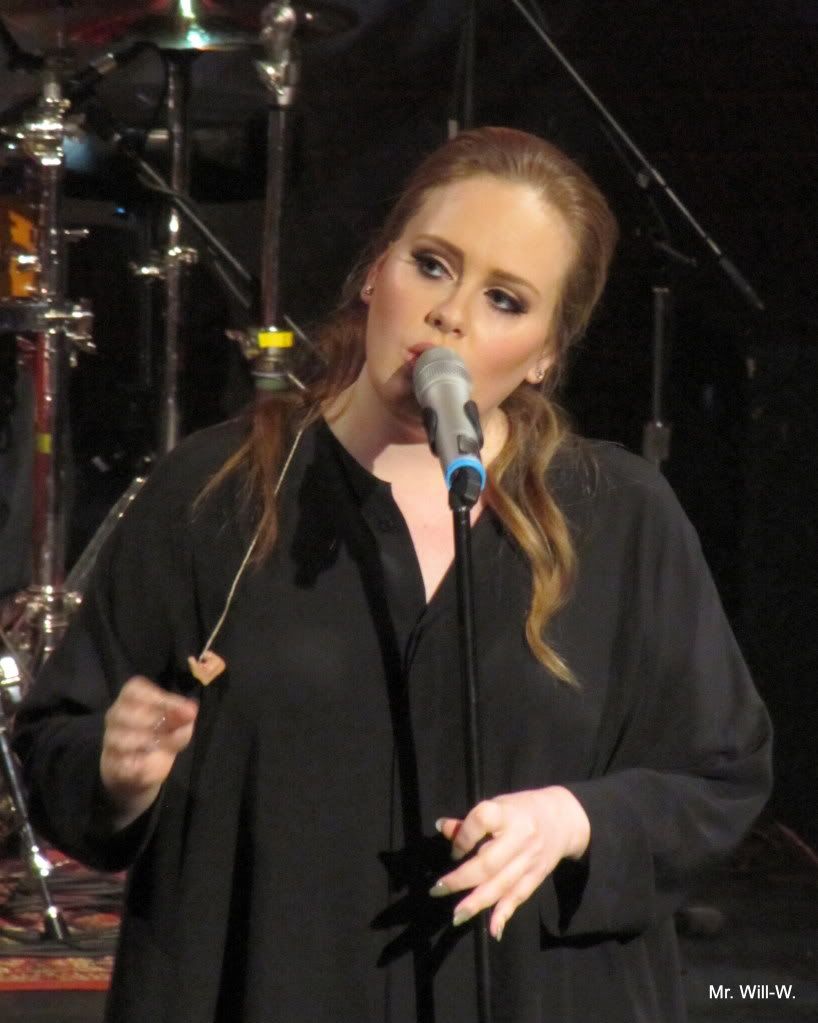 Commenting on her eclectic range of influences from Blues to Country and Hip-Hop, Adele feels that in order for one to make good Music, one cannot be afraid to channel true emotion. She adores the flow and build-up of Hip-Hop Music and finds herself drawn particularly to accents. When first writing songs as a Teen, she would refer to a Lyric Book her first Music Teacher gave her. She cried actually when she was presented with a surprise clip of her Teacher reflecting on an outspoken young Adele, asking her whether or not she actually uses that Book still.
Crying of course is not unusual for Adele who calls herself a "Singing Kate Winslet". Fittingly, she admits that she has a Celebrity Crush on that Actress' Titanic (or perhaps Revolutionary Road) co-star Leonardo DiCaprio, before realizing that it just might not work out. "He's quite short isn't he?", she asks herself out loud; she likes her Men tall. Adele also finds Al Pacino in his The Godfather era rather fetching, exclaiming "Oh my Days!" at the thought of him.
Speaking of Boys, Adele has drawn much inspiration from Heartbreak on both of her Albums to-date, 19 and 21. The Boyfriend who inspired 19 she claims with humorous hindsight, "was a Cheater.... I was so convinced he was the one!". Furthermore, she clarifies that in the case of the Boyfriend who inspired 21, "with him, we fell out of love and I recognize this. We're no longer Friends. This Album though, wouldn't have been made without him.". Now, who said a Broken Heart was so bad a thing after all?

Unfortunately due to time constraints today post-performance, I didn't get my scheduled one-on-one time with Adele, but we're looking to schedule this for tomorrow. Keep your fingers crossed, Mavenati!
Adele continues her Promotional Tour for 21 tomorrow with a stop-off at CTV's Canada AM before flying back home across the Atlantic as she embarks on a 62-date Tour beginning late March. You can watch her five-song MTV Canada Performance and Interview appearance on March 16, 2011 at 8:30 PM EST.
21
is now in-stores.
Watch Adele perform Rolling in the Deep live below:
Watch Adele perform Someone Like You live below:
(Photo credit: Mr. Will-W./Audio content: Sony Music/XL Recordings/Beggar's Group)