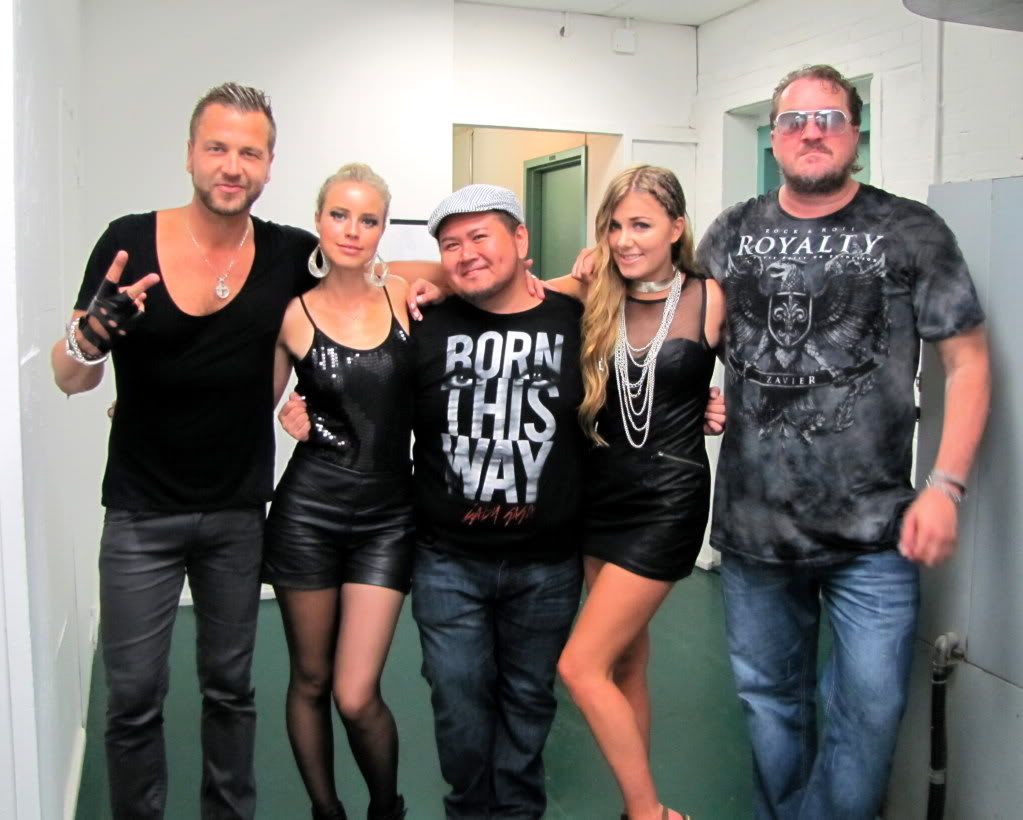 Ace.of.Base & Mr. Will-W.
In the late '80s Ulf Ekberg and siblings Jonas, Linn and Jenny Berggren embarked on a collaboration which leave a significant imprint in the world of Pop Music. Göteborg, the second largest City in Sweden, wasn't exactly a hotbed of international talent then, but who knew that this quartet Ace of Base would conquer the world with their 1993 stateside debut, The Sign (alternative title: Happy Nation)? Singles from that Disc went on to top the U.S. Billboard Mainstream Top 40 Chart with three Reggae/Dance Pop singles successively in 1993: All That She Wants, The Sign and Don't Turn Around. By 1995, the Band was nominated for a pair of Grammy Awards, including coveted Best New Artist, plus several Billboard and American Music Awards.
"They jokingly called our music Chinese Reggae", Frontman Ulf tells me after what surprisingly was their first full-length concert ever in Toronto last night on the Canadian National Exhibition's Bandshell Stage. At 40 years of age, he is tanned, clearly attractive still and full of energy riding on the high of a well-received performance. Sipping from a cup filled from a Steam Whistle dispenser he admits, "To this day I still don't know what Chinese Reggae really means. I think because Chinese Music is melodic more than rhythmic, that's what they meant because our songs have both those elements in them". He refers to what has become Ace of Base's signature Sound, an accidental product of both hard work and a chance collaboration with a neighbouring Reggae band in their earlier days.
Julia Williamson & Ulf Ekberg
Ulf is no stranger to Canada, having visited the first time in 1993 for Press. He even dated Montreal Model Marianne Trudel for two and a half years and to this day remains close Friends with the likes of Canadians Guy Laliberté (CEO of Cirque du Soleil) and Professional Racing Driver Jacques Villeneuve. After purchasing an apartment in New York City, a cultural experience he described as "a punch in the face" from his days as a naïve Kid growing up in Göteborg, he made a myriad of friends visiting from Toronto.

"Although I think New York is my number once City to live in the World, from a shallow perspective, Canada reminds me a lot of Sweden – the rocks, the cliffs, the water, the trees". "Sweden has seen the assassination of a Leader and our neighbour Norway has seen tragedy recently too. Do we shut down and fight back with violence, letting the actions of a few Idiots change how we live?". He then brings it full circle stating, "I think Canada sets an example for other countries. It's open and tolerant.".
The reaction from the sizeable Toronto crowd ranged from screamingly ecstatic to outraged. One Gay Couple tells me, "I don't believe they got rid of the original two Girls! So pissed!". Following the pinnacle of their success in the early '90s, we saw more hits internationally from Ace of Base including 1995's Beautiful Life and other tiny endeavours like the Internet, Napster and Facebook just might have impacted our lives. And if the story of Ace of Base could be told in Facebook relationship statuses, "it's complicated" just might apply.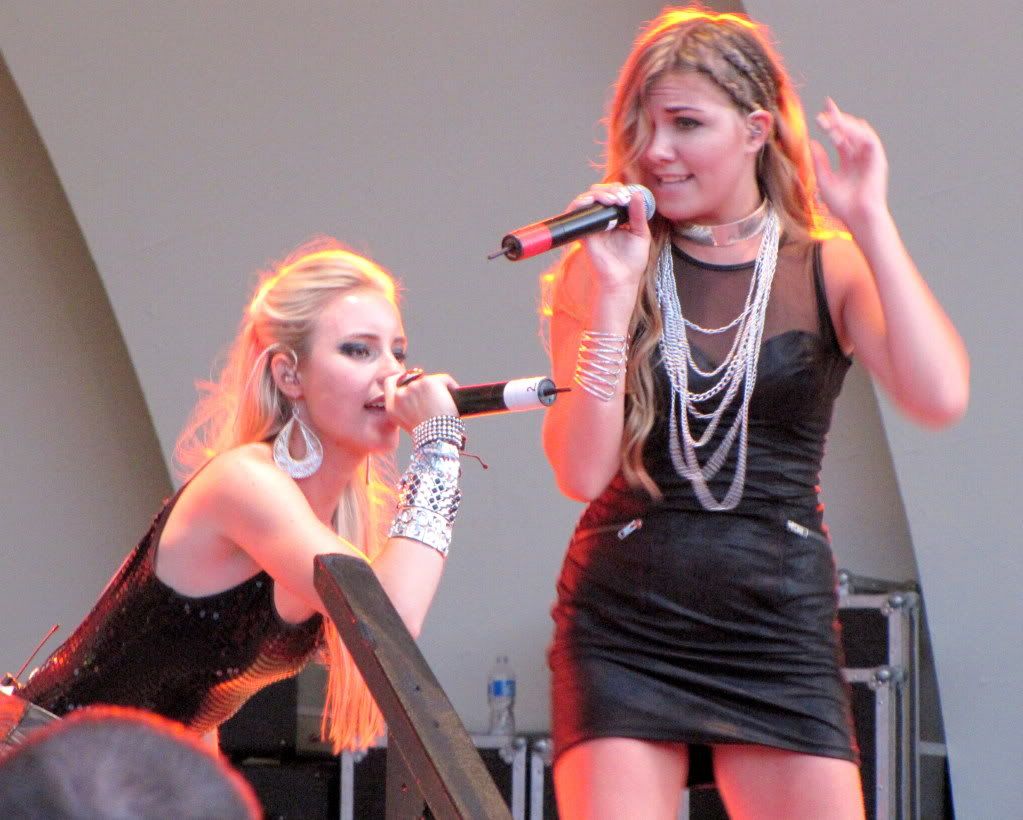 Julia Williamson & Clara Hagman
Although unharmed, former Vocalist Linn is said to have struggled with Fame especially after one near-disastrous incident in 1994 with a knife-wielding female Fan entering her Family's home, injuring Jenny and their Mother. This incident is said to have played a critical role in her decision eventually to leave the spotlight, last being active with Ace of Base in 2003. Jenny, who remained an integral part of Ace of Base only until recently, continued touring and recording with the Band through 2009 before deciding to invest her attentions in a Solo Career and Writing, although she formally has not left the Band. Meanwhile, some say that Ulf and Jonas were under pressure to release new Music by their Label with one stipulation - new Frontwomen were to be recruited.
After a judging stint on Idol 2009 (Sweden's branch of American Idol), Ulf became enamoured by the talents of one contestant, a big-voiced Clara Hagman. He tells me that Martin Dodd, an A&R Executive who has played a pivotal role in Ace of Base's success story, is responsible for bringing Julia Williamson into the equation after she had signed a contract with him separately. And thus, Ace of Base in its latest incarnation - now denoted as Ace.of.Base to mark this new phase in their Legacy.
Jonas Breggren & Julia Williamson
The Band's latest Disc The Golden Ratio is a fitting title, merging segments – old and new - into a special proportional artistic relationship. But what does this signify for Ace.of.Base? Ulf tells me, "This is a return to who we are, back to where Jonas and I first started with Analog Synthesizers, making niche Music as a House Music band.". The Comeback effort features just a handful of the 500 songs (although Jonas claims there are 600) sitting in their unheard Catalogue born from the revitalization that came from a hiatus. "Jonas and I found that playfulness again working together in the studio. It was like the late '80s again with us!".
See Ulf talk about Ace of Base's influence on Lady Gaga and Katy Perry and how their collaborations with Swedish producers came about:
Ulf Ekberg
Having seen both the highs of the Music Industry and also its collapse in the 2000s, Ulf and Jonas carry a bit of residual baggage with them to this day. "I predict that we might see the disappearance of the Record Label altogether with Artists becoming less dependent on that Hub", Ulf says. "Music is about Love and its connection to People". He professes his love for those who have challenged the Establishment revealing, "I've long been a huge Fan of Steve Jobs (CEO of Apple Inc.), but even more so of Sean Parker (Co-founder of Napster and Facebook) as he represented the right face of the Music Industry. Without Sean Parker, Facebook would not be what it is today.". Without naming Artists specifically he goes on to say, "Although money is great, it's the Billionaires who are complaining about a few of their songs being downloaded".
See Jonas comment on which musical acts he finds inspiring below:
Ulf is excited at the prospects of Swedish Online Music Distribution service Spotify, which soon will be available in Canada. "It's an exciting way to consume Music. Why download when simply you can subscribe?" he exclaims, adding that "Soon you'll see how easy it is in Canada!".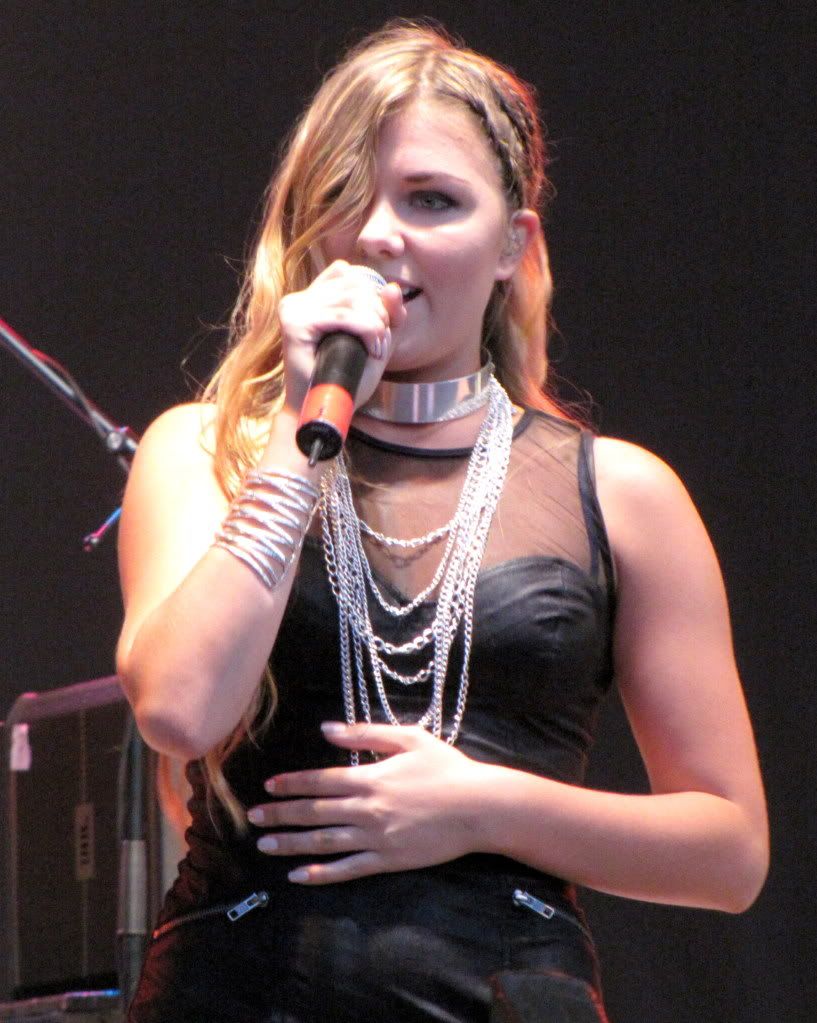 Clara Hagman
Vocalists Clara and Julia are rounded-up afterward from the Green Room, coming over to hug me. Julia graciously accepts my compliment on her commanding stage presence and playfully slips the cap of my Sharpie in her cleavage before the Band takes turns signing of a Photo for one of my lucky Readers. Clara tells me how excited she is to have a day off, "Julia and I are going to Niagara Falls tomorrow and I'm so excited! We're going to go shopping and party with our Friends!".
For those of you who missed
Ace.of.Base
this time around, rest assured that after continuing their Tour in Europe, South America and Australia, some more North American dates at this point are highly likely. "Although it's very fresh still, we are interested in collaborating with a Canadian artist and might have a few names in mind.",
Ulf
hints. For now the Band has adapted with the
Digital Age
and is releasing material occasionally through their
Facebook Page
.
Watch Ace.of.Base perform All that She Wants below:
One lucky Reader will win this signed Photo and to qualify, leave a comment below with the name of Ace.of.Base's latest Disc. Your deadline is September 1, 2011. All are welcome to enter, but please ensure you leave some way for me to get back to you (i.e. Twitter/Email). Good luck, Mavenati!
(Photo/video credit: Mr. Will-W.)