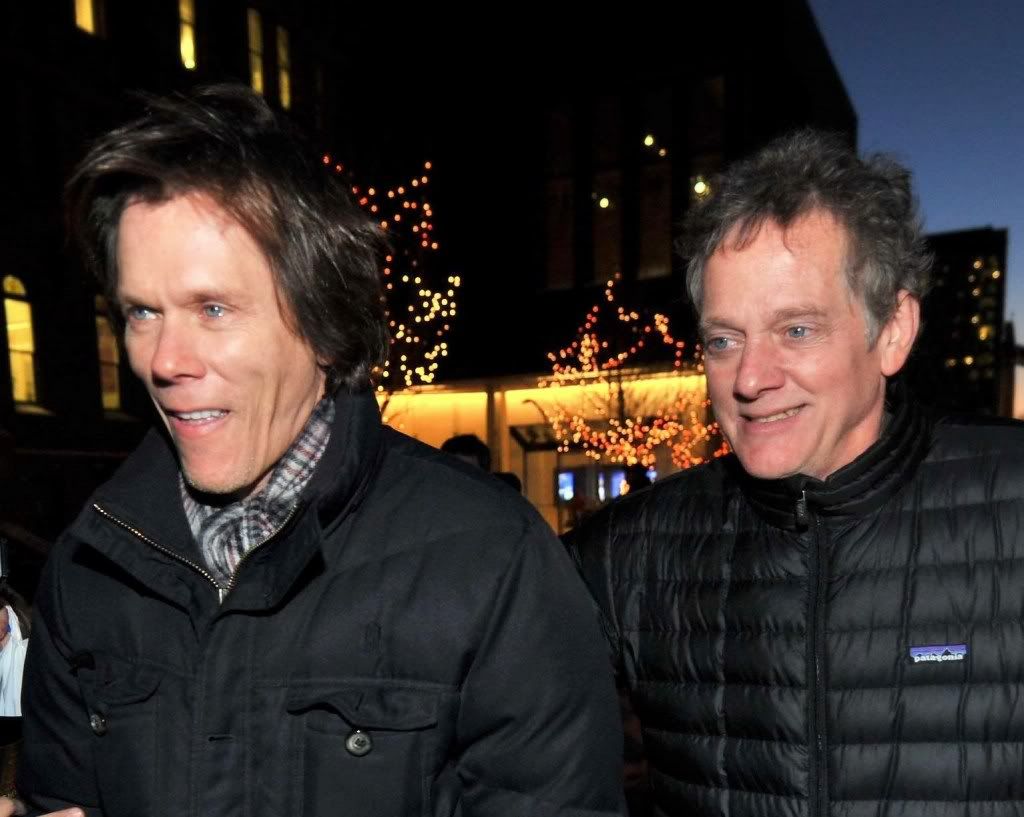 The Bacon Brothers (Kevin - L, Michael - R)
in Toronto - February 2011
Yes, he sings too!
Golden Globe
and
Screen Actors Guild
Award Winner
Kevin Bacon
and his elder Brother
Michael
performed a nearly sold-out show at the
Telus Centre for the Performing Arts
-
Koerner Hall
last night here in Toronto. It is said that the
Bacon Brothers
manage to perform an average of 50 shows a year despite
Kevin
's busy Filming Schedule and many a Fan have enjoyed their brand of Folk/Country Rock.
Arriving at the venue quietly Midday for a Soundcheck, the Duo stepped out to Dinner with a Friend, walking along busy Bloor St. in a nonchalant manner. Spotted almost instantly, a group of Fans and Paparazzi came out in the Cold and began snapping away, while requesting Autographs altogether at once. Visibly uncomfortable with all the attention, one Fan reported hearing Kevin mutter "Shit, shit, shit...", but still posed along cooperatively with Michael for the Paparazzi.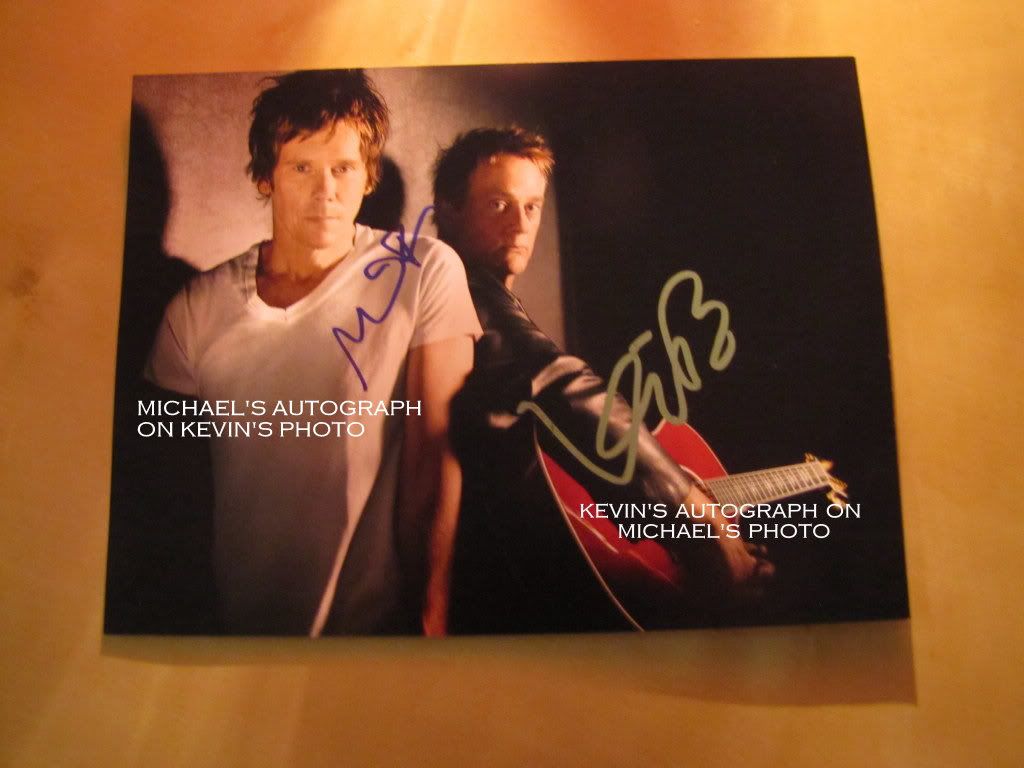 Kevin and Michael both then rushed off after scribbling a few barely decipherable Autographs. As you can see below, their Signatures are mismatched. Michael at least had an excuse in not wanting to sign his Autograph with a blue Sharpie on the dark portion of the Photo. Kevin doesn't seem to care altogether, perhaps?
The Brothers returned back to the venue at 7:45 PM, just before their 8:00 PM (not earlier as per some Twitter reports) start time, incognito. Kevin donned a Toque to mask his identity. When asked by some Fans whether he could stop for a quick Photo, he replied "Not now!". On their way out of the Venue just before 10:00 PM, they had Security Guards keeping Fans at least 100 metres away before they boarded their SUV and headed back to their Hotel in Yorkville.
Although there are few official reviews of the Concert to have surfaced online, a few female Fans on
Twitter
seemed to have enjoyed the Show.
@DebbyWatson
called it "great" and
@Kelly__Gilbert
said it was "awesome". Some Fans were heard chuckling over
Kevin
's Tambourine skills.
One of Toronto's most respected and kind-spirited Celebrity Photographers Saul Porto was in the thick of it all and snapped a few Shots of the Bacon Brothers, which kindly he has shared with us - including a couple with Kevin scooting on by me like a Speed Bump. LOL. I've been spoiled by nicer Celebrities....
The
Bacon Brothers
do
Tweet
occasionally. You can follow them
here
.
(Photo credit: Mr. Will-W. via Saul Porto)