James Wan & Leigh Whannell at Toronto Premiere of Insidious - March 2011
Creators of the wildly successful
Saw
Franchise,
James Wan
and
Leigh Whannell,
flew in from Vancouver today to do the last leg of their Promotional Tour in Toronto. The Duo are here to promote their new Horror,
Insidious
, which won raves last September at
TIFF.
It subsequently was picked-up by
Sony Pictures
in the U.S. and
Alliance Films
in Canada.
Wan
directs, while
Whannell
acts in and writes the Film.

Although made for a pittance of $1 million, Insidious is by no means short on the screams, showcasing a less gory brand of Horror than what we have seen from the two in the past. Its story follows a Couple Josh (Patrick Wilson) and Renai (Rose Byrne) who move into a new home with their three Children, only to be terrorized by supernatural forces soon after. Their Son Dalton (Ty Simpkins) then falls into a Coma and they realize for their own safety that they must leave. They soon realize the problem doesn't so much lie in their House, so much as their Son, Dalton.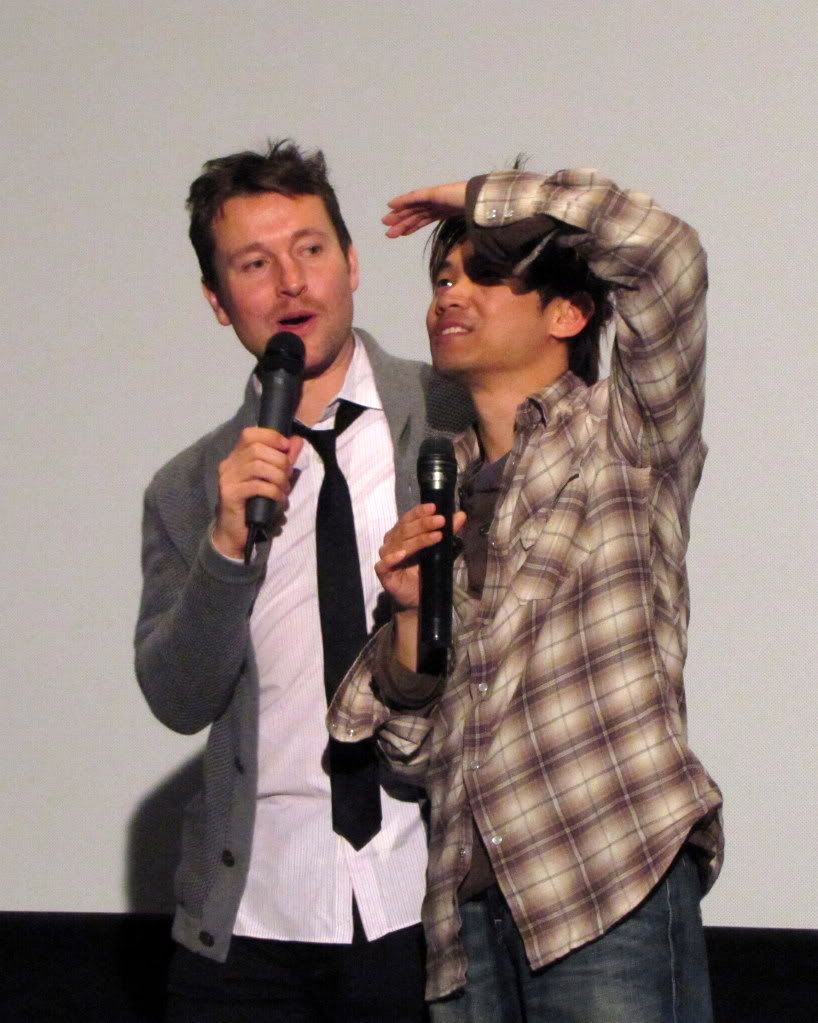 Wan
tells the audience at tonight's Toronto Premiere of
Insidious
that this project could be considered more of a "passion job". It is a film which both he and
Whannell
have been wanting to make for quite some time, allowing them to go back to their original Film School roots -where the two had met first in their native Australia. Since getting picked up for distribution last Fall, some additional fine tuning was done to
Insidious,
focusing primarily on establishing moods via longer frames of dimly-lit hallways, for example. He explains that elements in the Original Cut of
Insidious
have been removed, reducing among other things, the number of
Jump Scares
(abrupt moments of shock) in this Theatrical Version.

Whannell admits that when it comes to Horror Films, he is most annoyed by False Scares (moments which elude to danger but not fulfilled). He notes, "Often we'll see a a shot in a car where a lot of room is left in the frame. Just when you expect a Killer to show up, it winds up being someone's Sister. I hate that!". He then jokingly suggests, "They might as well smash the window and slash their heads off instead!".
Watch Wan and Whannell comment below on the Haunted House genre:
Wan tells the audience that he loves things which he deems Harlequin-esque and Theatrical, admitting that once while staying at a Hotel in New York City, he had a supernatural experience where he claims to have witnessed a Victorian-era Ghost, although unable to make out its face. He also reveals that much of the imagery seen in his Films are projections of his Childhood fears. "These fears are actually still very relevant to me", he admits.
One of the greatest challenges in making
Insidious
was that its seven year-old Star,
Simpkins
, was terrified of a
Demon
Character in the Film.
Wan
tells us, "70% of the screen time the Boy has is with the
Demon
". So, to alleviate the Boy's fears,
Wan
would bring him into the
Make-up Trailer
, showing him step-by-step how they came to make the Actor,
Joseph Bishara
(who actually composed the Film's Score), look like a
Demon
.
One audience member asked Wan and Whannell why it is that they choose to incorporate so much Humour into their Horror, to which Wan replied defiantly, "You have to give them something to laugh at or else they will find something to laugh at for you unintentionally. You have to be able to control laughter in Horror Films.". And believe me, they would know best - the duo's Saw franchise has earned over $870.5 million worldwide.
Following the Premiere, Wan and Whannell were rushed by a crowd of Fans for Autographs and Photos by the stage, eventually having to accommodate them outside the Theatre. Needless to say, the response was overwhelmingly positive.
To win a signed Photo from both Wan and Whannell, leave a comment below with the name of Actor who plays the character Dalton in Insidious. Two winners will be chosen April 15, 2011 and all are welcome to enter. Good luck!
Insidious
opens in theatres
April 1, 2011
via
Alliance Films
. Watch its Trailer in full
here
.
(Photo credit: Mr. Will-W.)