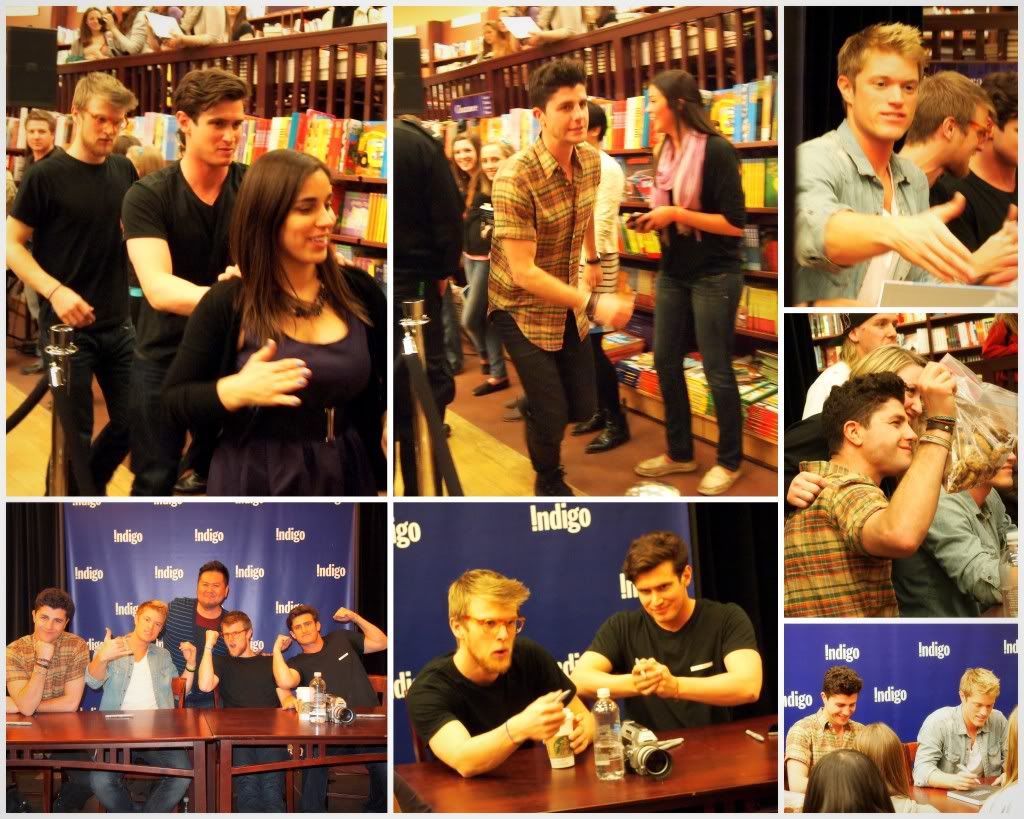 The Cast of The Buried Life in Toronto - April 2012
So what's on your Bucket List? The Cast of
MTV's
The Buried Life
met hundreds of their Fans last night at
Chapters John & Richmond
in Toronto, completing a two-day Press Tour in support of their new Book,
What Do You want to do Before You Die
, distributed in Canada by
Thomas Allen & Son.
Some of their televised appearances over these past couple days included
Global Television
's
The Morning Show
and
CityTV
's
Breakfast Television.
The Series which aired first in January 2010 in the U.S., follows Friends Ben Nemtin, Dave Lingwood, Duncan Penn and Jonnie Penn on their journeys throughout North America as they cross items off their 100 Things to Do Before You Die List, while helping Strangers also achieve their own dreams too.

The Boys were extremely generous with their time, spending almost three hours chatting with Fans, taking Photos with them and signing Autographs. Fans were exhilarated as originally there originally were to be no posed photos at the Event. Some Fans got kisses, some got hugs and some helped themselves to a jumbo Ziploc bag of Chocolate Chip Cookies positioned in front of Nemtin.
The Boys kept spirits alive along with a lively Emcee in Melissa, dancing along to some Old School tunes from their seats, drawing giggles from the Crowd - many whom were infatuated Teen Girls playing nervously with their hair as they had their moment with each of the Boys.
Getting a copy of their Book signed for my Niece Emily, Brothers Duncan and Jonnie jokingly called me by her name the whole time, "It was nice to meet you Emily! Great name!". LOL
Order
What Do You Want to Do Before You Die?
here
and save 24% off the Cover Price.


(Photo/video credit: Mr. Will-W.)