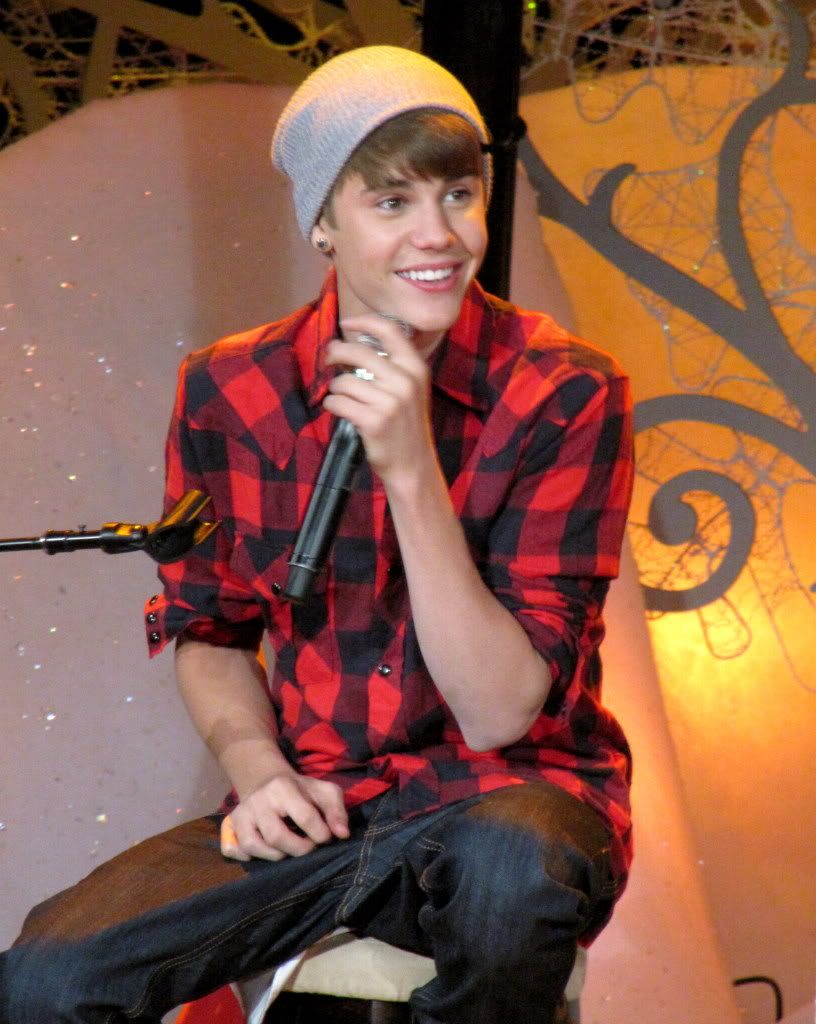 Justin Bieber at Massey Hall - December 2011
Canada's favourite Teen King returned home to Canada last night for his exclusive
CTV/MuchMusic
Special,
Justin Bieber: Home for the Holidays
. The almost-two hour Acoustic Show in which he is accompanied by his Touring Guitarist
Dan Kanter,
was recorded tonight at the intimate
Massey Hall
before a rapidly sold-out crowd of
manic
Beliebers
. And thanks to the generosity of Manager
Scooter Braun
, I was lucky enough to score tickets to see the Show, giving me an amazing seat at the front of the Balcony too!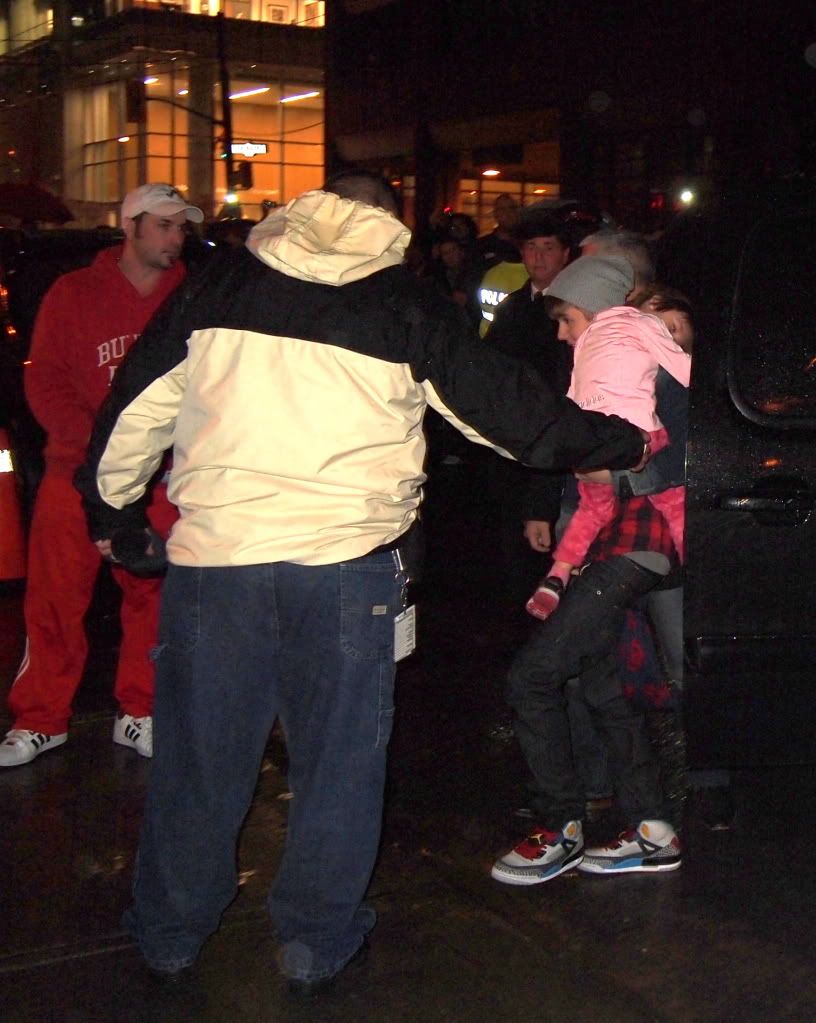 Justin Bieber arrives with Sister, Jazzy
The Special premieres tomorrow,
Thursday, December 22, 2011
,
6:00 PM EST
on
MuchMusic
and
7:30 PM EST
on
CTV
,
with footage from tonight being edited down to 30 minutes, focusing mostly on new material from his Disc
Under the Mistletoe
. Although there were no Special Guests to perform with the 17 year-old, certainly he had no problems keeping his Fans on their feet with screams reaching deafening levels when he finally came on just-before
8:00 PM
, performing his Hit
Baby
.
Bieber at one point asked his Fans, "What do you want most for Christmas?" and the sea of screaming Girls uniformly had one answer for him, "YOU!". He at one point brought three year-old Sister Jazzy on-stage, playfully doing an Encore of Baby and One Time with her, melting the hearts of the Audience. The Toddler, who has developed a habit of drawing on walls of late, revealed to us that she recently cut her own hair and also shaved her two year-old Brother Jaxon's head too. One lucky Fan was brought on-stage and serenaded, before being gifted with a signed Guitar from Bieber, making pretty much everyone extremely jealous.
Justin Bieber & Dan Kanter
After giving
Kanter
a big hug on-stage,
Bieber
told us of his plans to spend time with his Family over the Holidays. His Grandparents, Father
Jeremy
, Mother
Pattie
, Siblings and Best Friend
Chaz Somers
all were in-attendance tonight. Before closing-out with new Single
Mistletoe, Bieber
spread a bit of encouragement back to his Audience in telling them, "I'm not perfect, but you don't have to be. Be the best that you can be.". $500,000 in proceeds from tonight's Event go towards
Sunnybrook's Centre for Youth Bipolar Disorder
on behalf of the
Believe
Charity.
Earlier in the day after doing a Phone Interview with
KISS 92.5 FM
from his Hotel,
Bieber
spent a bit of time skating at
Air Canada Centre
, playing Hockey with the
Toronto Maple Leafs
including the likes of
Dion Phaneuf, Jake Gardiner, Jonas Gustavsson
and
Tyler Bozak
. See Photos
here
. Also, he was spotted lunching at the delicious
Yamato Japanese Restaurant
in
Yorkville
too!
I had the pleasure of chatting with one of the members of
The Messengers
, who are responsible for many of
Bieber
's better-known Tracks, revealing exclusively to me that
Justin Timberlake
's
Justified
Album is a strong point of reference for the Teen's long-awaited Sophomore Disc, of which twelve tracks are recorded already.
The Messengers
will be co-writing a vast majority of this Album.
See Bieber perform an Acoustic Reggae Version of Somebody to Love:
See more Photos I snapped tonight:
Justin Bieber serenades Female Fan
Justin Bieber duets with Jazzy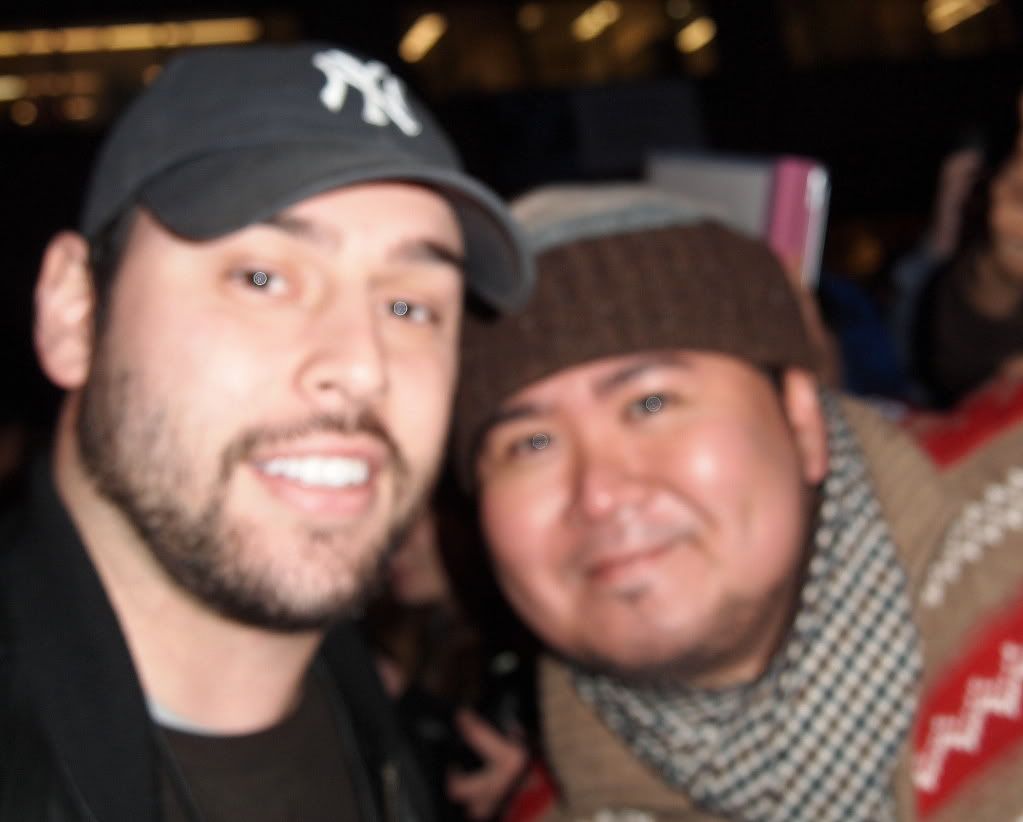 Scooter Braun & Mr. Will-W.
Check here
for additional Airtimes for
Justin Bieber: Home for the Holidays
.
(
Photo/video credit
:
Mr. Will-W
. |
Audio content
:
Universal Music Group
)