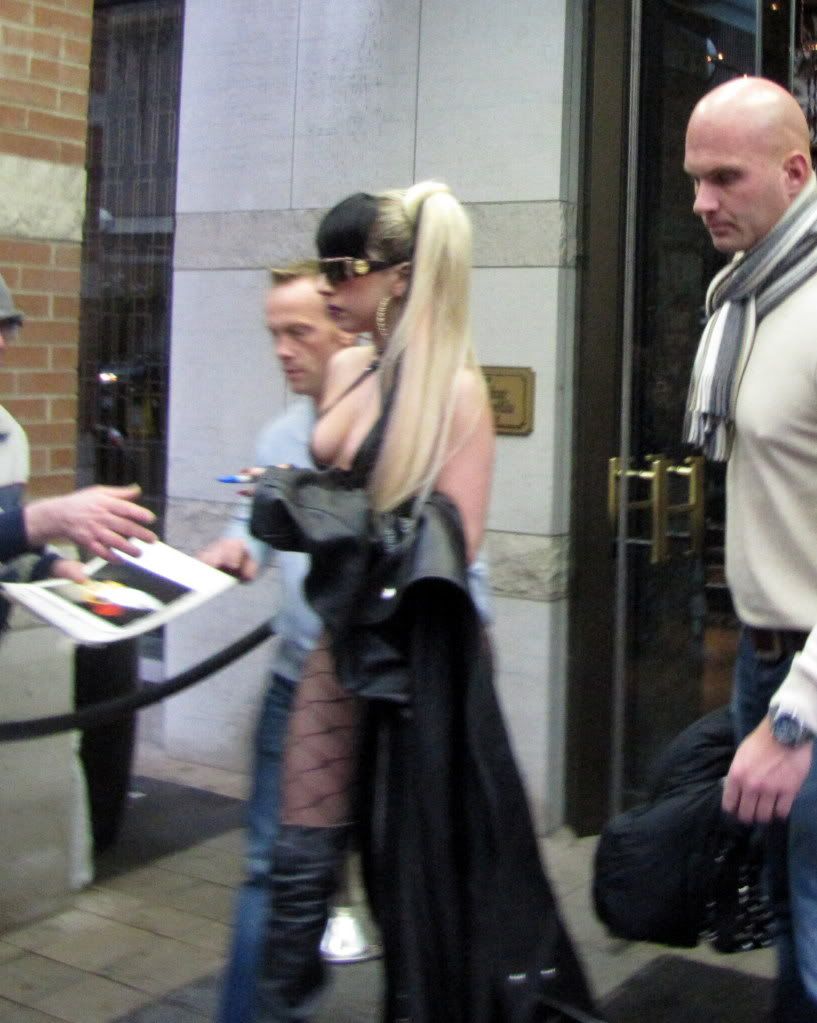 Lady Gaga greets Fans at Toronto Hotel - March 2011
Attempting for a seventh time today to meet and get a Photo with Lady Gaga, my luck fell short yet again. Well, actually I can't quite blame it on luck alone as there might have been a bit of maliciousness involved.
Waiting outside of Lady Gaga's Yorkville Hotel today were a small group of Fans, a few Paparazzi and Autograph Collectors. Being quite frigid and rainy, only the truly dedicated had waited as Lady Gaga did a round of Press inside her Hotel for the likes of CTV's eTalk and MuchMusic.
Anyone who's followed my Blog or even knows me on a personal level will know v. well that I am an ardent supporter of Lady Gaga and have always been since MP3s leaked well before her Debut Disc The Fame was even released. Many of my Friends, a few who are influencial DJs in the City and Music Bloggers, have given me thanks for turning them onto Lady Gaga. At the end of the day however, it is her sheer talent and drive which has gotten her where she is, even though many people like to take credit for her success story. I might not be the type of Fan who wears shirts that say "I LOVE LADY GAY GAY" or show-up to her Concerts in Drag, but that in no way makes me any less of a Fan.
Over the past two years, I've seen her perform six times, three of those times at The Monster Ball Tour, once with my two Nieces. I own all her releases and Special and Import Editions ad nauseum. My Bedroom Wall is decorated with a large mounted Poster for The Fame Monster for crying out loud and if you asked me to sing any Track off of hers to-date by rote, I probably would be pretty good at it. Ask me about Current Events in the World.... not so much.
It has always been a great hope of mine to one day meet
Lady Gaga
and even though in my time I have been graced by the presence of many a Celebrity, she has always been at the top of those whom I aspire to meet the most. This has even been documented in a profile about me in
The National Post
. I have made the efforts -
believe me
- but have fallen short. Whether it be waiting hours on-end at
MuchMusic
on multiple occasions, a total three occasions while she was in Toronto on tour, or more recently, these past two days. I just haven't been lucky.
Although I'm sure many will argue that my obsessive behaviour is a bit disconcerting, I have no shame in admitting I'm a Super Fan and love meeting people I admire. It's harmless and stops after I get a Photo with them and get a chance to tell them what a great Fan I am. Life's too short and this is what I love to do.
Today I was at Starbucks in Yorkville and crossed paths with one of Lady Gaga's Handlers. Last Summer when I had met him for the first time, he saw how hard I had worked to get something as simple as an Autograph from her and after asking nicely, he offered to hand a couple CD Covers to be personalized by her. I included Postage, Sharpies and Stickie Notes with who to personalize them to. I never saw them again.

Seeing him today, I had asked him if it was possible to pass over one Photo to her to be personalized after seeing he was accepting an 8x10 from another Fan, his answer was an abrupt "NO." I probed further which seemed to have irritated him, "Well, I see you're making an exception for one Fan and seeing that I never got my items back last time, could I get your help?". He was abrupt again and advised me "This Photo I'm having signed is for a special circumstance" and he walked off.
Gaga's Handler
Finally after a long, miserable wait in the Cold, Lady Gaga came out of her Hotel with her Handlers around 5:30 PM dressed provocatively as usual and ready to greet Fans. The one Handler mentioned earlier, walked her over to a few Fans, including some who already got an Autograph earlier in the day with his help, allowing Lady Gaga to take Photos with each of them. Those he appeared to suspect as eBay Dealers were ignored - including myself. The fact of the matter though is that despite her Handler's efforts, he actually wound up bringing her over to a few eBay Dealers who probably couldn't even name one Lady Gaga track if they were to be grilled.
Trying desperately to get Lady Gaga's attention as she grit her teeth at me, I kept calling out "Gaga, please! Gaga!" and her Handler noticed me, grabbed me and shoved me against a potted Topiary on the sidewalk. Shocked, I recovered quickly after losing my balance. He then repeated the action again. I was pushed and shoved not once but twice. I can vouch that I was in no way exhibiting frightening behaviour warranting that type of treatment; it's not my style to be physically confrontational. Now if that isn't malicious behaviour on this gentleman's part, I'm not sure what is. A couple on-lookers then came over to me to tell me "I don't believe what I just saw" and asked if I was okay as Gaga's Handler sat in the front seat of her Tour Bus as if he had done none wrong.
Let's be honest here. I don't plan to press charges because - well - who's going to care really that I got pushed and shoved by Lady Gaga's Handler into a Plant - especially now that they are en route to Buffalo for her Show tonight? The Police on-site actually were requested by her Hotel/Handlers to ensure Lady Gaga's safety so there's already an us versus them mentality. "Us" being the Hotel/Gaga's Handlers/Police; "them" being the volatile and dangerous 15 or so Fans in waiting.
Needless to say, I am still a little shaken by what had occurred. I'm partly disappointed that I've missed my seventh opportunity to meet Lady Gaga - again she was so close - and also, I haven't been bullied in that matter since I was in Grade Six. Never in my life have I gotten into a physical scuffle nor did I think that in my 30s that I would do so now. I hope truly that someone in her Management catches wind of this because with all my heart I believe that she wouldn't stand for her true Monsters being treated this way.
(Photo credit: Mr. Will-W.)