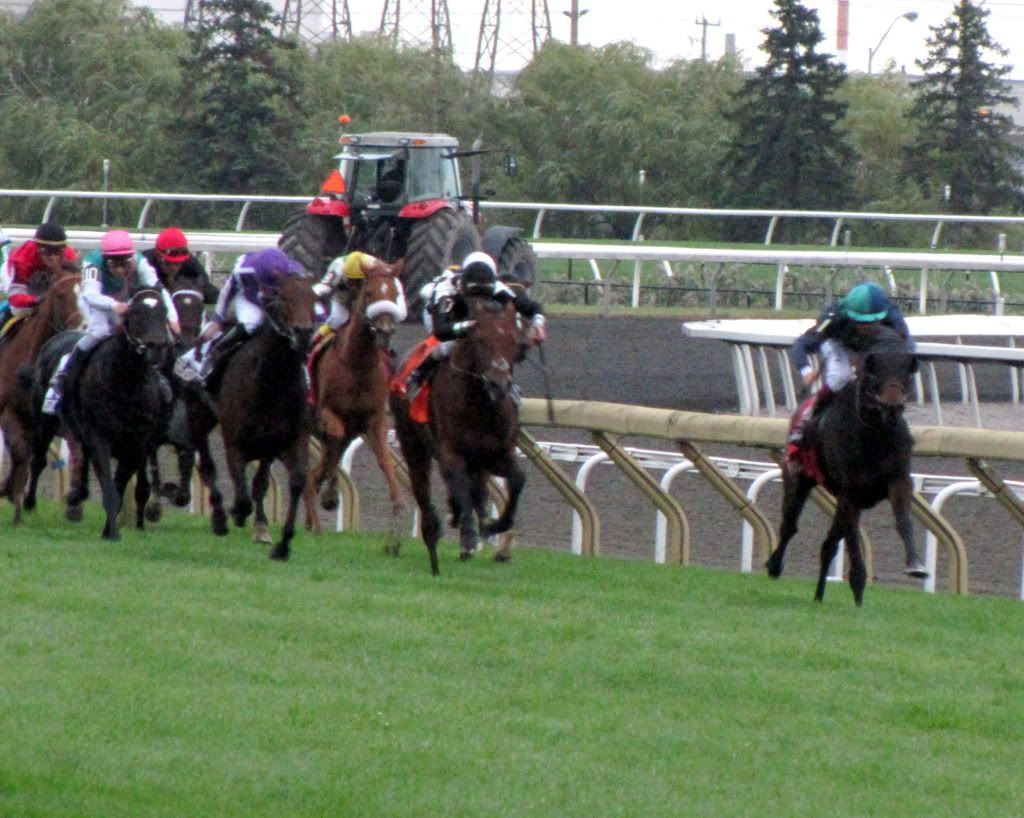 Sarah Lynx wins 2011 Pattison Canadian International
Some of the World's finest Turf Specialists came to Woodbine Racetrack to compete for Prestige and Purse Money on a Race Card highlighted by the 76th running of the Pattison Canadian International. 38 years ago, the legendary Secretariat would make that same race his v. last before closing the curtain on a storied and remarkable career that would be the stuff of Disney films. Horses flew in from across the Atlantic, partaking in three separate marquee Grade I stake races: the Nearctic (a Turf Sprint valued at $500k), the E.P. Taylor (a Turf Race for Female Turf Specialists valued at $1m) and the Pattison Canadian International (an open Turf Race valued at $1.5m).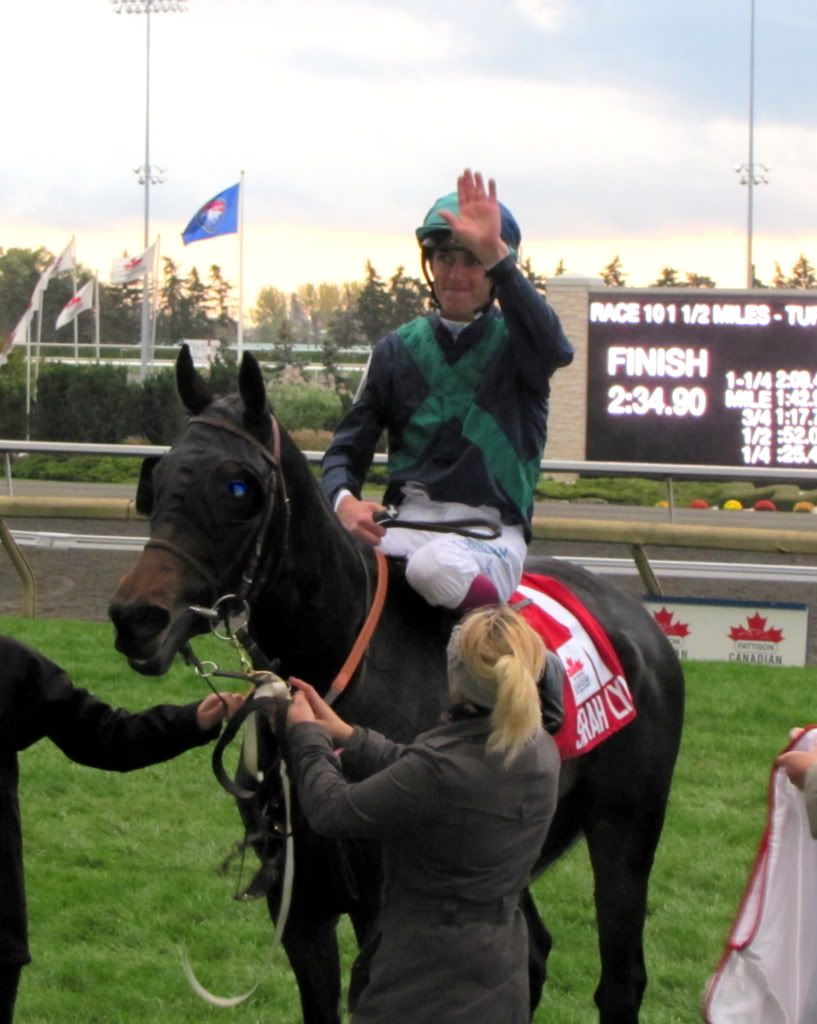 Sarah Lynx & Christophe Soumillon
Exceeding all expectations in the one-and-a-half-mile Pattison Canadian International was the lone female contestant, a 4 year-old French-based/Irish-bred filly named Sarah Lynx who in ten races prior only could muster two wins. Her latest effort September 11, 2011 at Longchamp Racecourse in hindsight however is v. telling as she finished just-behind the exceptional Galikova - Half-sister to three-time Breeders' Cup Turf Mile winner Goldikova. Guided by Jockey Christophe Soumillon, Sarah Lynx cruised to a four-length win over last year's Winner Joshua Tree, rewarding her supporters generously with $46.90 on a $2 bet to win, making her only the sixth filly ever to have won the prestigious Race. Meanwhile, the Betting Favourite Treasure Beach finished third. Today's Victory guarantees Sarah Lynx and her Owners Mr. & Mrs. Robert Ehrnrooth, a spot in the Breeders' Cup Turf Classic on Horse Racing's Championship Day - Saturday, November 5, 2011 at Churchill Downs in Louisville, Kentucky.
Regally Ready wins the Nearctic
Earlier on the Card, Racing Fans were treated to a thrilling Stretch Drive duel in the six-furlong Nearctic Stakes, won by Regally Ready who prior had raced six times at Woodbine before heading south of the Border, where he had won some tough races at Churchill Downs and Santa Anita Park in Arcadia, California. Under the expertise of Corey Nakatani, Regally Ready won in a photo-finish by a neck over English-based Bated Breath, with Woodbine-based Gypsy Ring, running a career-best in third. The four year-old Winner paid $21.60 to win on a $2 bet, for his Owner, the respected Vinery Stables LLC; he likely will next be headed to the Breeders' Cup Turf Sprint.
In addition to Sarah Lynx's brilliant victory in the Pattison Canadian International, the Ladies ruled today with another impressive Irish-bred filly taking the important E.P. Taylor in locally-based Miss Keller. The five-year old mare trained by Roger Attfield thrilled with an exhilarating late rally under American rider John R. Velazquez, catching English-based I'm a Dreamer who looked about ready to win it all, while fending off a late charge from French-based Dream Peace. She paid $25.30 to win on a $2 bet and in five starts this year, she had yet to finish in the top three.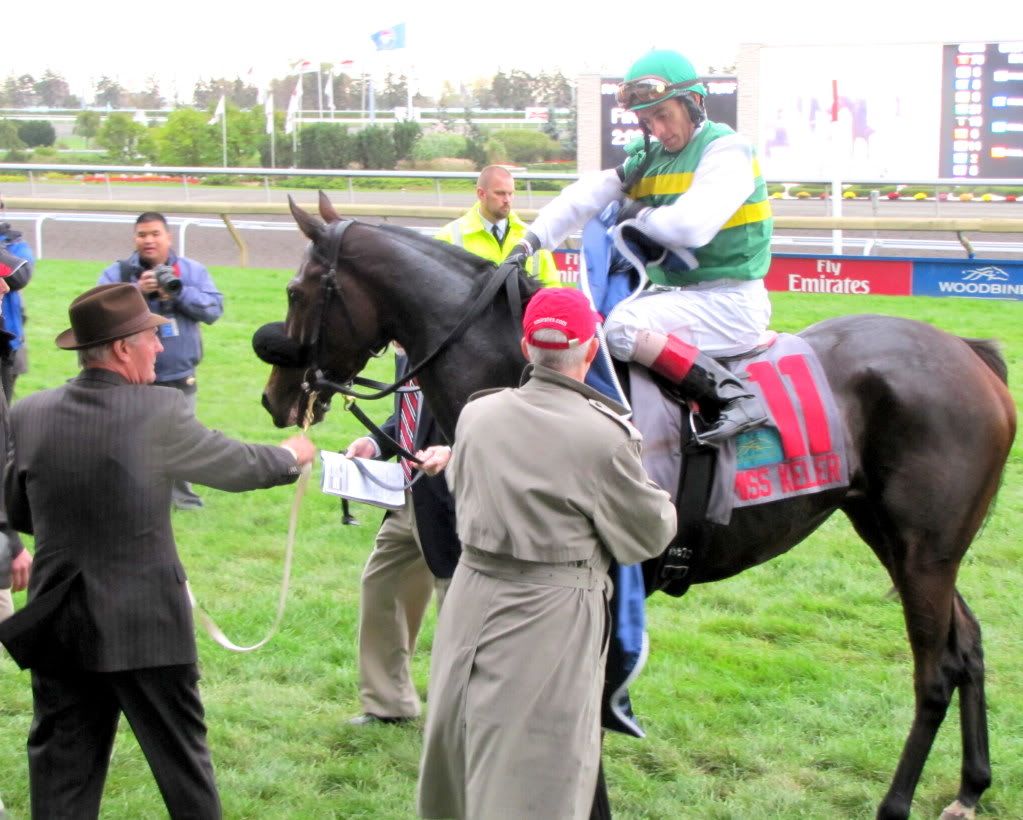 Miss Keller & John R. Velazquez
Owned by a Partnership that consists of Three Chimneys Racing LLC, Lordship Stud and C. McStay, Miss Keller will make matters awfully difficult for voters at the soon-to-come Sovereign Awards, with this powerful argument why she is the best in her division. Another top contender in the category for Canadian Champion Female Turf Horse named Never Retreat, went south of the Border just last week to win the important Grade I First Lady at Keeneland in Lexington, Kentucky. Perhaps we'll know better when the two potentially will face-off against the best in the World in the Breeders' Cup Filly and Mare Turf, to be held on Friday, November 4, 2011 at Churchill Downs?
Watch this positively amazing Video of Miss Keller's Hotwalker ecstatic at the news of her Win:
Now for some Photos of the fun today: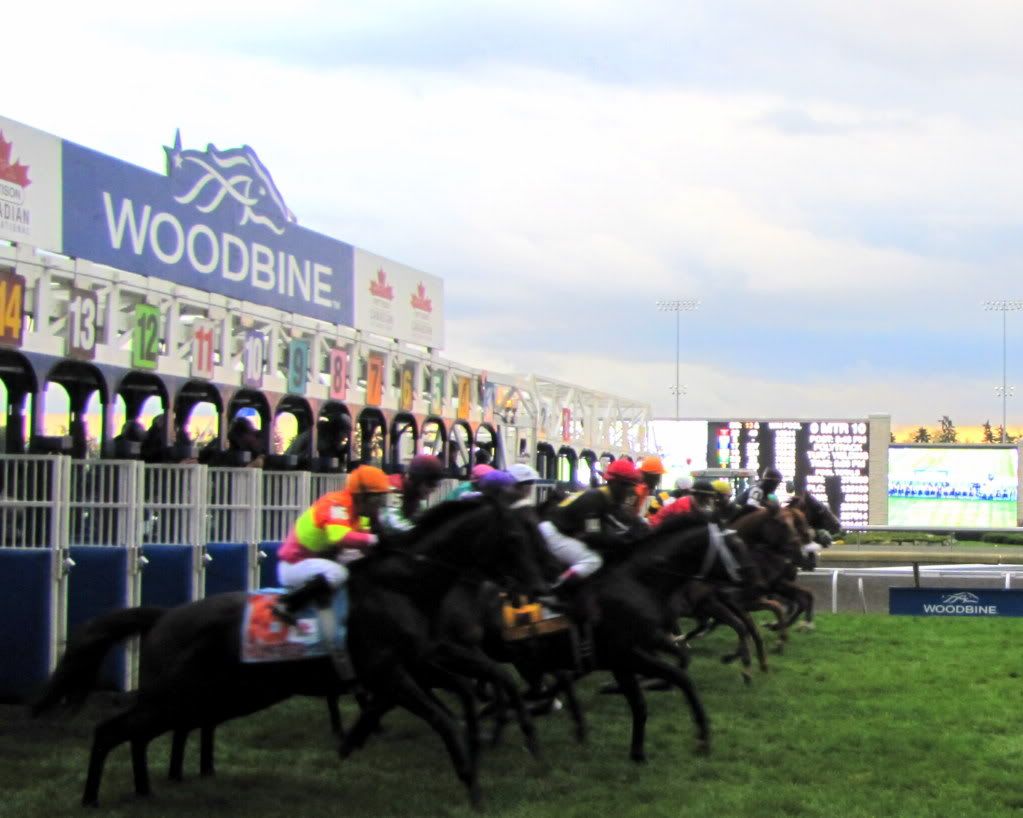 ...and they're off in the 2011 Pattison Canadian International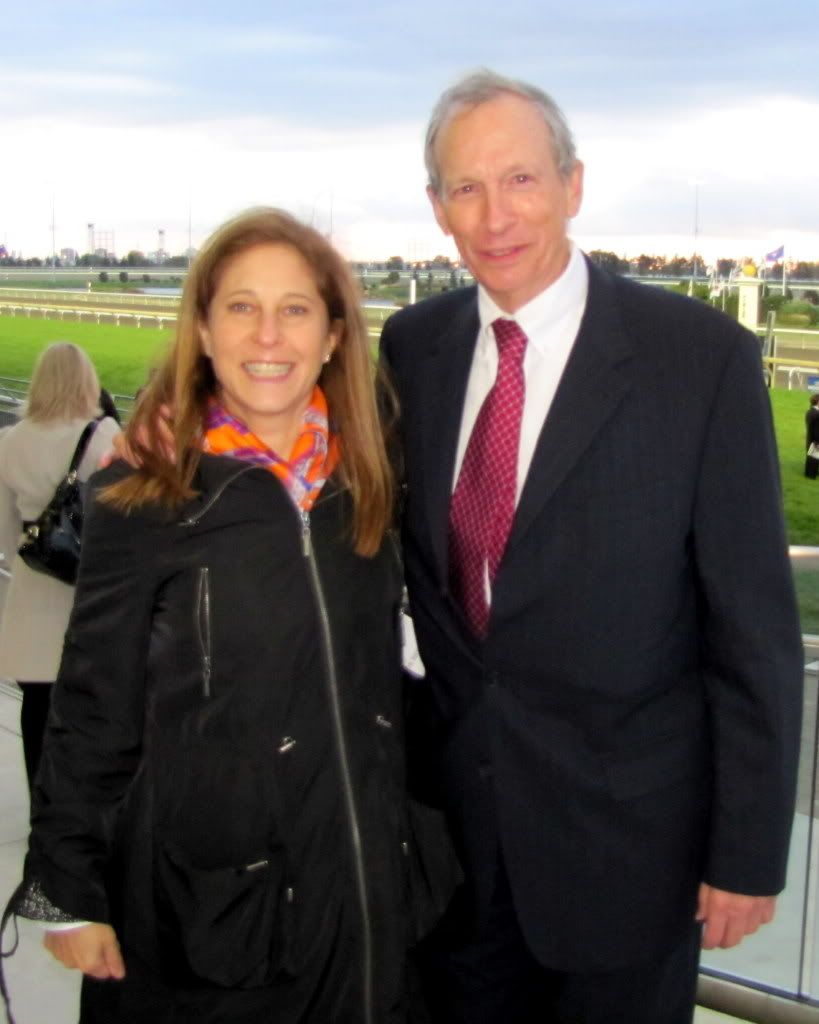 Sarah Lynx's Connections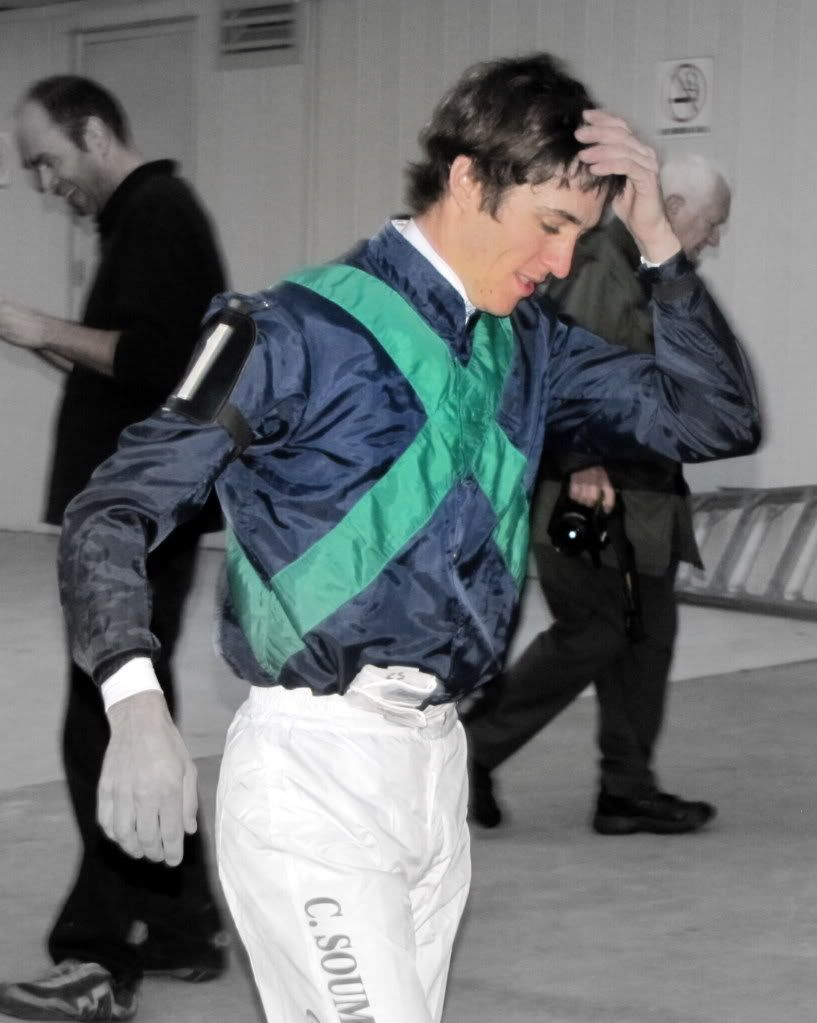 Christophe Soumillion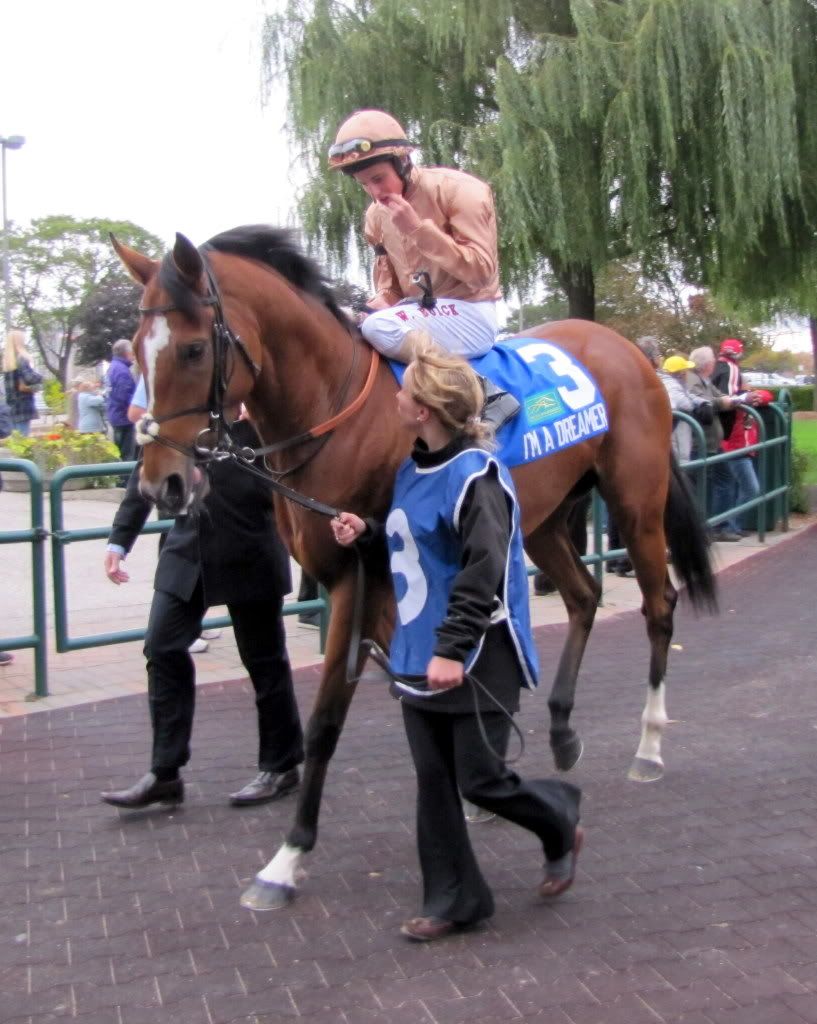 I'm a Dreamer
Sarah Lynx


Treasure Beach
Bated Breath






Joshua Tree
Dream Peace
Woodbine's Delectable Desserts (esp. Warm Chocolate Cake, right)
And me with some of my favourite Jockeys from abroad:
Julien Leparaoux (!!!) & Mr. Will-W.
Christophe Soumillon & Mr. Will-W.
Michael Hill & Mr. Will-W.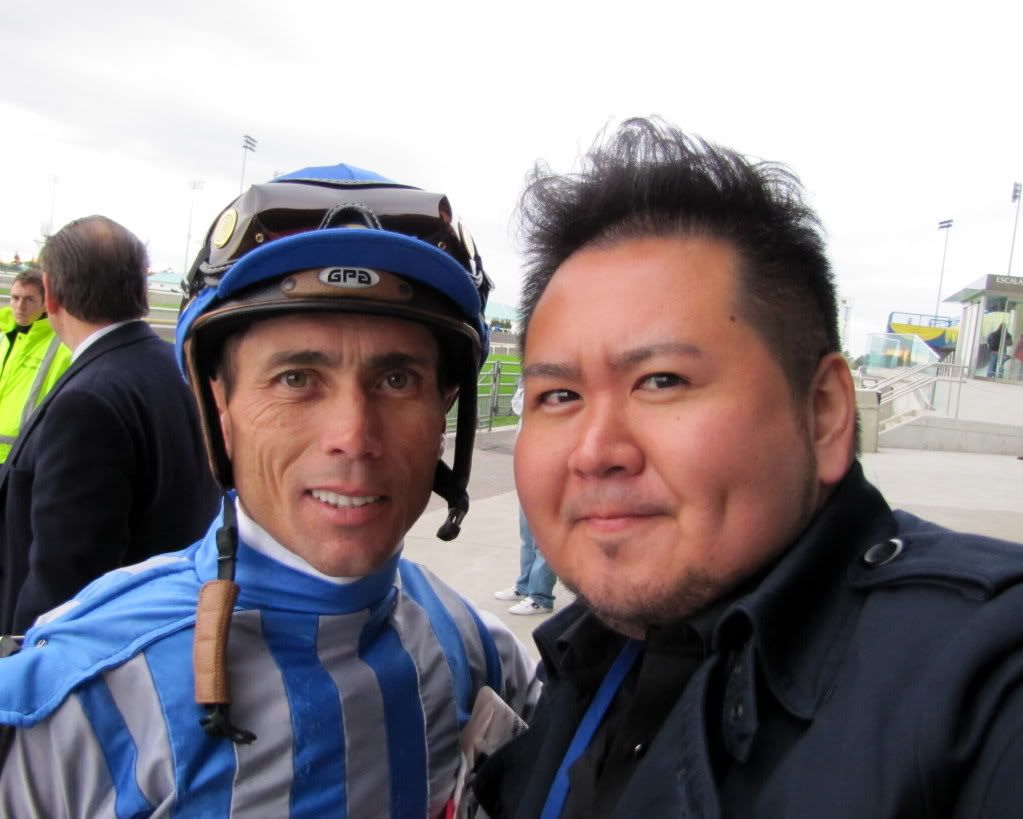 Garrett Gomez & Mr. Will-W.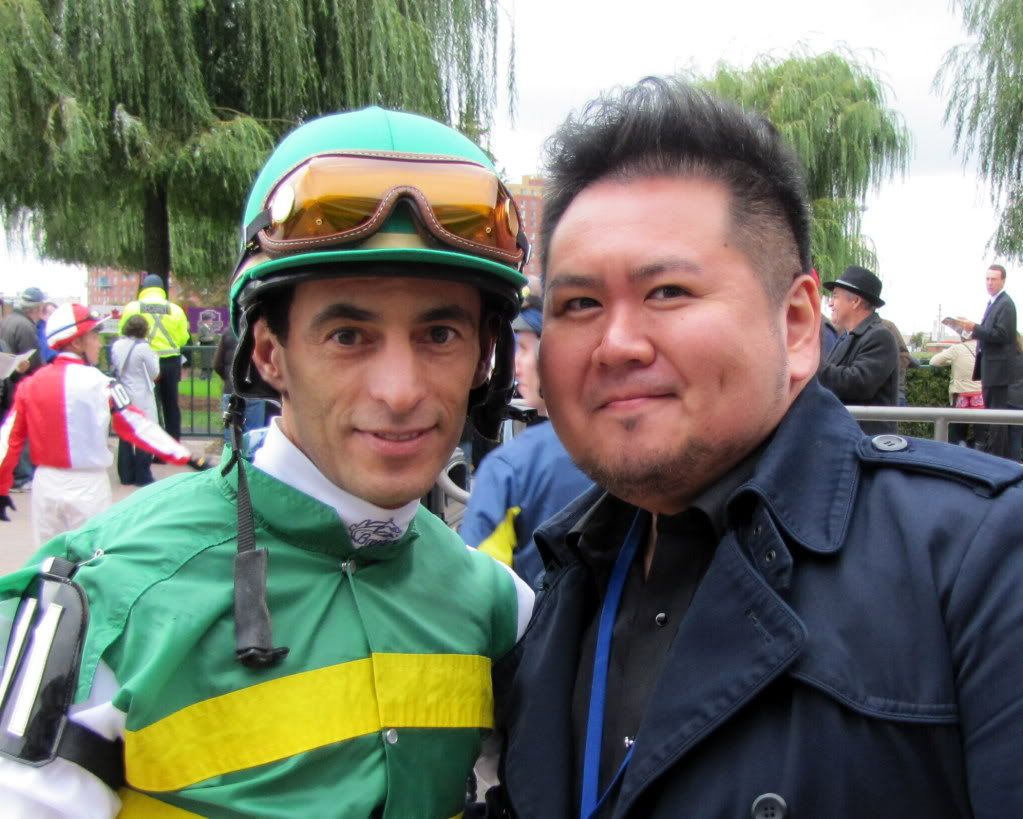 John R. Velazquez & Mr. Will-W.
Special thanks to
Woodbine Entertainment
for having me. I'll be back next week celebrating my Birthday with Family and Friends! You must visit
TripleDeadHeat
, the most comprehensive Blog about Horse Racing in Canada.
(Photo/video credit: Mr. Will-W.)