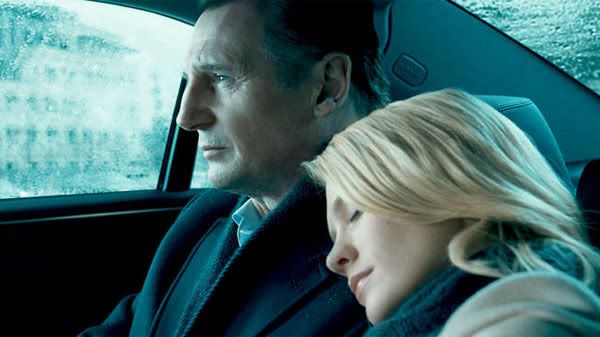 Still from Unknown
In a v. evenly-matched race at the Box Office this weekend, Warner Bros.' Unknown winds up taking the top spot. The Thriller starring Liam Neeson and Mad Men's January Jones, despite mixed reviews overall (56% on Rotten Tomatoes' Tomatometer) will bring in $21.8 million by end of weekend.
Disney's I Am Number Four takes second spot. Starring real-life Couple Alex Pettyfer and Glee's Dianna Agron, the Action/Fantasy brought in $19.5 million in its opening weekend. There is talk of this developing into a Franchise and clearly there's a demand for it among Movie-goers.

Following closely in third is Gnomeo & Juliet 3-D with $19.4 million for eOne Films/Summit Entertainment. The Animated Feature set to the music of Elton John, debuted in third also last week, holding steady despite a 23.4% drop.
Adam Sandler and Jennifer Aniston's Just Go With It slips to fourth this weekend with $18.2 million, after denying Justin Bieber's Never Say Never 3-D top spot last weekend. To date it has earned $63.5 million, well on its way to recouping its $80 million production budget for Sony Pictures.
Big Mommas: Like Father, Like Son in my opinion didn't need to made at all, but the latest installment of the Martin Lawrence franchise debuts in fifth with a not-too-shabby $17 million. One thing is clear - people love seeing Black Men in Drag as evinced by the success of this and Tyler Perry's wildly successful Madea Films.
Slipping most dramatically is Justin Bieber's Never Say Never 3-D with $13.6 million in sixth, experiencing a 54% slip. Its two week tally though is a healthy $50.4 million after being made for only $13 million.