Natalia Kills & Mr. Will-W.
British import
Natalia Kills
has been burning-up the Blogs over the past year and she is now on the verge of Stardom with her debut Album
Perfectionist
slated for a release shortly. I caught up with the Actress/Singer/Songwriter out and about on her Press Tour in Toronto earlier today, before her performances tonight on
MuchMusic
's
NML
and an opening stint on Swedish sensation
Robyn
's show at the
Sound Academy
. Signed to
The Black Eyed Peas' will.i.am music group
, in partnership with
Akon
's
Kon Live
,
Interscope
and
Cherrytree Records
, the support is there for this label mate of
Lady Gaga
.
Her debut single Mirrors, a finely crafted piece of dark Electropop is now beginning to pick-up in terms of Airplay in Canada and today Kills visited Top 40 Outlets like Z103.5, KISS 92.5 and PROUD FM 103.9 to promote the track.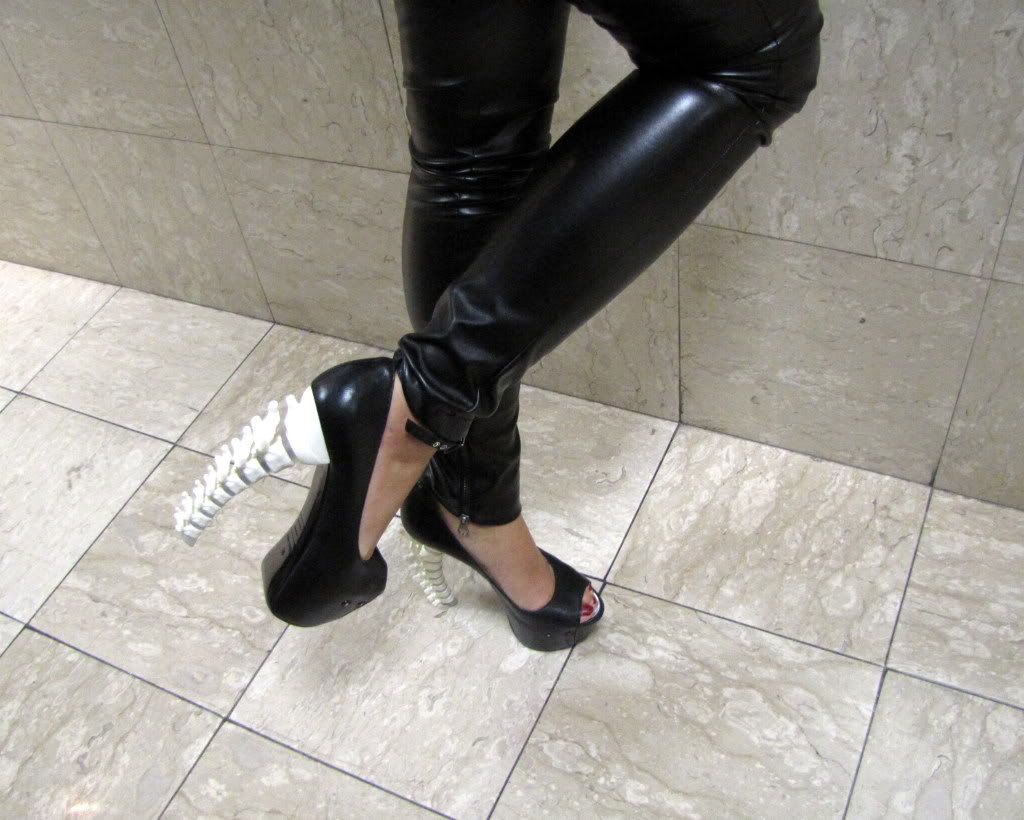 The pint-sized Songstress was styled immaculately, dressed in Leather Pants and a
Faux Fur
Jacket. Her Hair was perfect with neatly-trimmed Bangs; her Make-up eye-catching with mismatching
faux
Lashes. "Check out her shoes", her Publicist from
Universal Music
pointed out to me and so I did, snapping a quick shot of her
D-Squared
s in their Spine-heeled glory. The Girl likes to have fun.
Genuinely surprised at the sight of Fans in Toronto, Natalia Kills should enjoy the peace and quiet now as industry insiders are tipping her hotly as the next big thing alongside another British import, Jessie J., who also is launching her career stateside this year. Kills despite the edgy stage pseudonym was extremely sweet in-person, confirming for me that Perfectionist will be hitting stores at the end of March even still with no official confirmation from her Label.
Kills
asked one Fan, "Where did you find these Photos?" as she signed a number of Autographs. "
Google
" he replied, to which she giggled "What? Really?". The half-Jamaican/Uruguayan Singer sweetly waved to my Camera as she headed off, thanking me for waiting.
Watch the Video below:
See some more Photos I got of the glamorous Kills below:
You can follow
Natalia Kills
on
Twitter
here
.
I'd also like to offer my readers a chance to win a Signed 8x10 from her also! To qualify for the win, leave a comment with the name of any one of your favourite Natalie Kills tracks! A winner will be drawn March 1, 2011 midnight. All are welcome to enter. Good luck, Mavenati!
(
Photo credit
:
Mr. Will-W
.)