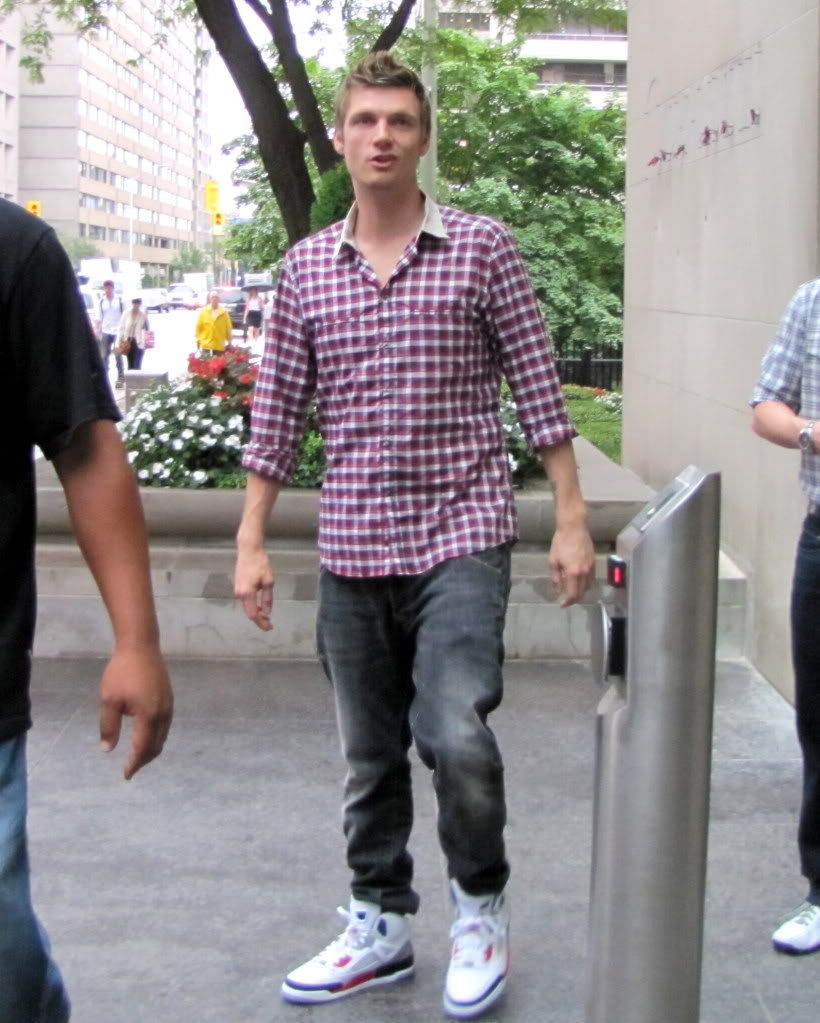 Nick Carter in Toronto - August 2011
Backstreet Boy Nick Carter somehow has found time to record a second Solo Disc between making a Short Film and being a part of the successful/sold-out Backstreet Boys and NKOTBSB Tours.
Carter who just wrapped-up the NKOTBSB Tour Sunday in Ottawa, opted to stay in Toronto for a day of Press in support of new Disc, I'm Taking Off which has him collaborating with the likes of Toby Gad (Selena Gomez, Fergie) and Mischke (Spice Girls, Trey Songz). The Universal Music Canada release is led by first single Love Can't Wait, produced by Canada's v. own Shawn Desman.
Nick Carter & Mr. Will-W.
After finishing a round of interviews for
CHFI
and
KISS 92.5
,
Carter
dressed casual and comfortable in a plaid Button-Down and Jeans, came out to greet a small number of Fans - some from more than an hour away - waiting in the rain for him. His Handler said, "Today there's only a small number of you, so he likely will do Photos with you", which just might have a few Fans extremely happy.
Even if you're just learning of this right now, don't fret as Carter will be greeting up to 300 more Fans this evening 6 to 9 PM at HMV Queen Street. To get an Autograph, remember to head to that location and pick up a copy of I'm Taking Off, in-stores today!
What's that? Of course I didn't forget you! You can enter to win a signed
Nick Carter
Photo too! To qualify for the win, leave a comment with the name of
Carter
's new Disc below by
September 8, 2011
. You must be f
ollowing me on Twitter
to be eligible and remember to leave me your
Twitter
name! All are welcome to enter. Good luck,
Mavenati
!
If you missed the
NKOTBSB
Tour,
click here
to see my Photos/Video from the Show.
(Photo credit: Mr. Will-W.)