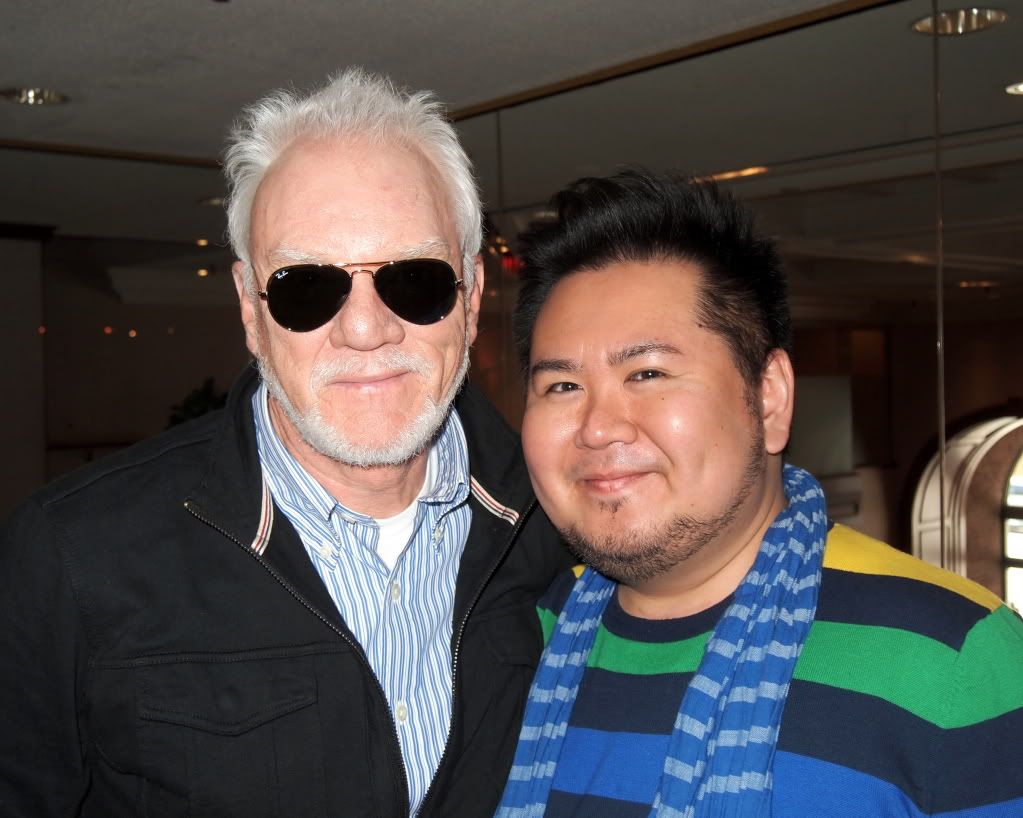 Malcolm McDowell & Mr. Will-W.
I had the incredible opportunity of a sit-down Chat with Screen Legend Malcolm McDowell, who has entertained audiences for an incredible span of five decades. With a Resume which has seen extremes with controversial Films like Caligula and Clockwork Orange on on end of it, and on the other end his recognizable voicework in Blockbusters like Kung Fu Panda and Bolt, McDowell has a rare gift that is universal in its appeal. Critics, Moviegoers and Kids adore him.
McDowell
took a break from filming forthcoming
ABC Family
Television Movie
Home Alone 5
starring promising Child Actor
Christian Martyn
in Winnipeg, to promote Canadian-based
Dark House Films
'
Ouija
Board Horror,
The Unleashed.
The Film screened last night at
The Royal
in
Little Italy,
with him treating the audience to a quick introduction
(
click here
for Photos)
.
Although he isn't seen on-screen,
McDowell
's distinctive voice can be heard as he narrates, having
recorded his parts back in Los Angeles via a Phone Patch. Soon he will be teaming again with that Production Company on another title in
The Monster Butler,
as the "north of $6-million" Horror is slated to begin production this June in Scotland and
McDowell
couldn't be more thrilled, taking on the Lead Role. The Father of five tells me that often when choosing roles now, he thinks of his own Kids. And soon he'll be home again with them as
Home Alone 5
- which sees him starring as an Art Thief looking to reclaim a painting by a Relative, of a Relative - is due to wrap in a couple weeks.
The Actor has many fond memories of Toronto having filmed many a Movie here in recent years, including
Antiviral
and also
Silent Hill: Revelation 3-D
. Although he couldn't comment on specifics for the latter, he did state
"It's a great scene. I'm not going to tell you too much and spoil it - the Producers are going to kill me - but it's really fantastic, it's going to be a great one.". He adds, "I believe this is my first time being seen in
3-D
.".
While on the topic of Canadian Talent,
McDowell
reveals that he is a huge Fan of
Ryan Gosling
. "There are so many Actors who you think are American and then realize they're actually Canadian... like
Ryan Gosling
. He's a fantastic Actor!", he praises. We both bonded over our affections for the underrated
Drive
, placing it on our personal 2011 Best-of Lists. The surprises continued south-of -the-Border too, as he admits too that he is a Fan of
American Idol
. "It's nice seeing Young People given a shot. A lot of those Talent Shows I haven't got time for, but this one is the best, it's original of the new breed.", he says. "I've heard some performances on that Show that have made the hairs on my neck stand-up. It's fabulous.".
On his recent experience receiving a Star on the
Walk of Fame
in March,
McDowell
tells me, "I had no idea
Gary Oldman
would be showing up. It was an amazingly sweet thing to do. You know, those things are pretty corny, but I must say it was a beautiful day and all my Children were there. In the evening, I had this Retrospective where they showed five of my Movies and my Ex-Wife
Mary Steenburgen
came with me and did a
Q&A
at the
Egyptian Theatre
.".
Being an Actor who has seen the evolution of Movies from Film to Digital, I asked
McDowell
his thoughts about whether or not he feels this actually is helping or hindering Cinema. He takes a progressive stance on the matter stating, "Going Digital I think, is a great thing. I know a lot of
Oldtimers
hate it, but I disagree. It is so much easier to work with, and the quality is staggering. I'm all for it.". He does feel however that we are stuck in what he calls "No Man's Land" with uncertainty arising for Filmmakers having to make Movies for small screens as the
On-Demand
format continues to gain popularity.
Lastly, I asked
McDowell
to use one word to describe his celebrated Career and the word he chose was "eclectic". After a brief ponderous pause he says, "Happily for me, the range has been pretty enormous. It's been a great fun ride, I've been blessed. Not many Actors are working into their fifth decade. It's a privilege and a blessing.". "And I enjoy it as much as I did then. Maybe even more.".
Watch some Highlights of my Interview with McDowell below:
(Photo/video credit: Mr. Will-W.)