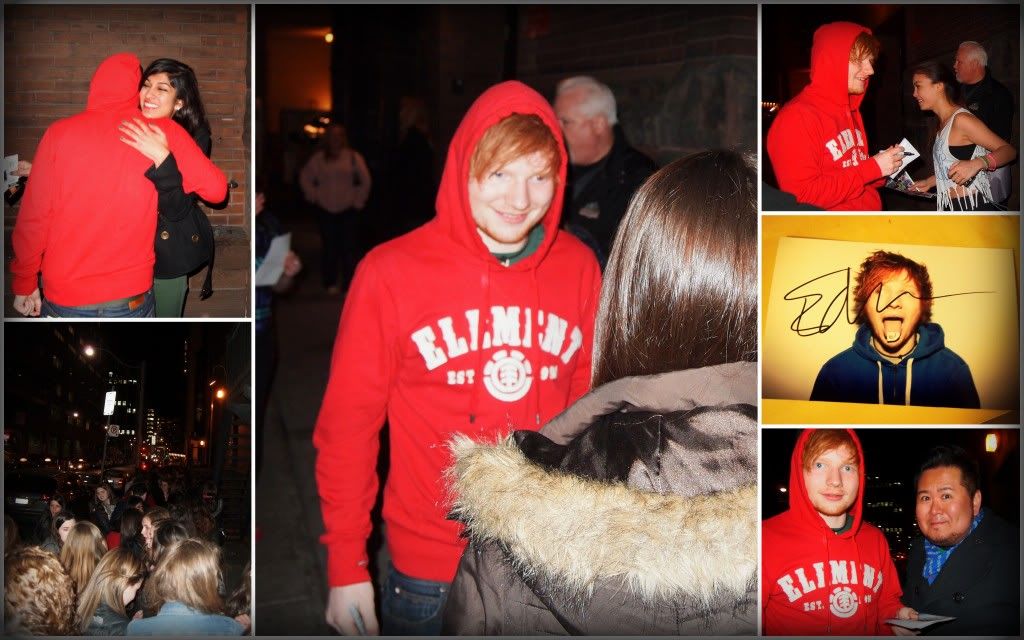 Ed Sheeran in Toronto - April 2012
The latest in a massive wave of British Pop Acts poised to take over North America is 21-year-old Ed Sheeran, who hails form Framlingham, Suffolk. The Singer/Songwriter scored big at The BRIT Awards earlier this year - his first time ever being nominated - winning British Breakthrough Act and British Solo Male Act (Female went of course, to Adele). His Brand of Folk-Pop mixed with a bit of Hip-Hop has gained him commercial success with his debut Single The A Team gaining the distinction of being the Highest-Selling and Highest-Charting Debut Single of 2011. Although signed quickly to Atlantic Records (Warner Music in Canada), Sheeran was able to reach number two on iTunes UK even without the support of a Label with his debut EP last year. His Profile was boosted significantly with ultra-hot fellow British Pop Act One Direction collaborating with him on their Track Moments.
The distinct-looking Redhead Crooner is in-town opening for popular Glasgow-based Outift, Snow Patrol two nights consecutively at Massey Hall. Screaming got so out-of-control for him last night that he politely had to silence his female Fans and in a true act of generosity he had his Handlers line Fans around-the-block at Shuter x Victoria both last night and tonight following his Performance, which included a Duet with Snow Patrol on their latest Single, New York. One-by-one he met each and every one of his Fans (in the hundreds), and although there was a no posed photos rule, Sheeran was kind enough to make an exception for me.
To celebrate
Sheeran
's visit to our City, I'm giving away one Signed Photo from him. To enter to win, simply click "like" on
Mr. Will-W.:Pop Maven on Facebook
and this corresponding Post. Remember to follow also on
Twitter
here
. Your deadline is
May 18, 2012
.
Sheeran
's debut Disc
+ hits stores and also gets
released digitally
in North America on
Tuesday, June 12, 2012
. Perhaps we'll be seeing him again at the
MuchMusic Video Awards
?
(Photo credit: Mr. Will-W. | Video content: Warner Music)