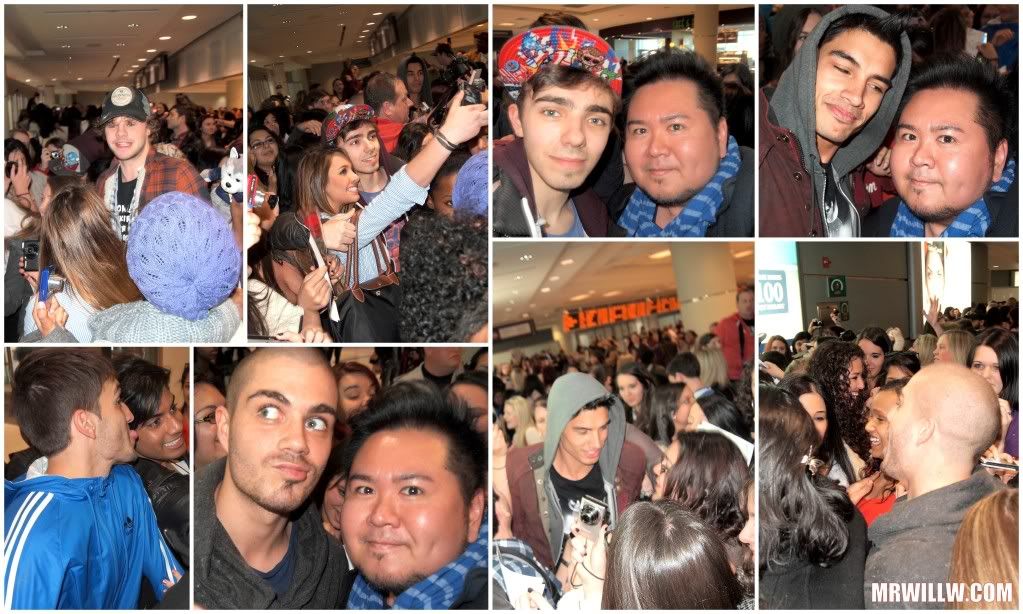 The Wanted in Toronto - March 31, 2012
I can honestly say that in my many years of witnessing Celebrity Arrivals, this by the far was the craziest ever. Super-hot British/Irish Boy Band
The Wanted
have stamped themselves firmly as one of 2012's biggest Pop Sensations and in case you needed proof, the scene at Toronto's
Pearson International Airport
today said it all. Hundreds of Fans gave the Boys a warm welcome, singing in unison the Chorus from their hit
Glad You Came
, cheering loudly at random Passengers who came through the sliding doors in hopes that the next to arrive would be them. And when the Band finally did appear, so did chaos.
Max, Nathan, Tom, Siva and Jay each had their own clusters of Fans crowding around them for Photos and Autographs as their Security Guards ushered them along. Few Fans walked away disappointed even despite the pushing, shoving, screaming, tripping and falling. Flower petals were scattered amidst puddles of Beer on the floor by the end of it all. This is all the more impressive considering the Boys don't even have a full-length Disc out in North America yet - their debut EP is due April 24, 2012 via Universal Music Canada.
The Wanted
are in Toronto for a Press Blitz on Monday and Tuesday which will see visits to
Top 40
Stations,
CP24, MuchMusic
's
New.Music.Live, CityTV
's
Breakfast Television
and more. In addition, they will be spending time with Fans at their Autograph Signing/Performance at Brampton's
Bramalea City Centre on Monday
.
I was fortunate enough to get some goofy Photo Ops with the handsome and modelesque Max, Nathan and Siva, who were generous in their time with Fans!
It has been said that Boy Bands are back and I think I believe it firmly now. It's been a manic week for Toronto which has seen now both
One Direction
and
The Wanted
's arrivals in the City. And the Fans are glad they came.
(Photo credit: Mr. Will-W.)