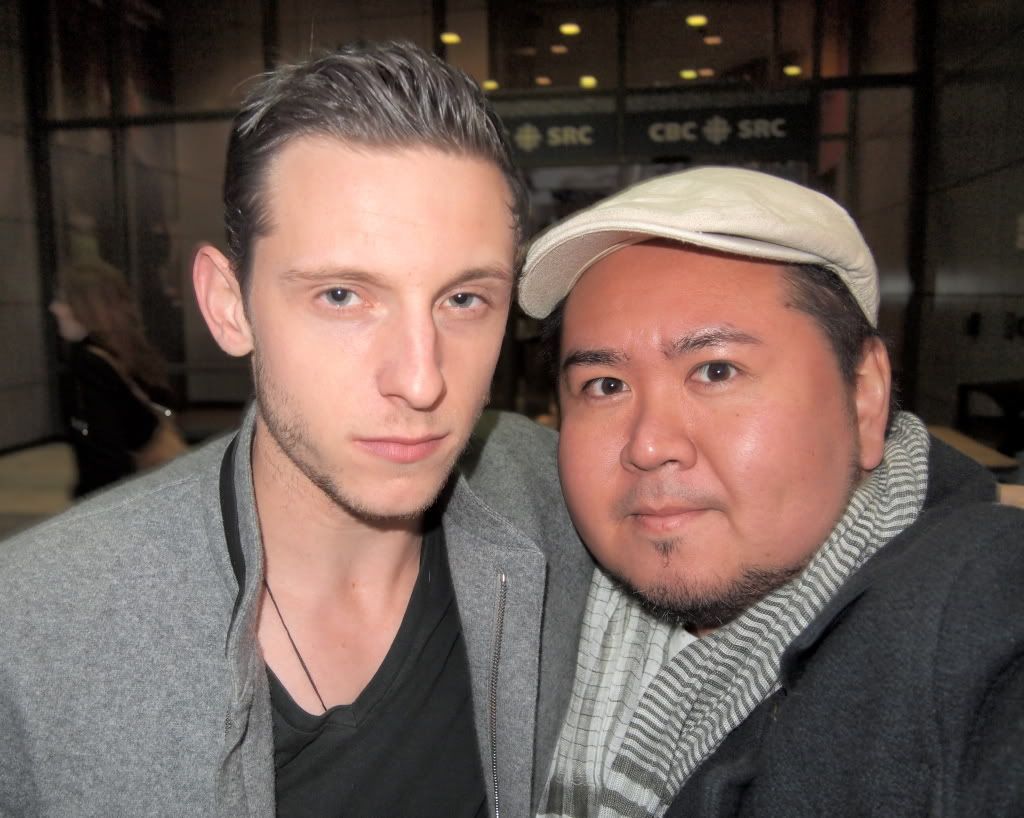 Jamie Bell & Mr. Will-W.
Introducing
Tintin
himself! 25 year-old British Actor
Jamie Bell
is known best for his work in 2000's
Billy Elliot
in which he starred in the Lead Role, Since then however, he has built a steady career in popular titles like
King Kong, Flags of our Fathers, Defiance
and
Jane Eyre
.
Bell
flew-in from New York City yesterday morning for an extensive two-day Toronto Press Tour in support of
Steven Spielberg
's
The Adventures of Tintin
.
The $135 million
3-D
Spectacle is expected to fare well internationally (it already has opened in several markets overseas) as Fans of the Comic Book Series have long adored it since it first was created by
Hergé (Georges Remi)
in the 1940s. I remember visiting London a few years back and seeing a Shop of all
Tintin
Memorabilia - that's how big it is over there!
The Tintin Shop in London's Soho District
I caught-up with
Bell
quickly one of his stop-offs today including visits to C
BC, MuchMusic, CHUM-FM
and a day full of interviews out of his
Yorkville
Hotel. Despite being rushed by his Handler, he was a Gentleman about it all, stopping to pose for a Photo and signing Autographs for Fans. It's been a while since he's been in Toronto, after filming
Doug Liman
's
Jumper
here back in 2008 alongside
Hayden Christensen
and
Rachel Bilson
. While in the City,
Bell
made sure to check-out the
Toronto Maple Leafs
vs.
Boston Bruins
last night at
Air Canada Centre
.
The Thespian is linked romantically with the beautiful
Evan Rachel Wood
whom we met back in September
and counts
Sons of Anarchy
Actor
Charlie Hunnam
among his Best Friends. No word though on whether or not he and
Hunnam
, who currently is in-town filming
Guillermo del Toro
's
Pacific Rim
, had a chance to connect.
Bell
is headed now to Montreal, where
The Adventures of Tintin
is set to open tomorrow first in Canada.
The Adventures of Tintin
centers around its Hero
Tintin (Bell)
and
Captain Haddock (Andy Serkis)
who are
on a search for a sunken Ship. The Film also features the Voice Work of
Daniel Craig, Toby Jones, Simon Pegg
and
Cary Elwes
.
Paramount Pictures
releases nationwide in Canada on
December 21, 2011
.
See more Photos of Bell I snapped today in Toronto:
Watch the Trailer for The Adventures of Tintin below:
(Photo credit: Mr. Will-W.)