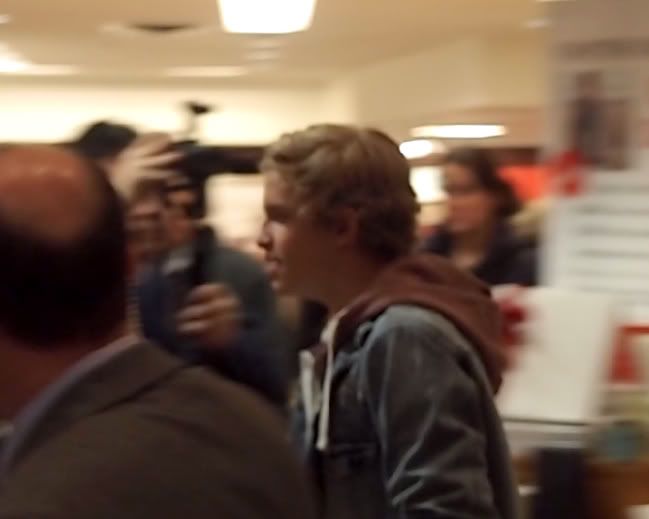 Cody Simpson in Toronto - December 2011
It is always amazing to see someone you support do well and that would be the case with Australian Teen Pop Sensation
Cody Simpson
.
After meeting the talented Singer back in June
when he visited Toronto for the
MuchMusic Video Awards
, I was left with such a positive impression of the 14 year-old. He is humble and diplomatic and it would appear his Parents really taught him well. Barely going noticed then, it is highly doubtful now that he could avoid any Teen Girl's Radar now if he were to say, go shopping at
Eaton Centre
.
Simpson visited MuchMusic today for New.Music.Live and lined along both Richmond and John Street were hoards of Teen Girls waiting to get their chance to see the Idol in-person. Shrieks heard outside were deafening. If you thought that was crazy, another 500 Fans could be seen lining-up at Chapters for a Meet & Greet with Simpson. Those same Fans also had to line-up early yesterday morning for Wristbands for tonight's Event.
Several measures were taken to ensure Publicity was controlled including draping the Autograph Signing Area so that no Photographs could be taken by those without Wristbands. Above this, the selling of Simpson's Coast to Coast EP at just $5.00, ensured that most Fans who wanted a chance to meet him had their opportunity. And there were many. This, plus the visible presence of Crowds at the intersection of Richmond x John with CTV Camera Crews ready, convincingly said that we are in the presence of a Superstar. Surely Cody Simpson was "on the minds" (pardon the pun) of many an interested Onlooker asking what the commotion was all about.
Simpson continues his Canadian Press Tour in Montreal tomorrow.
Order
Simpson
's
Coast to Coast
EP on
iTunes
.
(Photo/video credit: Mr. Will-W.)