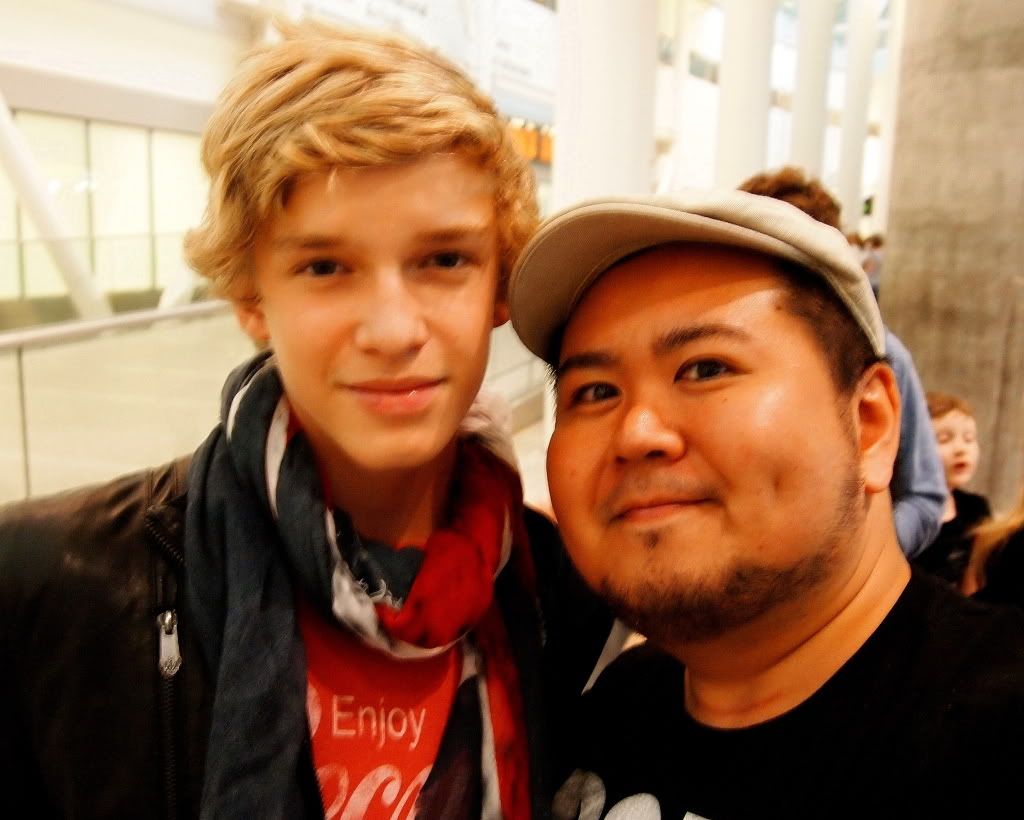 Cody Simpson & Mr. Will-W.
He might not appear familiar now, but this time next year you won't be able to escape him. Australian Teen Pop Sensation Cody Simpson despite not having a full-length Album out yet, already has legions of Fans in Canada. The 14 year-old arrived with his family this evening for his first time ever in Canada, greeting hoards of Fans at Toronto Pearson International Airport. The Singer is in-town as a Presenter at Sunday's MuchMusic Video Awards, being touted as biggest Teen Sensation we've seen since Justin Bieber. He's even working with some of the same Producers as that Mega-star.
Handling the situation like a true Professional, he stopped to sign Autographs and pose for Photographs with Fans. One thoughtful Fan even brought him a box of Kellogg's Frosted Flakes, noting that this is in fact Simpson's favourite Cereal.
His Sister Alli quickly noticed that I was wearing a Lady Gaga T-shirt today and became excited, telling me "I love your shirt!! I love Gaga!!". Within moments her Brother's Warner Music Labelmate Bruno Mars came out of the Arrivals section too and she whispered to her Mother, "Oh my God Mom! It's Bruno Mars!".
Simpson did indeed sign an extra Photo for my Readers which I will be giving away shortly. Stay tuned, Mavenati! This is one you won't want to miss.
See more Photos below:
Watch a Clip of Simpson below:
Follow
Simpson
on
Twitter
here
.
(Photo credit: Mr. Will-W.)