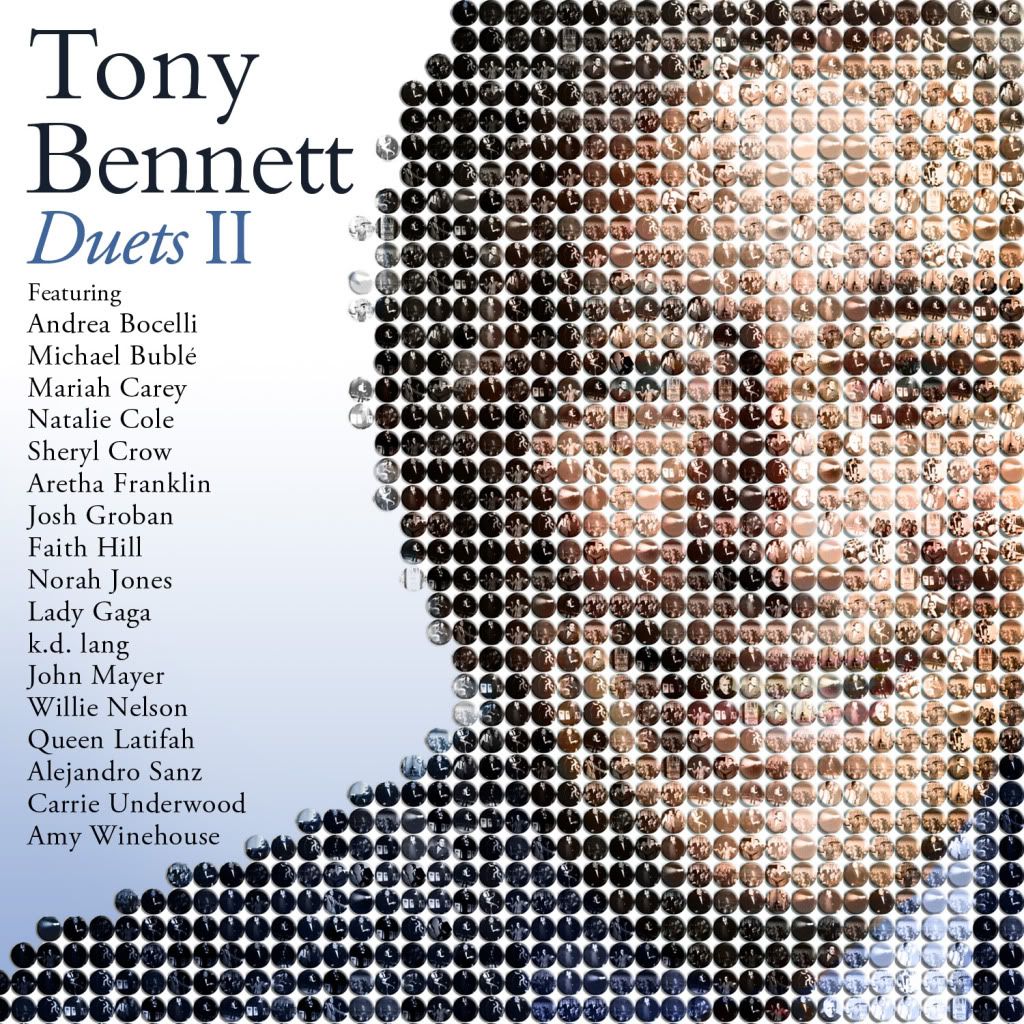 Tony Bennett - Duets II
Mr. Tony Bennett's Epic Opus 2011, aka Duets II brings together some of the most unlikely collaborations - a true testament to the Crooner's influence on so many of the Vocalists who have sold out Arenas and won Grammys after him. At 85 years of age, Bennett recently became the oldest living Artist to have achieved the distinction of debuting atop the U.S. Billboard Hot 200 Album Chart and he did it with some help from his Friends. Some really famous and talented Friends.
Jam-packed with 17 Classics, Duets II isn't necessarily about breaking new ground or necessarily about High Art. It's about celebrating an Icon and how Bennett's Voice and Music have inspired others and also connecting a new Audience who grew-up not having had Jazz Music on their radars. The phrasing, the range, the stylization - there is only one Tony Bennett and this Collection pays tribute to that front and center.
There are some fabulous moments on the Disc like the fun and flirtatious
The Lady is a Tramp (ft. Lady Gaga)
, One for my Baby (ft. John Mayer), a perfect reunion in
Blue Velvet (ft. k.d. lang)
,
Don't Get Around Much Anymore (ft. Michael Bublé
) ...obviously, Y
esterday I Heard the Rain (ft. Alejandro Sanz)
and perhaps a true showcase that he's (and she's) definitely still got it,
How Do You Keep the Music Playing (ft. Aretha Franklin)
.
Despite sounding unrecognizable, The Way You Look Tonight (ft. Faith Hill) and It Had to be You (ft. Carrie Underwood) are tender moments which turn-out beautifully. Despite my loving them greatly, pairings with the late Amy Winehouse on Body and Soul and also Mariah Carey in When do the Bells Ring for Me, neither showcase their great presence nor do they really add anything to the listening experience overall.
Tony Bennett
's
Duets II
will be providing the Soundtrack to many a cozy night at home this Autumn and Winter for many and almost is requisite of any Pop Music Lover looking to expand their range of musical tastes. It also is available in two-disc
Deluxe Edition
format with a 35-minute Behind-the-Scenes look at the making of the Album. Sony Music Canada releases
Duets II
and you can order it on
iTunes
here
.