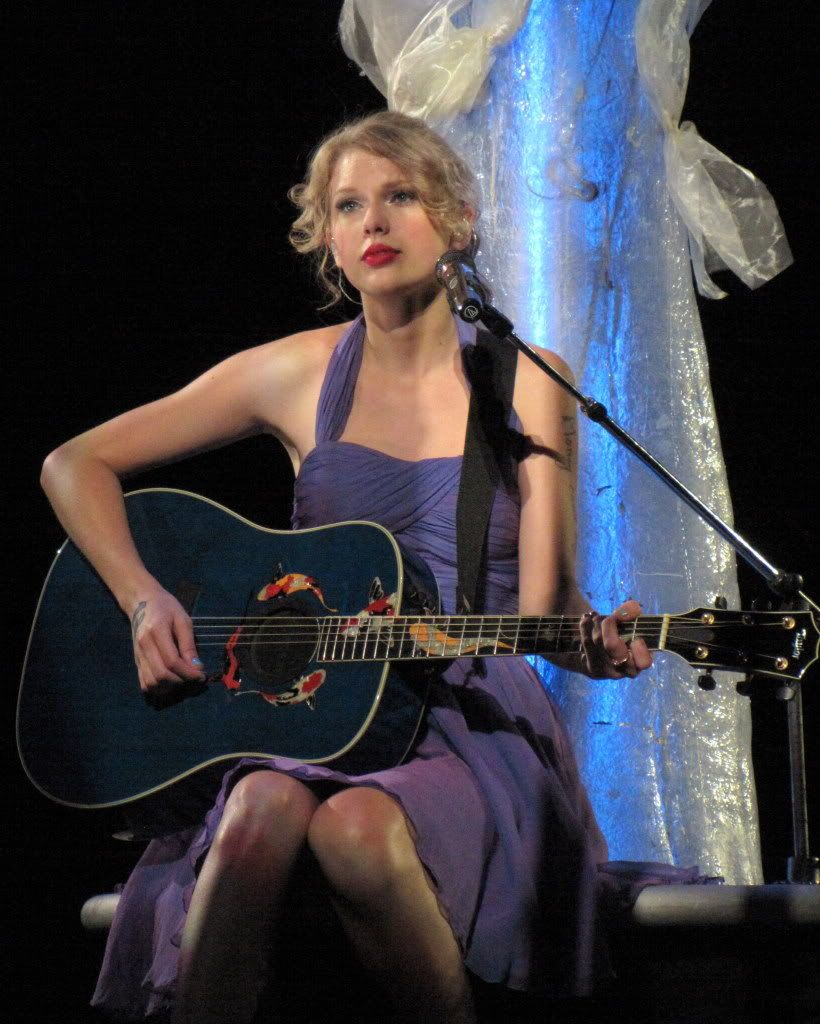 Taylor Swift in Toronto - July 2011
Performing for the first of two nights at Toronto's
Air Canada Centre
on the Toronto leg of her
Speak Now
Tour,
Grammy
winner
Taylor Swift
managed to overcome illness and wow a sold-out crowd after a show just last night at Montreal's
Bell Centre
. With the audience consisting mostly of early twenty-something Females,
Swift
focused mostly on newer material from her 4.8 million copy-selling third Disc
Speak Now
, released last October.
Arriving on-stage at exactly 8:30 PM, Swift delivered her "A-Game", dazzling the audience in one shiny outfit after the other with Beyoncé-like swagger and confidence, delivering tracks like Mine and The Story of Us. It wouldn't be long before the audience would chime-in with Swift singing together in unison on Mean, an ode to her harshest Critics and the price of Karma.
One highlight in particular this evening was a
Mash-up
of her Ballad
Back to December
, along with
OneRepublic
's
Apologize
and
You're not Sorry
, also appearing on her latest effort. Complete with a String section and lights resembling falling snow, the moment was magical indeed.
Into the second half of the show, Swift took the party to a secondary stage set-up behind the Soundboards, serenading the charmed audience with some Acoustic bliss on her track Fearless, which was merged together with Train's Hey, Soul Sister and Jason Mraz's I'm Yours. The Show hit a high note, as she took the festivities back to the main stage once again with her Grammy-nominated tune You Belong With Me, clocking in at over six minutes.
For variety, the multi-Instrumentalist threw in a Canadian tribute, covering You Learn by Alanis Morissette, Baby by Justin Bieber and She's So High by Tal Bachman - the latter which she calls her favourite '90s track. Swift's love for Canada extends beyond Music however, telling the audience how she appreciates that the only real Castle in North America, Casa Loma, belongs to Toronto. Also, her two favourite Ryans (Gosling and Reynolds) both hail from Canada and in general, the people of Toronto are "just awesome, you know?". She even welcomed Mayor Rob Ford who was in attendance this evening, despite that introduction being met with a chorus of "boos" from the audience.
Swift closed out the evening with a two-song Encore, including hits Fifteen and one of her signature pieces, Love Story - the first to bring her crossover success. Hovering over the audience in a floating balcony, the crowd clearly was won-over by the talents and charms of Swift. And although I think she has a ways to go in terms of her vocals, Swift sure delivers a fun experience which even with explosions and light trickery, feels incredibly close and intimate.
See more Photos below:
Watch Swift perform Back to December in full below:

MORE VIDEOS TO COME SHORTLY.
(Photo/video credit: Mr. Will-W./Audio content: Universal Music)