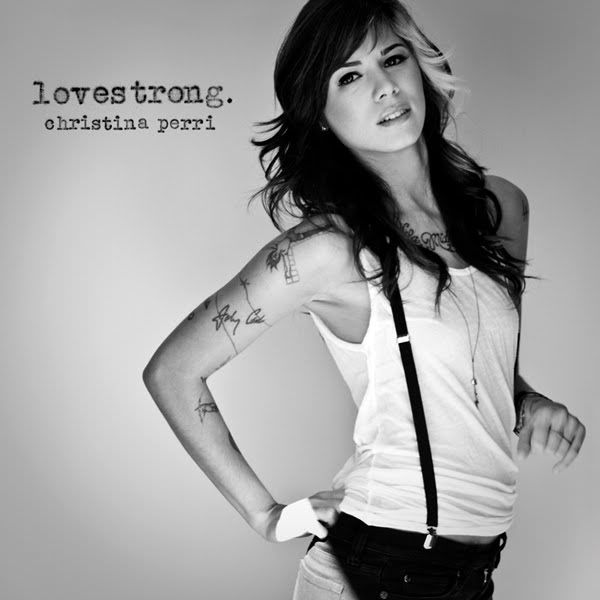 One of 2011's most promising newcomers hails from Philadelphia, her profile increasing significantly after some exposure she received via
CBS
'
So You Think You Can Dance
late 2010. 24 year-old Singer/Songwriter
Christina Perri
is
Warner Music
's newest secret weapon, who could only have benefitted from impressions left upon
James Blunt
's fan base with an opening gig on his current
Some Kind of Trouble
Tour.
The slight bit of raspiness heard in Perri's voice is telling of someone who despite her young age, really has lived. She perhaps is this generation's answer to the void of substance left by many of her female contemporaries who have opted for exposed legs, cleavage and Dance-Pop – not that there is anything wrong with that, mind you. Christina Perri perhaps is a noir-Sheryl Crow or a now-Fiona Apple for the mid 20s to 30s Lilith Fair-going set?
Perri's debut Disc Lovestrong. is an album inspired by Heartbreak, tinged with many moments of Lily Allen-like wit and metaphorical brilliance. It never veers from sounding raw and organic, remaining cohesively in one chilly, blue moment.
Opening track Bluebird is beautiful, setting the tone for the Disc by asking "How the hell does a broken heart/get back together when it's torn apart?". Arms gives us some more of Perri's vulnerability, needing the arms of her Lover to keep her "whole". Musically, it is Coldplay-esque in its Piano-Rock. Of course, no Female Singer/Songwriter's repertoire is complete without a bit of angst, often coming at the expense of having been done wrong by an ex-Boyfriend. "Bang she shot you down/Karma is so sweet", she revels in the splendour of Fate on Bang Bang Bang. Distance is reminiscent of Folk-Rock Duo The Swell Season, given a bit more dimension with the perspective that comes with a male Backing Vocalist.
Arguably the strongest Track on the Disc is first Single Jar of Hearts, where Perri defiantly puts in his place a Lover who scorned her. "Don't come back for me/Don't come back at all/Who do you think you are?" – an interesting juxtaposition of aggression against sorrowful Piano and Strings. The delicate Penguin is equally touching as it is sublime, a gorgeous ode to a Soulmate to that of the Arctic mammal.
Admittedly a bit plodding at 45 minutes of cloudy skies with no chance of sunshine, I predict a bright forecast for
Christina Perri
. Follow her on
Twitter
here
.
Lovestrong.
is now in stores.
Grade:
B+