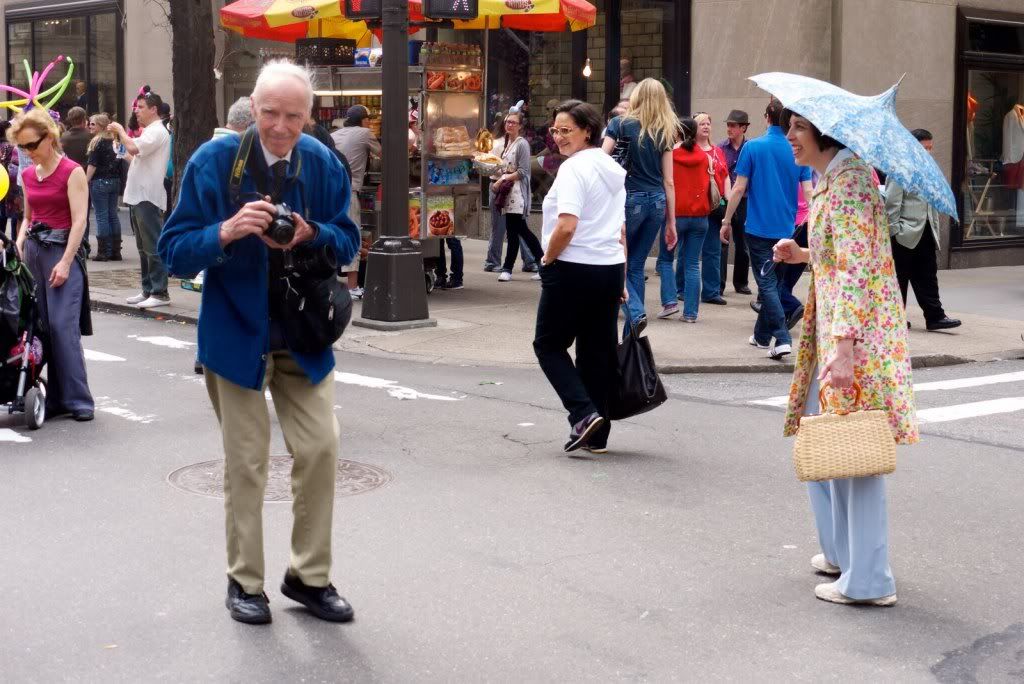 Still from Bill Cunningham New York
Best Documentary
ever
.
Bill Cunningham New York
by Director
Richard Press
, chronicles
The New York Times
' most celebrated Fashion Photographer. Now in his 80s,
Cunningham
is still going strong with his keen eye for Style, accumulating visual documentation of Fashion Trends in Manhattan for the past 40 to 50 years.
He revolutionized Street Fashion as we know it today and despite having had many chances to profit he instead lives a modest lifestyle of $3.00 Breakfast Sandwiches, a simple Uniform and opting to commute via Bicycle. He attends Church every Sunday and has never found Love. He is however, married to his Work. A true inspiration.
Along the way, we get the opinions of other Fashion Icons and how they feel about him. Vogue Editor Anna Wintour confesses her craving his approval, equating being ignored by him as "like death" and she states, "We all dress for Bill". We get to witness Cunningham at-work in addition to seeing many highlights of his Body of Work. He even receives the prestigious honour of Officier de l'ordre des Arts et des Lettres by the French Ministry of Culture in Paris, graciously accepting the Award in French and paying tribute to Beauty.

Bill Cunningham New York
is a fascinating Film and although it is only in
Limited Release
, I hope that you find an opportunity to see it. Seeing him smile with Child-like fascination every time a new Fashion Fnd crosses his path and Camera Lens, is quite possibly one of the most unadulterated and beautiful things I have ever seen.
My Hero.
Learn more about the Documentary
here
.
Grade
: A+