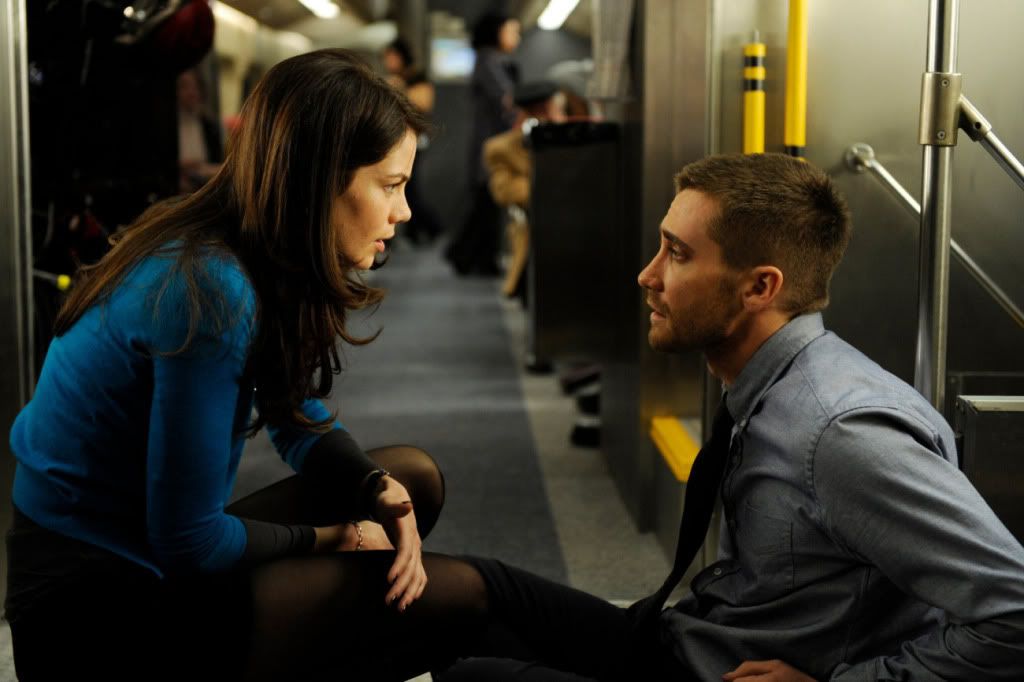 Still from Source Code
Combining Sci-Fi with a small bit of Action, Source Code delivers a refreshing spin on a story which could have been plagued by the banality often seen in the genre. Director Duncan Jones, Son of David Bowie, speaks with a clear, crisp narrative which keeps his audience engaged endlessly. And this is only his second Feature.
The Film centers around a decapitated Captain Colter Stevens (Jake Gyllenhaal) who finds himself in a secret Government experiment called The Source Code. Colter is given the ability to enter the body of a Man killed in a Chicago Train Bombing. Over and over he must re-enter the body of the Man with a time limit of eight minutes per entry. He must search for clues aboard the Train, with a mission to derail the bombing and also locate its Mastermind.
Along the way, he meets the beautiful Christina (Michelle Monaghan) whom he is enamored with, which both pushes him towards solving this mystery and also pulls him back in his own distraction. He soon realizes that she too would have been killed in the Disaster. Thus, in circumventing this Bombing, Colter not only is saving the lives of passengers aboard the Train and millions of people in Chicago, but also he is saving the life of the one Woman he is absolutely smitten with.
Gyllenhaal as always has an undeniable charm and as the Hero, he brings intensity in progressive doses as he gets closer and closer to reaching his goal. Although Monaghan isn't given much to work with here, relegated to smiles and giggles most of the time, she is likable. The always-exceptional Vera Farmiga as Carol, is on-board with the experiment at hand keeping Colter focused completely on the task. She shows just the right amount of vulnerability beneath the icy exterior; she is cast perfectly. Most unexpected of all is a surprise appearance from Canada's greatest Comedic Talent, Russell Peters, as Train Passenger Max Denoff. Just now beginning his foray into Film, he delivers a few laughs in this otherwise intense thrill of a ride . And for that deeper bit of a Canadian connection for the truly Patriotic, many of us will be proud to know this was filmed in Montreal.
eOne Films' Source Code hits theatres Friday, April 1, 2011. Grade: A-