Billy
On behalf of Billy, I want to thank all of you for your kindhearted messages and support whether it be in-person, through E-mail, Twitter or on Facebook. I've pretty much been preoccupied these past few weeks nursing him better as he contracted a v. serious Infection. After not responding so well to his Antibiotics, which actually made him really ill, I was well, left in tears. He's been getting better by-the-day and is now receiving daily Intravenous treatments. I'm pleased to say he's more back to his feisty eight year-old self, Bandage and all.
Anyone who's ever raised a Pet will know that the bond you experience with Him/Her is like that of a Parent and a Child. I adore the little Guy more than anything and sometimes when it feels as though the World is against you or when those I cared about have disappointed me, Billy has always been there for me reminding me that I always have a home. Thank you.
With love,
Mr. Will-W.
Public Relations Officer
Billy Inc.
_______________________________________________

And now for Business Matters (LOL), I will take time to reply to some Mavenati Mail, which I've been meaning to get around to. I appreciate it when someone takes the time to drop a line whether it be to send a Tip, correct something I've posted (Yep, I'm not always right!) or to just send their appreciation. Even though I don't reply to each and every message I get, I try my v. best. It's not me being a Diva, trust me.
Keila
writes, "Great Blog! I was sent a link to your Blog because my picture is in it. After reading your stuff, now a fan!". Welcome aboard,
Keila
! I'm definitely not the best at what I do, but I work hard to be the best that I can be. I hope you'll keep visiting and thanks for letting me feature your lovely face!
Sandra
writes, "Wow
Will
, I am in awe of your talent and amount of time that you spend doing this. You are wonderful. I don't always comment but maybe I should so you know that I am paying attention. Fabulous writing and insightful. Thank you. Love your stuff.". What, you don't love
me
?!?? Only my
stuff
??!
LOL
. Thanks
Sandra
, I do it all for you Guys - my
Mavenati
. I laud kindness and want only to keep celebrating that inner-Fan in all of us.
Glenn
Tweets
, " ...check out a Friend's Blog also (
@mrwillw
). He covers every Celeb in Toronto!!". Thank you,
Glenn
! Your support means so much to me and although I wish I had the bandwidth to fulfill your claim of being able to "cover every Celeb in Toronto", I do my best to bring stories which I feel both my Readers and I would be interested in. There are others in this City who are much better than I am at Celebrity coverage and above that, they have been at it much longer than I have. I am not a Competitor but instead an additional Voice and hope that they see me this way. I want to be able to learn from others and help others learn.
Liana
writes, "OMG. You are my new favourite person! You make great TV!". Thank you
Liana
! I hope to be more public in the near future, making
Mr. Will-W.:Pop Maven
not only a Blog, but an experience. I do have an attention-hungry side and admit that, but I mean well underneath all the showiness. I am glad you enjoyed my
CP24
appearance recently!
Charlotte
writes, "I just checked out your Blog and it is really cool. It's really nice to get Celeb news from a more professional standpoint. Really nice photos.". I appreciate it,
Charlotte
. I'm just a Boy having fun with my
Point & Shoot
Camera and out living my dreams. I've never really thought of myself as a "professional", but more so a Fan with something to say.
And although shocking, it is always flattering when Readers ask to have their Photos taken with me. Last week at the
Juno
Awards Red Carpet, I got to meet one of my most loyal Readers
Angela
and was so touched that she asked her Dad to take a Photo of us. Of course, I obliged! And later in the week at the Premiere of
Scream 4
, another Reader
Tara
tried snapping a Photo of me while I was buying Popcorn. I then grabbed her
iPhone
and took a Photo of us much to her surprise. Hope I didn't scare her. Ladies, this one's for you!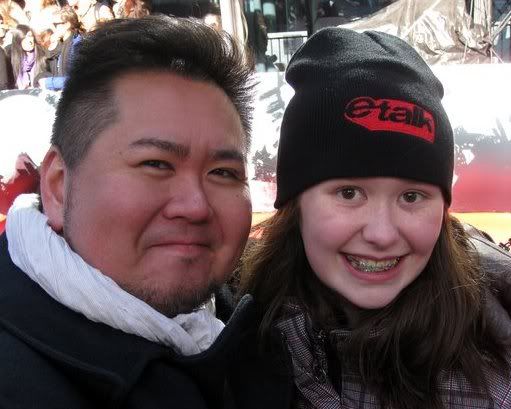 Mr. Will-W. & Angela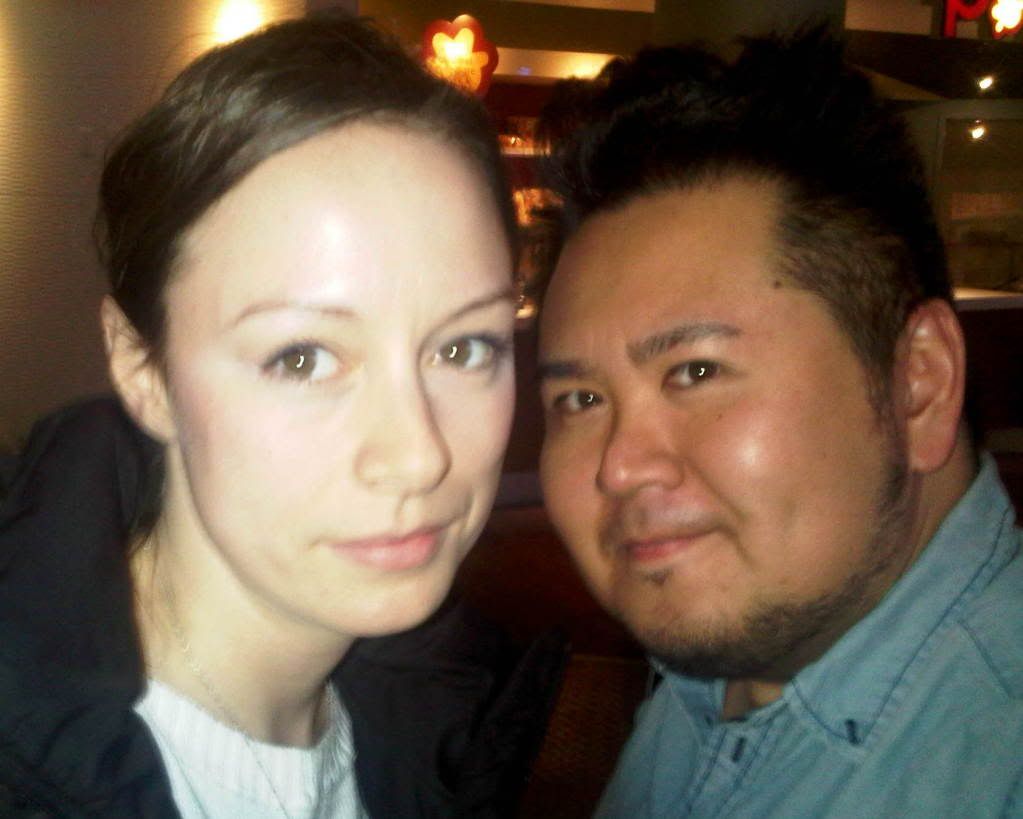 Tara & Mr. Will-W.
Thank you and keep 'em coming! How else will I keep my jumbo head inflated?
xW
p.s. All Honey, no Vinegar.