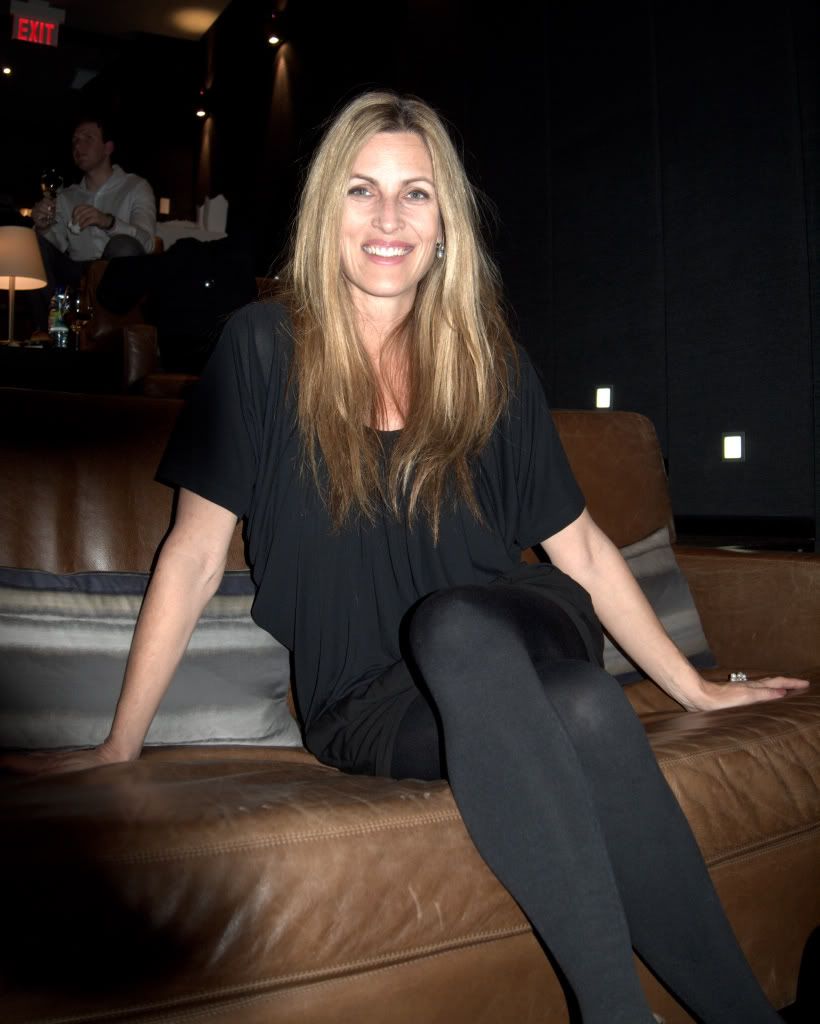 Mary Jo Eustace
It was a great pleasure to finally meet a Woman whom I admire and adore v. much this evening - Toronto's v. own
Mary Jo Eustace.
In-town from Los Angeles promoting her latest Cookbook,
Cooking for Your Cub,
a full day of Press was lined-up including interviews with
CTV
's
Canada AM
and
Entertainment Tonight Canada
. Many of you might remember
Eustace
from
Life Network
's
What's for Dinner
and more recently
W Network'
s
He Said, She Said
, which she co-Hosts alongside
Ken Kostick
.
A few years ago when I was promoting my own Music, I remember receiving a lovely e-mail from
Eustace
who then hosted
What's for Breakfast?
on
PROUD-FM,
telling me what a Fan she was of my Track
Connection
. On multiple occasions she would profess her love for the Track on-air and after stepping-down from her position at the Station shortly after, I never got a chance to tell her how much her support meant to me. As is the case in life, everything comes Full Circle as we crossed paths at a private
Top Chef Canada
Viewing Party tonight at
Hazelton Hotel
.
Eustace & Mother
The gorgeous
Eustace
gave me a big hug, having recalled me right away. She did admit to me that she wears Bifocal Contacts Lenses and that her eyes were a bit strained after a long day. Asking me about whether or not I've been working on Music much of late, I told her that much of my energy has been spent on my Blog. She offered me her full support herself being a perfect example of someone who has found a wonderful life balance doing a bit of everything she loves.
Eustace
enjoyed tonight's Screening alongside with her charming Mother, enjoying some Popcorn (yes, there is such a thing as
Chocolate Popcorn
) together and encouraged us to dish on which
Top Chef
Contestants we found attractive during the Broadcast.
A Mother of three, her Profile if anything has been raised from the Publicity surrounding her 2005 Divorce from ex-Husband
Dean McDermott
, now married to Actress
Tori Spelling.
She has experienced much success since making it through that difficult phase of her life, channeling it into her work as an Author, penning Relationship Books such as a Best-seller
Divorce Sucks
.
Currently, she serves as a Consultant on
The Joy Behar Show
.
What differentiates
Eustace
's
Cooking for Your Cub
from your standard cooking-on-the-go fare is that she was called-upon by
CougarLife.com
(a dating Website for Older Women seeking Younger Men and vice-versa) Founder
Claudia Opdenkelder
to concoct some tasty Recipes to entice her own younger Lover and at once, nourish their love.
Opdenkelder acknowledges fully that she is no Julia Child in-the-kitchen, thus seeking the expertise of Sous- Chef Eustace, who tailored a collection of Recipes to the level of skill people who like me, are too bloody tired to Cook... let alone devise an elaborate plan of Seduction for our Lovers.
Not only is
Cooking for Your Cub
a Cookbook, but also it gives advice on Wine pairings, Fun Facts about Ingredients - including which ones are more likely to turn-on your Partner - and also some inspirational quotes from famous
Cougars
. The Dishes themselves are aptly-named after the likes of
Kim Cattrall, Olivia Newton-John, Nicolette Sheridan
and more.
Cooking for Your Cub
hits stores on
Tuesday, April 25, 2011
and actually is already sold-out on
Amazon
!
Follow
Mary Jo Eustace
on
Twitter
here
.
(
Photo credit
:
Mr. Will-W
.)