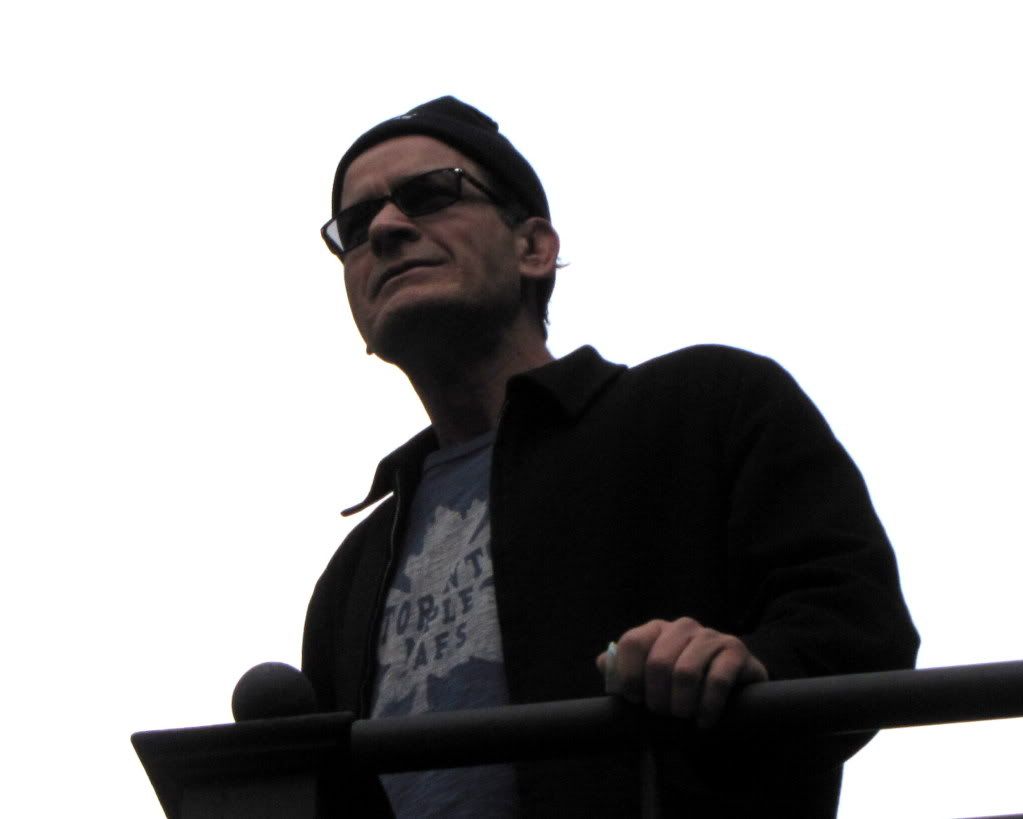 Charlie Sheen at Massey Hall
It's been a while since Toronto has witnessed this much Star Power and
Charlie Sheen
since arriving yesterday via a Private Jet at
Toronto Pearson International Airport
, has had the City all abuzz with talk about him and his
Violent Torpedo of Truth/Defeat is not an Option
Tour. Fans and Media alike have staked out his Hotel, the
Ritz-Carlton
in hopes of a glimpse. Simply put, it was chaos outside
Massey Hall
upon
Sheen & Co.
's arrival around 7:30 PM this evening. Everybody wants a piece of him.
Just earlier, Ontario's Health Promotion Minister Margarett Best had issued a warning to Sheen concerning our Province's anti-indoor Smoking Laws. Even Sean Penn's Celebrity Power couldn't grant him special treatment, having been slapped with a $600 fine by Toronto's Health Department back during TIFF 2006. Massey Hall could have faced up to a $100k fine should Sheen have been found to be smoking within the venue.
TMZ reports
that
Sheen
, who has smoked on other stops of his Tour on-stage, apparently found a way to work around the Law, lighting up an Electronic Cigarette before the audience. If this is what
Sheen
calls "winning", then it was a sneaky victory, indeed!
Earlier in the evening
,
I spotted this lovely
Sheen
Fan (above) who told me that she works at
St. Michael's Hospital
, just
across the road from
Massey Hall
. Having been on
Sick Leave
for a while,
Sheen
's visit was just what she needed to lighten her spirits. She went to T-Shirt Maker
Bang-On
and made things that bit more festive, with a Shirt that read "I'm on a Drug called
Charlie Sheen
". On the back of her Shirt was an image of a bloody Tiger, which read "Tiger Blood" and "Winning" - nonsensical ramblings from the former
Two and a Half Men
Actor, which the Public has embraced with fervour. The Fan had bought herself a Floor Seat for the Show, telling me "I can't do anything to help him myself, but I can only hope that he gets better.".
Shot7News
got a
lovely
fantastic snap of
Sheen
. See it
here
.
(Photo credit: Mr. Will-W.)