Matthew McConaughey in Toronto - March 2011
Once voted People Magazine's Sexiest Man Alive, Matthew McConaughey has been quieter of late on the Film Front, but he is already winning lots of praise for his work in upcoming release The Lincoln Lawyer. The Film is based upon the 2005 Novel by Michael Connelly and centers around a Lawyer named Mickey Haller (McConaughey) who works out of the back of a Lincoln Town Car around Los Angeles, while his Client works to pay off his overdue legal fees. He must defend Client Louis Roulet (Ryan Phillippe) against Attempted Murder and Assault charges after being framed.
McConaughey is now in full promotional swing for The Lincoln Lawyer and just made a stopoff in Toronto at CBC's George Stroumbouloupoulous Tonight, plus doing an interview with that network's Ilana Banks also. Banks gushed to me, "He sure had a twinkle in his eye and is proud of his new flick".
Arriving in an Escalade - not a Town Car, which would have been more fitting perhaps - McConaughey was surrounded by a small crowd of Fans and Paparazzi, stopping to sign a meager three Autographs, mumbling "I'm just going to keep walking" aloud.
I will not be shy in saying that I possess one of these few Autographs, a gorgeous
8x10
of him in a
Dolce & Gabanna
Ad (seen right) reading "
jk livin'
(an abbreviation of just keep livin'),
Matthew McConaughey
". Notoriously Paparazzi-shy,
McConaughey
disappointingly
refused Autographs and Photos with Fans who braved the cold weather, as he exited the venue amidst flashing Cameras. The
Stroumboulopoulous
interview will be airing at a later date. Check
his official website
for details.
And why not one more Photo of the handsome Actor just for good measure?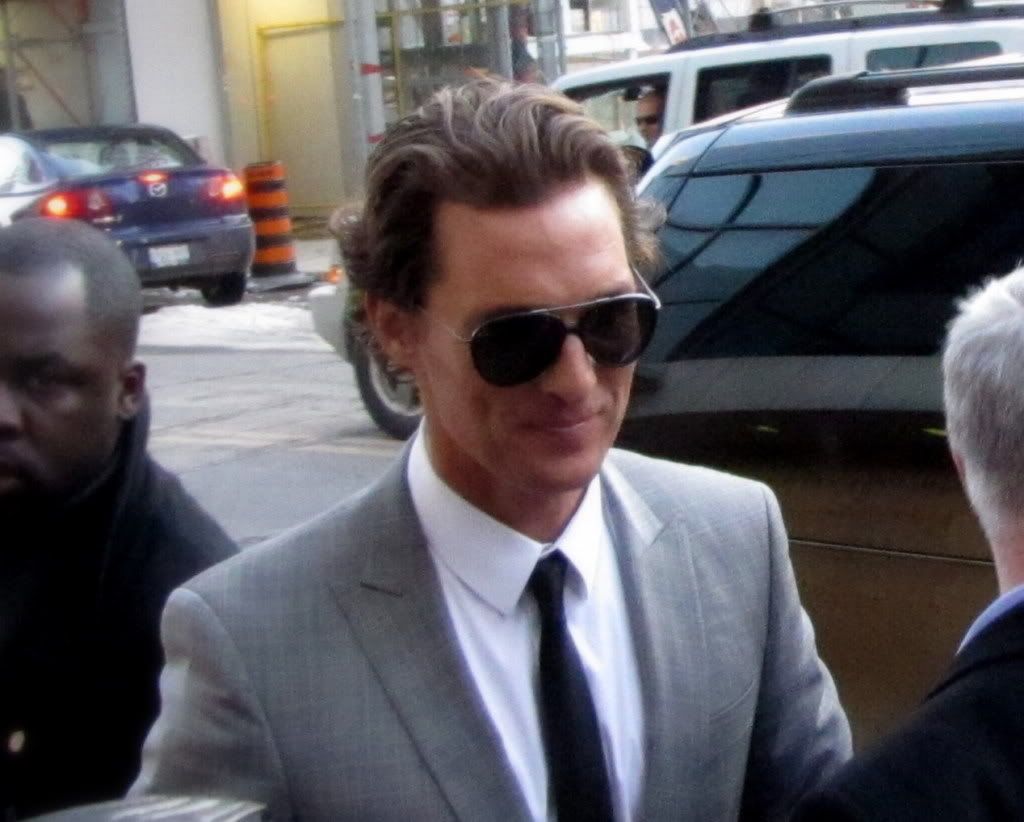 The Lincoln Lawyer
also stars
Marisa Tomei
and
Bryan Cranston
, opening in theatres
Friday, March 18, 2011
via
eOne Films
in Canada.
Watch its Trailer in full
here.
(Photo credit: Mr. Will-W.)