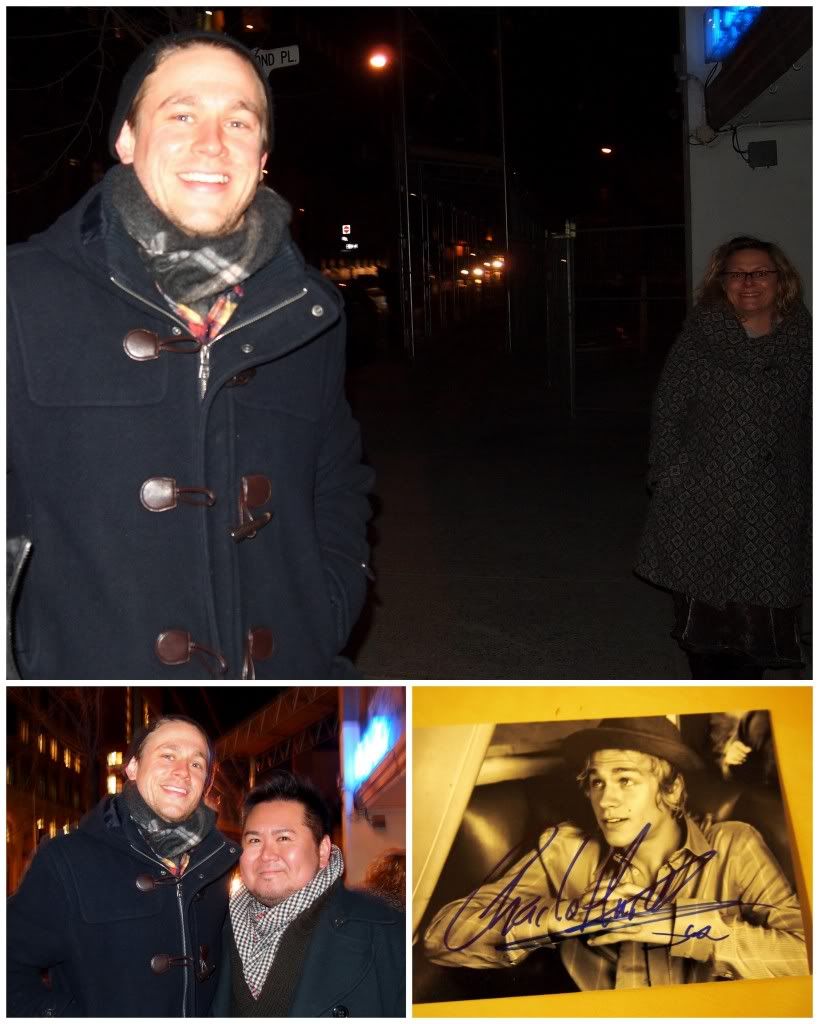 Charlie Hunnam in Toronto - March 2012
English Heartthrob Charlie Hunnam has been selective with his roles, but one cannot deny that he is now reaping the rewards of his discretion. First gaining attention back in 1999 in the groundbreaking original UK version of Queer as Folk as Nathan, his performance caught the likes of Madonna and Casting Directors stateside, where he has since been nursing his Career ever so carefully. In 2008, Hunnam landed the starring role of Jax Teller on FX Series, Sons of Anarchy which centers on an Outlaw Motorcycle Club operating out of Northern California. The acclaimed Series has seen Actress Katey Sagal go on to garner a Golden Globe Award.
Currently in-town filming
Guillermo del Toro
's $350-million Blockbuster
Pacific Rim
along with the likes of
Charlie Day, Idris Elba, Rinko Kikuchi, Ron Perlman
and more, the handsome Actor was spotted out and about this weekend with his Mother enjoying a meal at Toronto "It-Spot" (and my current fave)
Khao San Road
ordering a bit of Takeout.
Hunnam
's Mother currently is visiting from England and it was charming seeing them brave the chill together - although the enticing spiciness of their delicious Thai meal surely would easily help numb the pain of the City's deep freeze. "I'm a creature of habit", he tells me on his love for the immensely-popular Eatery.
I had only one question for Hunnam who had to sacrifice his bushy facial scruff seen in Sons of Anarchy for his role in Pacific Rim as Raleigh Antrobus which pits Humans and Robots versus Monsters. So how long exactly does it take the 31-year-old Actor to grow a full beard? "Two months", he tells me. "I'm not sure I'll have it grown back in-time for the Series though". "Prosthetics!", I shouted at him, which drew a laugh out of him.
Hunnam
signed a Photo generously, which I will gladly offer-up to a deserving Fan! To enter to win, click "like" on
Mr. Will-W.:Pop Maven on Facebook
and also this corresponding Post.
Follow me
on
Twitter
also, Your deadline is
April 12, 2012
. Good luck!
(Photo credit: Mr. Will-W.)