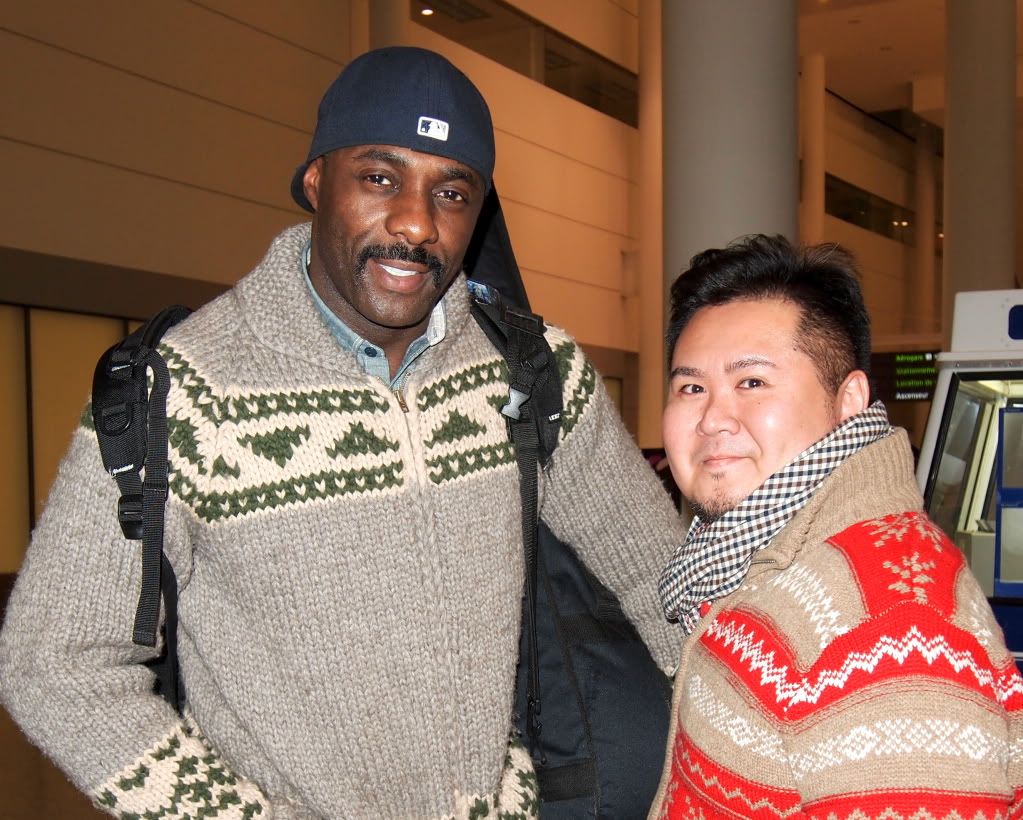 Idris Elba & Mr. Will-W.
Toronto rolled out the Red Carpet for just-crowned Golden Globe Winner Idris Elba tonight, all ready to head back to work just one day after having won the Award for Best Performance by an Actor in a Television Miniseries/Movie in BBC's Luther.
The British Thespian/Musician/DJ currently is hard at work in Toronto on Guillermo del Toro's $350-million opus Pacific Rim, now surpassing the $250 million Total Recall as the biggest budgeted title ever to film in our City.
Lugging a bag of gear and a guitar on his back, Elba flew back to Toronto after a hectic weekend in Los Angeles for the Awards, celebrating his win at the HBO Golden Globes After Party. Yesterday, Elba had Tweeted how after losing last year, his Daughter Isan made him his own handmade Golden Globe Award. This year however, he brings home a real Award, acknowledging his beloved Daughter in his Speech on-air!
Elba will be in Toronto till late April completing production on Pacific Rim alongside the likes of Rinko Kikuchi, Charlie Hunnam, Clifton Collins Jr., Charlie Day, Robert Kazinsky, Ron Perlman, Max Martini and more.
Although he clarified recently that him taking over the role of James Bond simply is just talk, Elba indeed is keeping plenty busy. He will be next be seen in Sir Ridley Scott's Prometheus, out June 8, 2012 and also Ghost Rider: Spirit of Vengeance out on February 17, 2012. He also is said to be attached to star in Kathryn Bigelow's untitiled Osama bin Laden Film, following his work on Pacific Rim. There also is talk of a sequel to Blockbuster Thor, which would see him reprising the role of Heimdall.
(Photo credit: Mr. Will-W.)