Jacky Cheung in Toronto - January 2012
Now this I will never forget! Jacky Cheung is the undisputed King of Pop in Chinese-speaking Asia and since 1992 I have been an avid Fan of his. I actually credit him for single-handedly making me want to get closer to my roots in learning how to read Chinese through his Lyrics. He inspired me to study the Language in University.
Unlike a number of the heavily-produced and connection-heavy Artists currently dominating Cantonese Pop Music, the Crooner's vocals resonate with power, range and emotion and this transcends the boundaries of language and dialect. Cheung has sold over 60 million Albums worldwide (keep in mind primarily in territories where Piracy is rampant), breaking Box Office records with his Tours. And after a sell-out show in Vancouver last weekend, he performed before a packed Air Canada Centre last night. Cheung is one of the few Asian Artists who can pull-in enough interest to fill an arena in these parts, currently touring the World with his 1/2 Century Tour, commemorating his 50th birthday.
In addition to being a Mega-Popstar, Cheung also is an accomplished Film Star, twice winning Best Supporting Actor at both the Hong Kong Film Awards and Golden Horse Awards (Chinese Cinema's equivalent to the Oscars).
Although I had to venture out to Toronto Pearson International Airport at an obscene hour today, I got my wish and after 20-plus years of obsessing over Cheung, finally I got my moment with him... and it was magical. For some odd reason I was expecting him to be larger in stature, but in fact he is rather diminutive in-person. It is rare he graces Canada with his presence, so this is a true treat.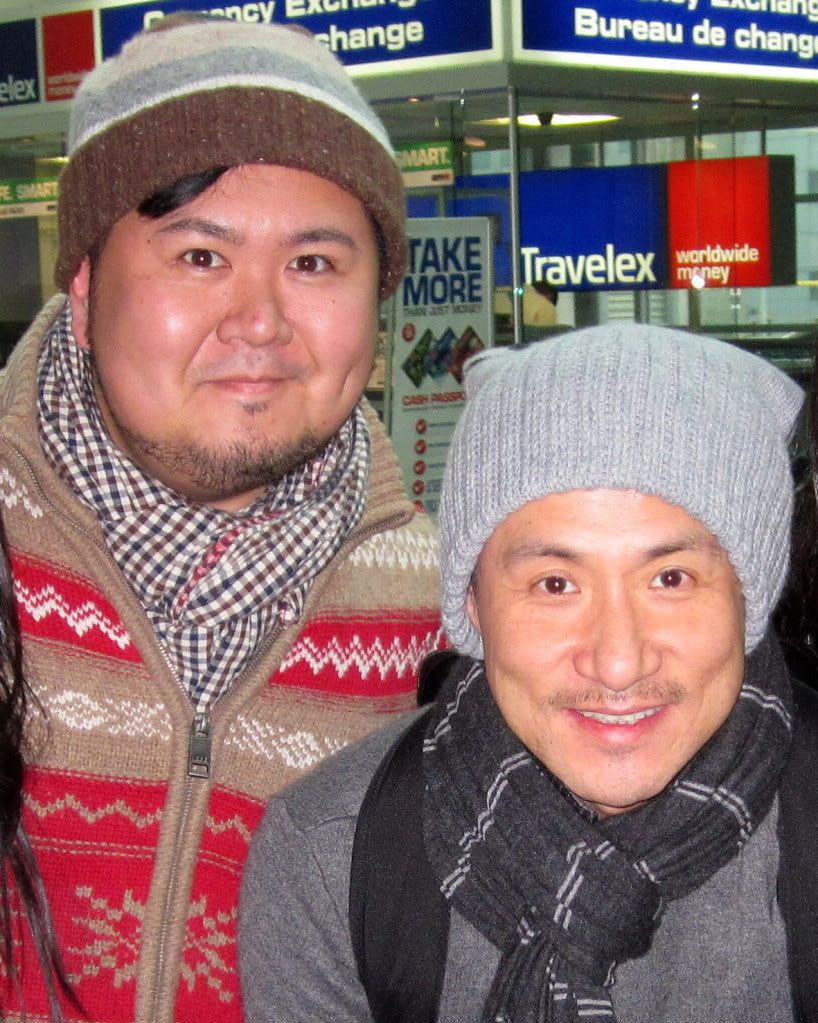 Mr. Will-W. & Jacky Cheung
With his Management keeping him strategically hidden in his
SUV
for a prolonged period, waiting on the Luggage Check-in line to die-down a bit,
Cheung
finally made his entrance and out of nowhere, Fans of all ages in-hiding were clawing their way to him. He divided his time doing a couple quick Group Photos with Fans and signing some Autographs, speaking at a whisper to protect his voice after delivering a powerhouse three-and-a-half hour Spectacle last night. Even Fans who weren't lucky enough to get an Autograph, still were thrilled to see him up-close. The Singer is Hong Kong-bound and will be continuing his Tour this Spring in Shanghai and of course his native Hong Kong.
For a sample of
Cheung
's beautiful voice, he collaborated with our v. own
K'naan
on a new version of
Wavin' Flag
in Chinese together with
Jane Zhang
(seen on
Oprah
) for the
FIFA World Cup
.
Check it out below:
(Photo credit: Mr. Will-W. | Audio content: Universal Music)