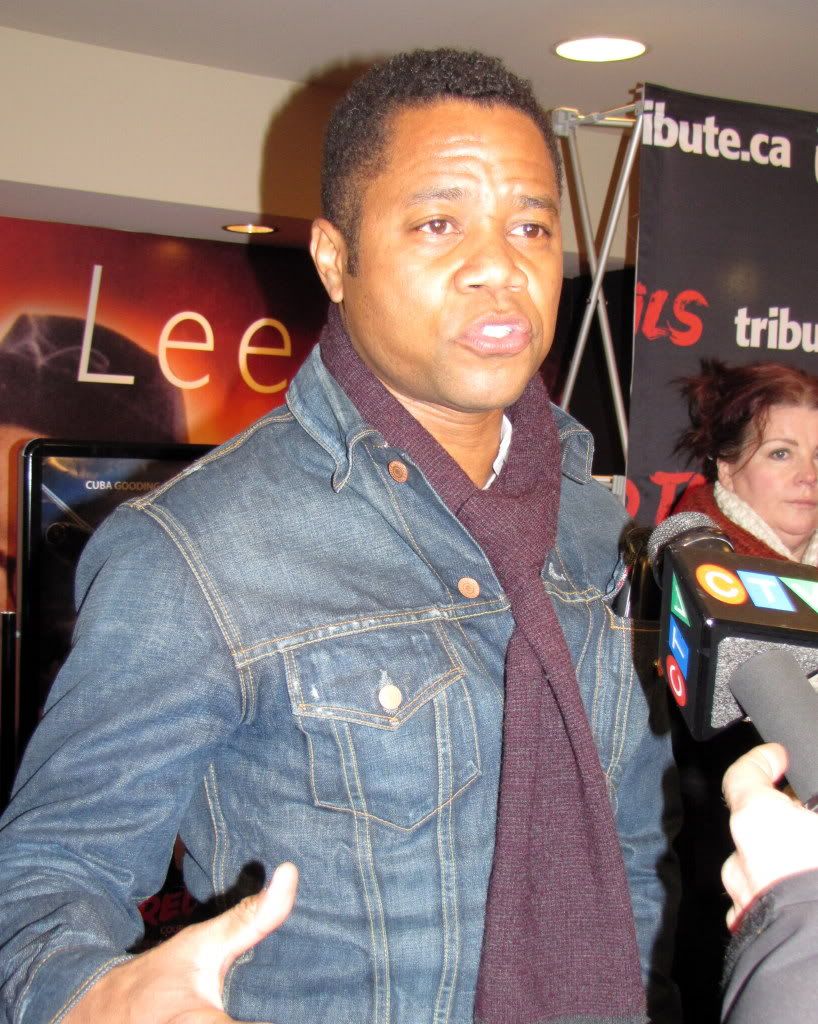 Cuba Gooding Jr. in Toronto - January 2012
It's been a long road back to the top for Cuba Gooding Jr. The Academy Award Winner made a visit to one of his self-professed favourite cities today - Toronto - to promote his latest effort, Red Tails. The George Lucas (Lucasfilm) Production he reveals, was filmed in 2009 and finally just released as admittedly it was a hard-sell to Hollywood studios. With a bit of persistence though, 20th Century Fox took a risk on Red Tails' and now the World War II Drama is poised in-contention with Underworld: Awakening 3-D to take the top of the Box Office this weekend.
Gooding tells an intimate crowd at the Rosewater Supper Club following a Screening hosted by his Friend and former NHL Player Anson Carter this evening, "I think it's a testament to Geroge Lucas' passion to tell the story the right way. I'm sure you've heard the stories of how he put-up his own money, but he is truly passionate about telling this story.". In celebratory spirits, he goes on to say "I'm just saying there's a movement through America and I feel through Canada to show people that these films of this type can be any colour... but as long as it's done with quality, people will come.".
Cuba Gooding Jr. & Mr. Will-W.
Red Tails admittedly wasn't a Film on my Radar at first, but even I was thoroughly drawn-in within its first 20 minutes. The Anthony Hemingway Film centers on a group of African-American Soldiers in the Tuskegee Program, the unsung Heroes of World War II. Seldom have these Men been acknowledged for their courageous work in the skies, helping America and their Allies achieve victory over their enemies. A genuine sense of Brotherhood can be felt from the fantastic performances by the Ensemble including Gooding, Terrence Howard, David Oyelowo, Nate Parker, Elijah Kelley and even Singer Ne-Yo. But above this, one cannot help but be seduced by the gutt-wrenching aerial battles orchestrated by the Master himself, Lucas. This might not be the type of Movie that Critics clamour to review, but audiences will connect.
I had the pleasure of chatting with Gooding on a couple occasions tonight, seeing him spend time generously with Fans on the Red Carpet and greeting Supporters at his After Party. The Ladies in particular love him and he sure has a way of charming them as they queued one-by-one to meet him, some even came back for seconds. He jokes to me, "If you liked Red Tails, wait till you see Part II!". Of course, he was kidding and kidding he did a lot of, owning the Microphone as MC at one point (see below) and even taking a tray of Burger Sliders to serve the Bartenders. Asking him to repeat the pose, Gooding declines kindly, "What happens in Vegas stays in Vegas!".
Red Tails is now in theatres via 20th Century Fox Canada.
See more Photos from tonight's Festivities:
Anson Carter
See Gooding having a bit of fun on the Mic below:
(Photo/video credit: Mr. Will-W.)