Mr. Will-W. in Drake's Canada Goose Chilliwack Jacket
Maggie Gyllenhaal, Daniel Craig, Drake, Josh Duhamel, Hilary Duff, Matt Damon and Bill Clinton all have one thing in common - other than being notable names, that is. They all love their Canada Goose Jackets!
Founded in 1957 by Sam Tick of Toronto, Canada Goose has flourished into a luxury Apparel Company with products available in over 40 countries worldwide, catering both practically to the frigid Winter temperatures of our Country and also those discerning tastes of the Fashionable. Dani Reiss has carried-on the Legacy of his Grandfather (Tick), acting as the President & CEO of the Company since 2001. In 2007, Canada Goose saw a great surge in popularity with great demand for their Parka Jackets.
Canada Goose Accessories
I was thrilled to be invited to a private Media Launch for this, one of Canada's most iconic Fashion Lines, getting to try on an array of different Jackets. One which caught my eye in particular was one designed last year by our v. own Drake. Weighing in-excess of 10 lbs and complete with a hood trimmed lavishly in dyed black Coyote Fur, instantly I could feel the warmth of comfort of its Goose Down insulation. Costing in-and-around the $1k mark, a Boy can only dream of possessing such Luxury!
I was thoroughly impressed at the quality of some of the Accessories I saw too like thickly-insulated Gloves, Merino Wool Scarves and their super-awesome PBI Aviator Hat - lined in Coyote Fur.
Highlights from Canada Goose's Men's line include an Alpago Bomber Jacket with its waterproof Italian Loro Piana Wool shell, which at once warm and cozy, still maintains a tailored look. If you prefer a 3/4-length Jacket, you will love their Como Parka Jacket which has all the features of their Alpago Bomber Jacket and then in some in terms of coverage.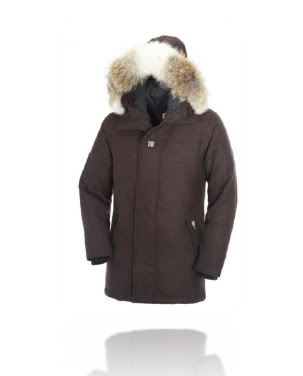 Como Parka
Alpago Bomber
Ladies will love Canada Goose's Livigno Parka also with an Italian Loro Piana Wool shell. Complete with a Belt, you can have practicality in warmth without hiding the contours of your Body. The Montebello Parka is a viable option for those looking for something lighter in terms of weight and you'll love its shiny shell, giving you both Military-strength and feminine elegance.
Montebello Parka CG55
Livigno Parka
(Photo credit: Mr. Will-W. | Canada Goose)