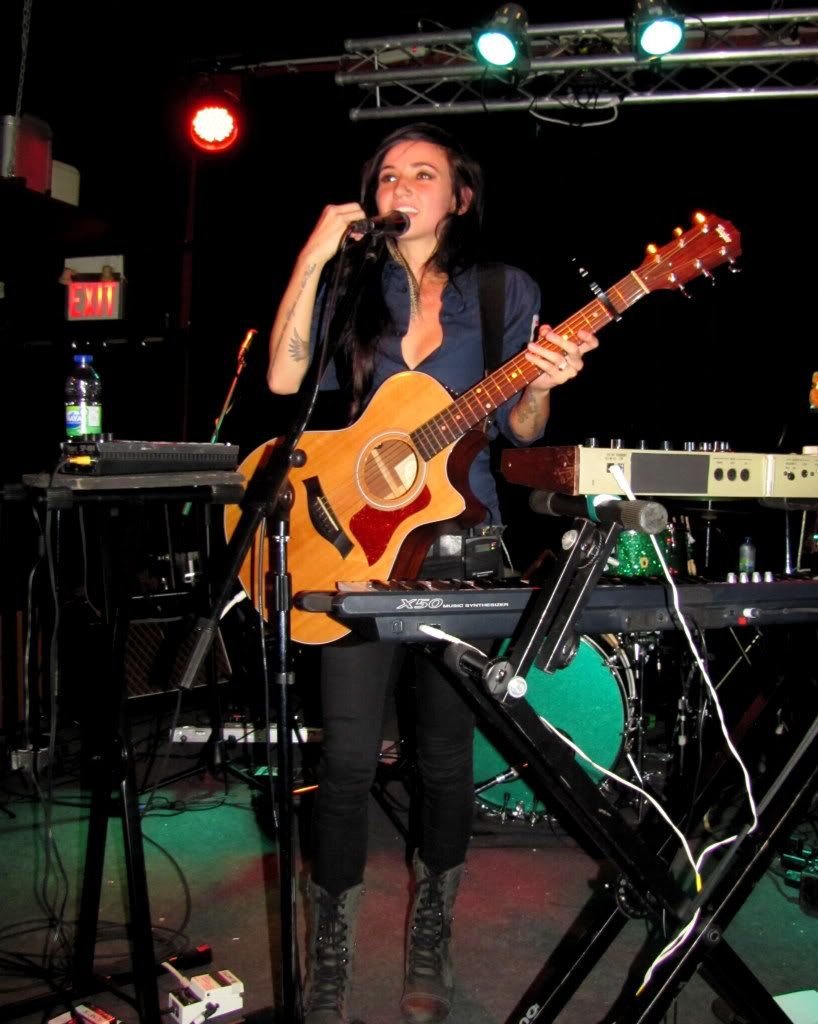 Lights at Toronto Album Release Party for Siberia - October 2011
Friends, Family and a few select Media were invited out to celebrate the release of Toronto Singer/Songwriter Lights' sophomore studio Album, Siberia from Universal Music Canada. Tucked away in the trendy Ossington x Bloor area, the Party was held at cozy The Piston, which the Juno Award-winning Singer/Songwriter admitted she rather liked, this being her first time there.
Lights' Manager, CBC Personality Jian Ghomeshi, took to the stage and delivered some heartfelt thanks to all those who played a part in her success story, rather excited that in her next round of touring she will be playing larger venues than ever before - an indication of her growing popularity. He also eluded to having been met with some minor setbacks in the process of releasing Siberia, including a change in American distribution and also having to acquire a bit of legal assistance in recent months. All is well now and ready to go with this Collection of grittier, more progressive tracks, with Ghomeshi praising Lights' vision saying, "She's always been three of four years ahead of everybody else.". He praised Universal Music Canada for trusting their creative process, which was done independently.
Lights & Ghomeshi
The Singer/Songwriter before beginning her four-song Set, had her Father Eric to thank, telling the intimate group how he had flown-in all the way from Surrey, BC just for the occasion. Lights gave us a taste of Tracks like Where the Fence is Low (a favourite of her Father), Everybody Breaks a Glass (ft. Shad who performed the track live), current single Toes and also the sublime Acoustic number Cactus in the Valley, which she strummed her Guitar along to.

Following her performance, both Ghomeshi and Lights herself were gracious enough to walk over and thank me for coming out to show my support. Although she didn't notice, I got a mouthful of her hair in my mouth when we exchanged a hug, which didn't taste... unpleasant!
Those who enjoyed
Lights
' first Disc,
The Listening
and tracks like
February Air
and
Drive My Soul
will be wowed by her artistic growth and noticeable development as a Vocalist. Order
Siberia
, now
on
iTunes
here
.
See Lights perform Toes (distorted audio):
Watch Lights perform Cactus in the Valley:

See more Photos below:
Shad & Lights
Lights & Mr. Will-W.
Lights
was sweet enough to sign a Promo Sticker for
Siberia
, which one of my Readers will be lucky enough to win. All you have to do is click "like" on this Post
at
Mr. Will-W.:Pop Maven on Facebook
to qualify. Your deadline is
November 1, 2011
. Good luck,
Mavenati
!
(Photo/video credit: Mr. Will-W. | Audio content: Universal Music Canada)