Jason Segel & Mr. Will-W.
The brilliant and charming Jason Segel is gearing-up for a Promotional Tour in support of Walt Disney Motion Pictures' The Muppets and Toronto is one of his first stop-offs. Not only does he sing, dance and act in the Film, but he Co-wrote its Screenplay and also serves as one of its Executive Producers too.
I was fortunate enough to screen a Cut of The Muppets, directed by James Bobin last week, and although a proper Review is forthcoming when I see its Final Cut later in November, I can say with confidence that I loved what I saw. I laughed, I cried and I adored the Music. Segel was thrilled to hear my response in surely what will be a chain of praise to come.
This Film centers around three Muppets Fans - Gary (Segel), Mary (Amy Adams) and Walter (voiced by Peter Linz) who visit Hollywood, only to learn that a rich Oil Tycoon named Tex (Chris Cooper) wants to drill under the storied Muppets Theatre. Together, they try to persuade the original Muppets - led by Kermit the Frog - to reunite one more time and put on a Show to raise money to save the historic Theatre from destruction. The Muppets hits theatres nationwide Friday, November 23, 2011.
Segel, best known for his work on Sitcom How I Met Your Mother and also Forgetting Sarah Marshall, is showing no signs of stopping. He will be starring alongside Paul Rudd, Melissa McCarthy, Megan Fox, John Lithgow and Albert Brooks in Judd Apatow's This is Forty, now in Post-production. Another Comedy, The Five-Year Engagement, also starring Chris Pratt and Emily Blunt, hits theatres April 2012.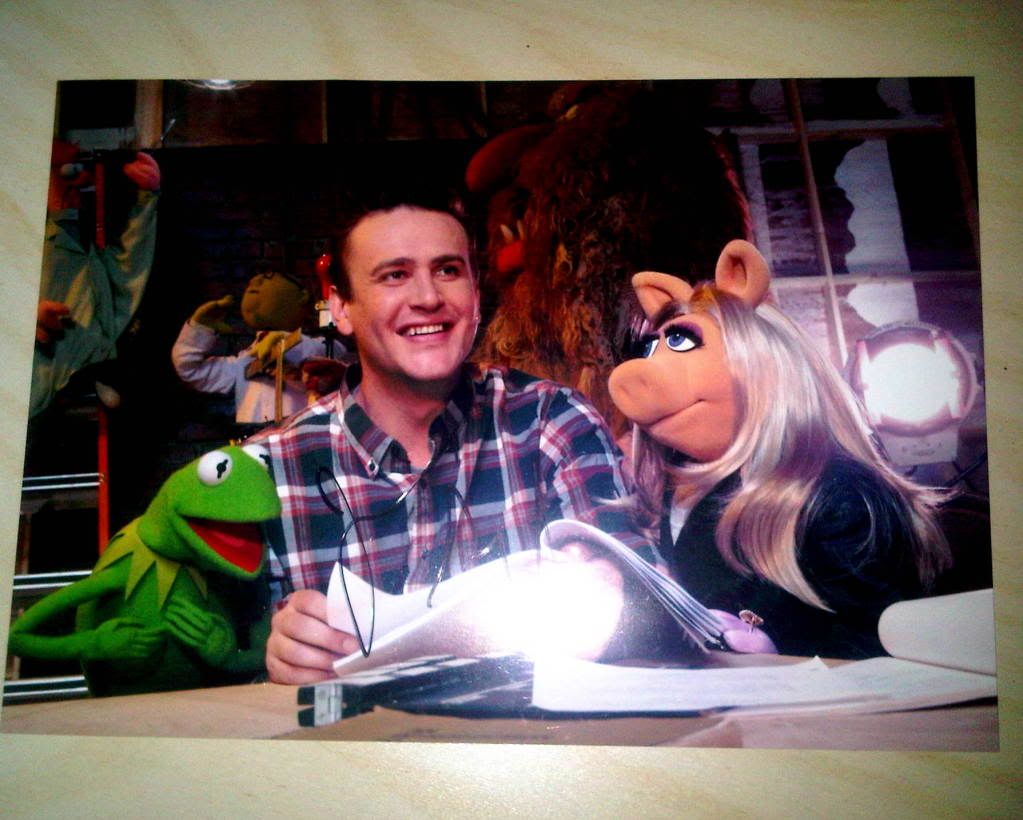 The lovable
Segel
was kind enough to sign a Promo Still from
The Muppets
for one lucky Reader and to qualify for the Win, all you have to do is click "like" on
Mr. Will-W.:Pop Maven on Facebook
under this Post. You have until
December 1, 2011
to qualify. Good luck,
Mavenati
!
Watch the Trailer for
The Muppets
here
.
Read all about
Kermit the Frog
's Toronto Press Conference also
here
.
(Photo credit: Mr. Will-W.)