Kevin Smith in Toronto - August 2011
Staying true to the motto of a certain Canadian Hockey legend
Wayne Gretzky
, "Don't go where the puck is, go where it will be", acclaimed Filmmaker
Kevin Smith
is taking his Idol's advice all the way.
Smith
surprised many when he had announced recently he would be releasing his latest Film
Red State
independently, without the support of a major Film Distributor in its theatrical run. Instead, he has opted to tour the mould-breaking Horror Film, which centers around a group of Teenagers who answer an online invitation for Group Sex, only for things to take a dark turn when they encounter a group of violent Fundamentalists.
Prior to its Toronto Premiere last night at Underground Cinema, planted in the outskirts of Chinatown, Red State already had grossed over $1 million in Ticket Sales from Smith's rolling Tour. In addition to this, the Film has sold an additional $2 million in Ticket Sales/Merchandise, in addition to a $2 million in a Streaming/Home Video Deal with Lionsgate Films, plus another $1 million from a Video-on-Demand which will see it on the likes of NetFlix. Smith's greatest challenge in creating this Film was making a $15 million Movie for a budget of $4 million only. And he did it. The Film has proven not only that a Hockey Jersey-loving Smith is a successful Filmmaker, but also a savvy Business Man. Red State despite still not being released theatrically yet, has proven profitable already for its Investors. Other Directors including Academy Award Winner Francis Ford Coppola also are following suit, taking his latest work Twixt on the road also, editing the Film on-the-fly for a unique experience for Filmgoers from city to city.
The outspoken
Smith
didn't reveal many details about
Red State
itself in a Press Junket before a small room of Journalists. In fact, the Conference which went 30 minutes over the slotted hour - a majority of it centering around one question on his plans for independent distribution - surprisingly was held after a v. public spat with the Critical Community.
Smith
's 2010 release
Cop Out
starring
Bruce Willis
and
Tracy Morgan
was panned pretty much universally, garnering 19% on the
Tomatometer
at aggregate,
Rotten Tomatoes
.
"A Critic can attack your work, but you can't tell Critics they aren't good at their jobs. They practically started a
Jihad
against me", says
Smith
who still is baffled how possibly a negative Review of
Red State
could have surfaced online only 15 minutes after its Premiere at
Sundance Film Festival
this past January in Park City, Utah. "It's now all about being the first to put-out a Review rather than really reviewing a Movie", he says.
Boasting some seasoned and new talent including Academy Award Winner Melissa Leo, John Goodman, Michael Angarano and Nicholas Braun, Smith admits "Red State has an insane Cast and killer performances. It's a shame that these Actors will be met with some animosity simply by being connected to me. Now I've got to work doubly hard.".
After having made Films for almost 20 years, many Comedic, Smith reveals that Red State is in fact his second-last Film. "I felt that I had to stop making 'Kevin Smith movies'... it was the only way to survive. This is a specialized Film which can't be part of a formula. It's a mid-90s Arthouse Flick", he describes this latest project which he feels is a return to his roots, coming back full circle to a time when he truly was passionate about his work. "I've never made Movies for Money or Pussy... although surprisingly I did get some good Pussy for a Fat Guy before I got married!", Smith jokes. "Time is now limited and I've got one more Movie to make and then I'm gonna walk away. I don't want to be that Dude who hangs around after the Party's over.".


Smith got his big break as a Filmmaker back in 1994 at Sundance Film Festival with his debut Clerks, shortly after seeing that Film get picked-up by Miramax under the reign of Harvey and Bob Weinstein. He admits his own insecurities, stating "I'm still not sure I really know how to tell a story visually. Making Movies feels like an ill-fitted suit to me and I had to learn my craft as I went". "I'm not talented enough to make Movies that speak for themselves like Clint Eastwood. I do however, make Movies which bear having a conversation about after", Smith explains with humility. Hence, his Tour for Red State which gives his devout Audience a Q&A post-screening. "I carry a certain amount of guilt with me as I never experienced really what it is like to struggle as an Indie Filmmaker.".
The idea to tour
Red State
was reactive after conducting a quick Audience survey which revealed that between 80-90% of those who came out to see him, had learned of it via his
Podcasts
, which he devotes much of his energy to nowadays. "When you live in people's free moments, they will remember you when they actually have free time to see a Movie", he tells us. From this, he then became inspired to connect more directly with his Fans, proclaiming "I am my own fucking Media Outlet!", foregoing the need for an actual Middleman.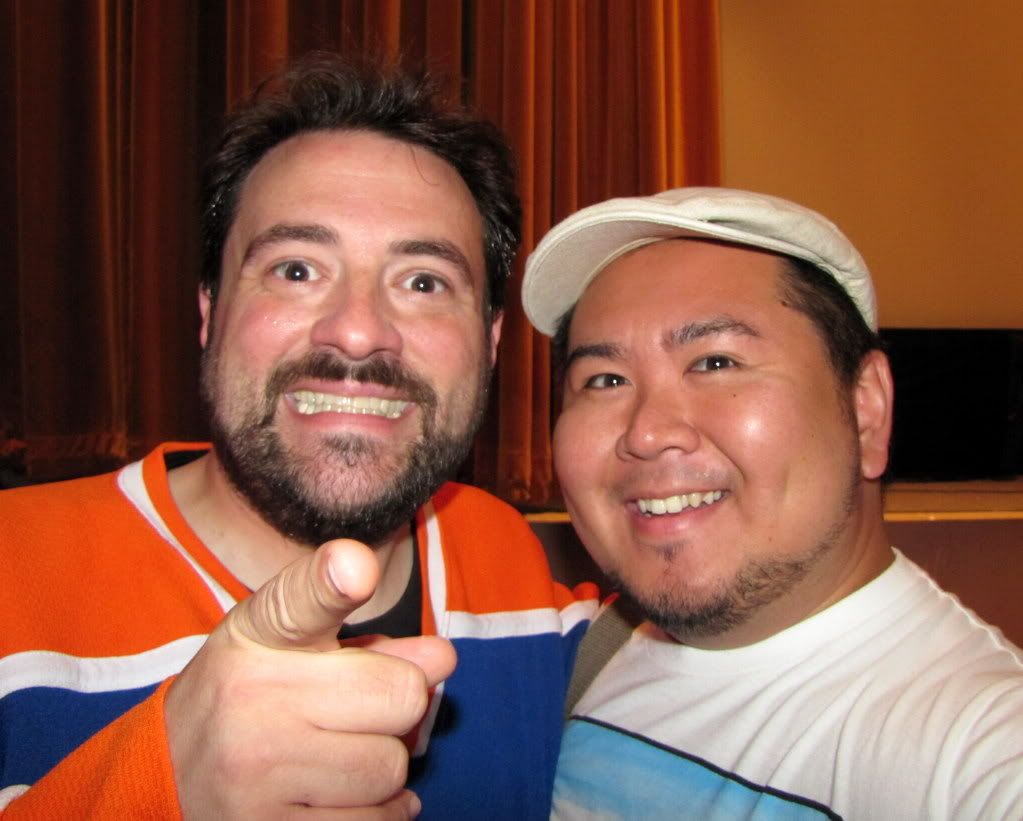 Kevin Smith & Mr. Will-W.
Smith
feels that it is crucial to have an element of danger and passion for his work, drawing the humorous analogy, "You have to have fucked Art in the
Denny's
bathroom and to be able to say, 'It blew me in the theatre'... just like that
Alanis Morrisette
song (
You Oughtta Know
). My Art is like an
Alanis
song.". Not to be confused for his Swan Song, of course. He reveals quickly that his final release, a Hockey Film set in Canada titled
Hit Somebody
, will surface in two parts in 2012 before he was ushered away for a quick Shower before his Premiere by his Handler.
Red State from Kevin Smith will be released to Video-on-Demand on September 1, 2011, in theatres on September 7, 2011 and on DVD on October 19, 2011.
Watch Smith comment on Red State below:
(Photo/video credit: Mr. Will-W.)