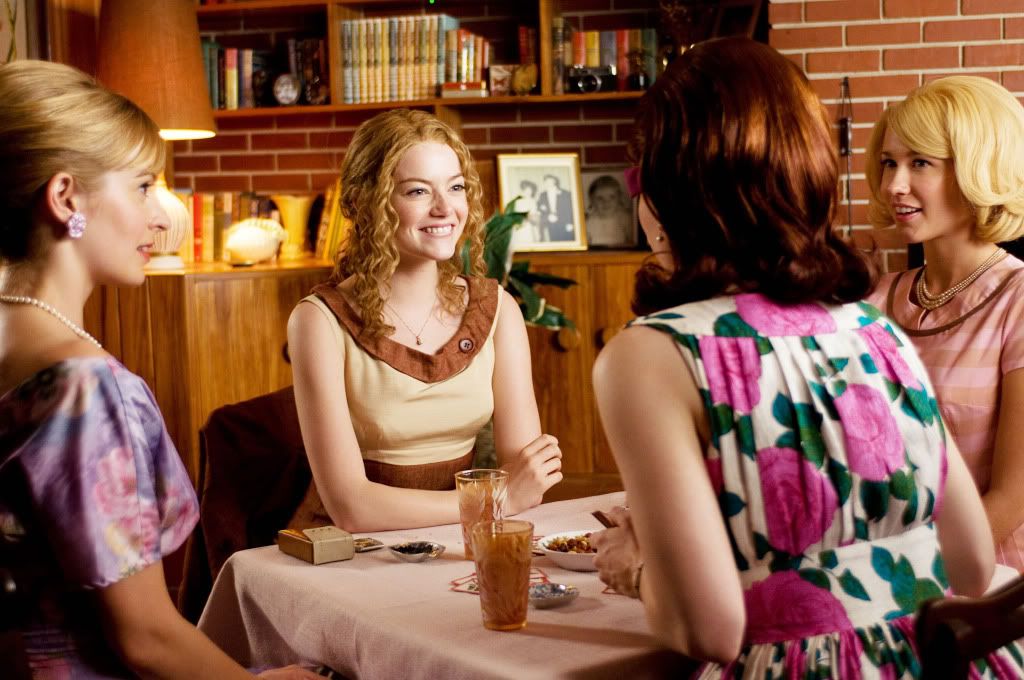 Still from The Help
Set in the 1960s at the height of the
African-American Civil Rights Movement
,
The Help
is based upon the best-selling Novel of the same name by Author
Kathryn Stockett
. The Story centers around
Skeeter (Emma Stone)
who returns home to an oppressive Jackson, Mississippi after completing College studies with the aspirations of becoming a Writer. Getting a job at a local Newspaper, originally she is hired as a Ghostwriter for a mundane Housekeeping Column.
After learning that her Mother Charlotte (Allison Janney) mysteriously dismisses the Maid who helped raise her Constantine (Cicely Tyson), Skeeter becomes fixated on some of the blatant social injustices these Black Maids face even at the hands of Skeeter's own Society-type Peers. Secretly, Skeeter enlists the help of Aibileen (Viola Davis) who is the Maid of her Friend Ahna (Elizabeth Leefolt), to compile a shocking Tell-All based upon first-hand accounts from these Women's experiences with their Employers.
Writing this Book however, isn't an easy task as Skeeter must gain the trust of Aibileen and also other Maids like the fearful Minny (Octavia Spencer), who is at the mercy of tyrannical and influencial Employer Hilly Holbrook; Hilly also happens to be a Friend of Skeeter. The Help focuses on the story of Skeeter, Minny and Aibileen - three Women who are brought together by the division that comes with Racial Segregation. Ironically, they also are connected together on a much deeper level by the injustices of this division in this thoughtful look at a pivotal point in American History.
Although Director/Writer Tate Taylor might not be a familiar name now, he will more than likely be remembered for this career-defining piece. The Help brings together one of the strongest Female Ensemble Casts perhaps since 2002's The Hours and together with Author Stockett, Taylor gives these Actresses some meaty material to work with.
Viola Davis who already delivered some Oscar-nominated work in 2009's Doubt shows us even more of her mettle here with a masterfully restrained performance as a Woman silenced far too long; forget Best Supporting Actress - she is worthy of Best Actress if campaigning is done correctly. It also is impossible not to feel a sense of indignation after seeing Bryce Dallas Howard so effectively embody Hilly's deep-seated Anger; she has been long-overdue for a role worthy of her Talent and finally we get to see it.
For those who are unfamiliar, Jessica Chastain's work here as a naïve Celia is the stuff America's Sweethearts are made of. She delivers great range drawing laughs as she does empathy from us. Those of you who have already been wowed by her work in Tree of Life and The Debt will be shocked to realize that this is in fact the same Actress who starred also in those titles.
Spencer is a real revelation here, complementing Davis' Aibileen perfectly and fiery Janney as always is an absolute pleasure to see on-screen, embodying the true spirit of the Story - the hope that wrongs can be amended somehow no matter how set we are in our ways. Although slightly overshadowed, a red-hot Stone excels as our vehicle into the lives of these fascinating Women, as we watch-on with wide-eyed curiosity.
Although various themes like Miscarriage, Domestic Abuse, Terminal Illness and even Skeeter's Love Story surface throughout The Help, they all somehow seem to fizzle inexplicably as the Story perhaps gets too ambitious than it need be. Overall, the Film is every bit a Tearjerker as it is empowering and these Actresses' performances make it extremely difficult for us not to be won over. And please do not be surprised if you find yourself with an immense craving for Fried Chicken afterward. Walt Disney Motion Pictures releases The Help on August 10, 2011. Grade: A