Ellen DeGeneres in Toronto - August 2011
"I never remember my dreams, but this one was so vivid. I saw a bird in a beautiful cage which after being trapped for a while, I realized the bars were actually wide enough for it to fly out" says Ellen DeGeneres, reflecting on a dream she had one night in 1997 before her career-changing decision to out herself as a Gay Woman. "I don't belong in a cage".
Making a rare appearance in Toronto, Ellen DeGeneres headlined the Power of Women Conference at Metro Toronto Convention Centre before a crowd of 4,000 people - predominantly Women - some paying $229, some paying up to $1,500 for a chance to meet her. Not all were lucky enough to have their Photo taken with her however due to time constraints. The Award-winning Comedienne-turned-National Darling revealed a more candid side to her that we don't normally see on her syndicated Daytime Talk Show, The Ellen DeGeneres Show, now in its ninth season.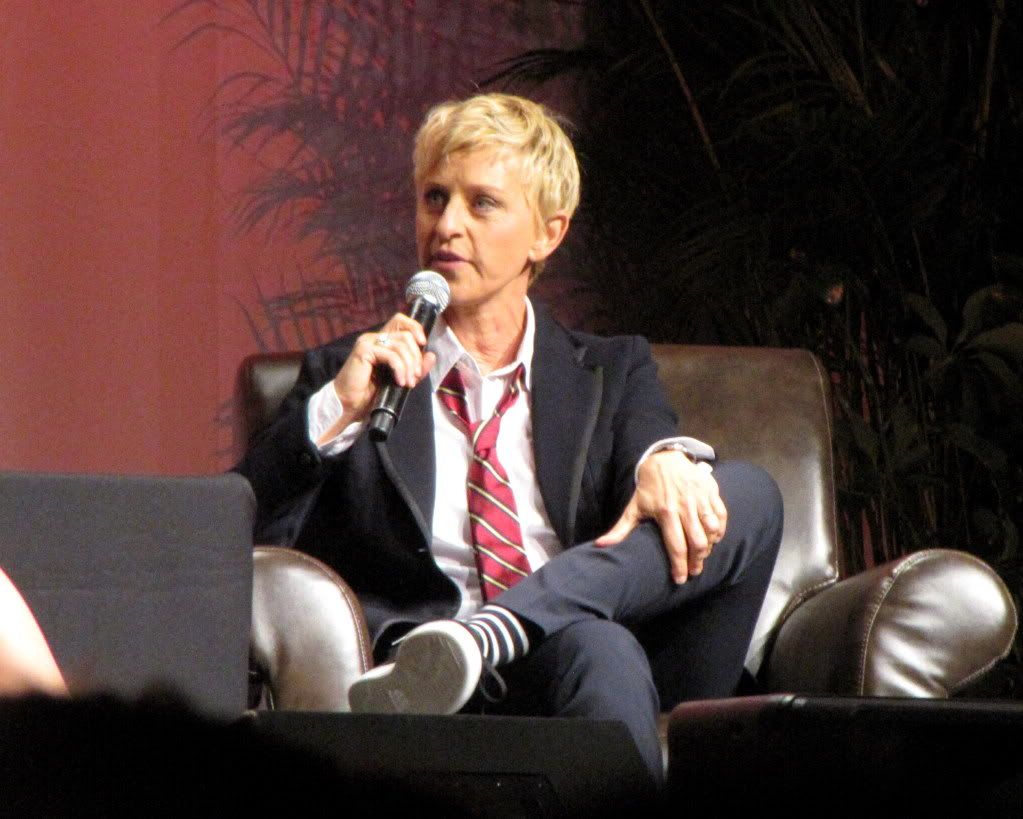 Once starring in the top-rated Sitcom, Ellen, she approached her Team about the idea of having her character coming-out as a Gay Woman and understandably they didn't want this to happen for fear of alienating their audience. After "coming-out" publicly on The Oprah Winfrey Show, followed by her own character doing the same shortly thereafter on the Series, DeGeneres admits to having been depressed. "I lost everything for three years. I had no money, was getting no work and nobody wanted to represent me", she admits openly. "Every time I turned on the Television I was the butt of someone's jokes. My Therapist then told me to stop watching Television... I did a lot of crying during that time in my life.".
32 Daytime Emmy Awards later, clearly DeGeneres is now seeing better days. "I've learned how to love myself, to be honest and authentic. I've stopped caring what others think" she says, pondering her Childhood which saw her "wanting attention and never feeling loved". She feels that we live in a world where we aren't taught to love ourselves enough and her hope is that nobody ever should have to experience the pain of being hurt by others. "The worst thing for Women to do is look at a Magazine and see a 16 or a 17 year-old Girl who is airbrushed to hell. It's not fair!", she proclaims. "To me, being beautiful is being comfortable in your own skin".
The radiant 53 year-old exuded pure energy in an outfit that could be described as a dash of Harry Potter and a dash of Femme Fatale. Having traveled three cities in three days with Wife Portia de Rossi on their Private Jet, DeGeneres admits to the Toronto crowd that her main focuses in life now have shifted. "My priorities are Truth and Love. My priority is Portia," she professed as her Wife listened backstage.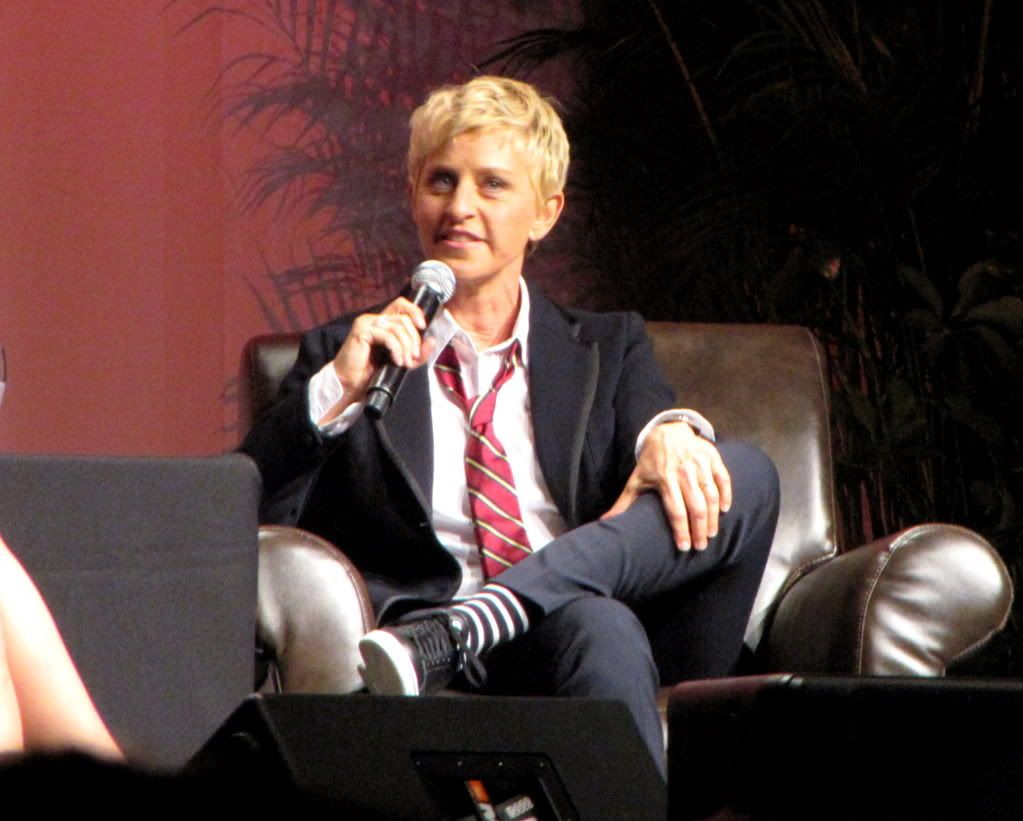 Growing up,
DeGeneres
looked-up to the likes of
Johnny Carson
and
Dinah Shore
, joking "How hard could it be to do their job?". She soon learned that being a TV Host required a lot of work, saying "It's challenging having to write a new Monologue every day, while keeping things funny and fresh". She counts
Nelson Mandela
and
Maya Angelou
among her greatest Heroes, stating "I'm drawn to people who have overcome obstacles. Anyone who overcame something horrific and is grateful about it is a Hero in my books.".
The Ellen DeGeneres Show, which is distributed by Telepictures, initially was a hard-sell for many networks. "A lot of markets didn't buy me. I mean Housewives don't want to see a Lesbian on Daytime Television" she laughs, before bringing down the house by saying "Now a Lesbian on Nighttime Television... that's a different story!". Despite having achieved great heights of success since its debut in September 2003, DeGeneres has met an inordinate amount of people she admires. She reveals, "Sometimes it's better not to meet your Heroes. I'm disappointed by people who present themselves as something they're not and I see it a lot on my Show.".
DeGeneres allowed Fans an opportunity to ask her questions which at points became awkward. One Mother trying to pitch the talents of her seven year-old Son, an aspiring Singer, asked how she could pass a CD over to her. Walking the Walk of Authenticity, DeGeneres gave no false hopes telling the Woman, "Seven years old is too young. Give him some more time". A pair of Twin Sisters asked DeGeneres to sign a 1997 copy of Spy Magazine to which she replied, "I really don't want to. I think I remember that Article being mean.".
But for the one question we all wanted to know the answer to - whether or not The Ellen DeGeneres Show will come up north to Canada - she admitted, "I would love to! The only thing holding us back are the costs involved. But I would love to!".
In a bit of a hurry, DeGeneres headed backstage where along with de Rossi, their SUV was awaiting. The Pair were rushed off to the Airport for their flight to Vancouver, where DeGeneres speaks next.
Watch a Video of Clips I captured from the Event earlier today below:

(Photo/video credit: Mr. Will-W.)