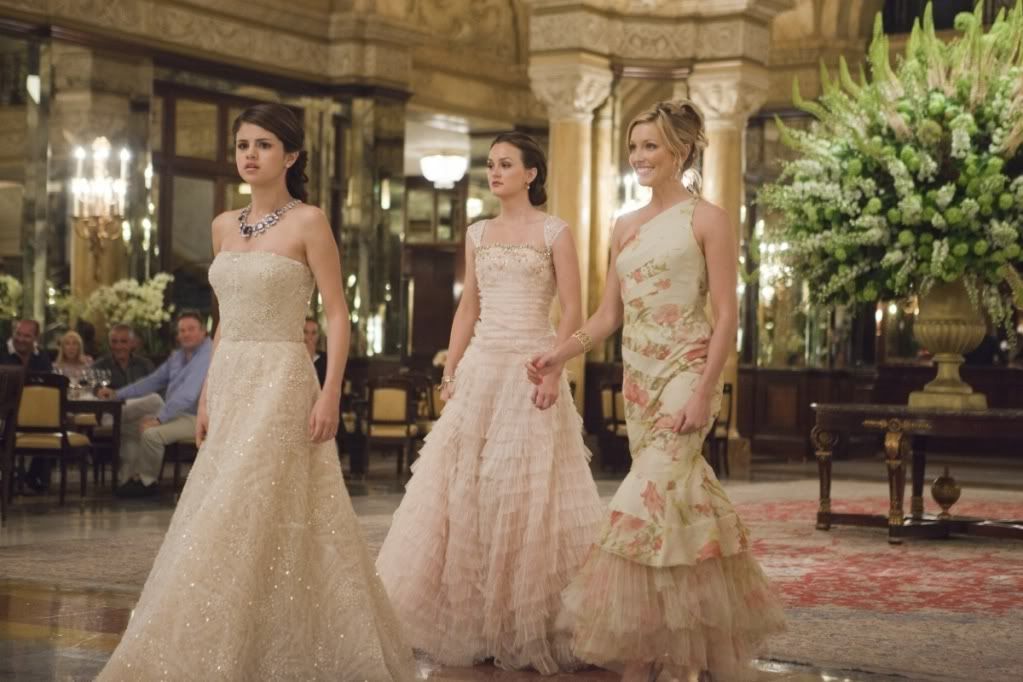 Still from Monte Carlo
Although it might go over the heads of
Selena Gomez
's main demographic of young Fans,
The Family Stone
Director
Thomas Bezucha
delivers a genuinely fun Girls' Night Out with
Monte Carlo
. Upon graduating from High School, Best Friends
Grace (Gomez)
and
Emma (Katie Cassidy)
at last set out for their long-awaited trip to Paris, when at the last moment
Grace'
s Stepsister
Maggie (Leighton Meester)
is to join along. Matters are complicated when we learn of
Grace
and
Maggie
's strained past.
Soon after arriving in Paris, the Girls find themselves disappointed. One rainy night however, they cross paths with an Heiress named Cordelia Winthrop Scott (Gomez) who bears a striking resemblance to Grace. In a case of mistaken identity, Grace, Emma and Maggie find themselves swept-off to Monte Carlo on a glamorous adventure they never had bargained for with Grace being forced to fill the shoes of a spoiled and demanding Cordelia.
While pretending to be Cordelia, Grace is finds herself in possession of a magnificent Bulgari Necklace worth millions of dollars, to be auctioned-off in the name of under-privileged children. She finds herself falling for Theo (Pierre Boulanger) who works for the Charity, and he too falls for her thinking that she in fact is the Heiress. Meanwhile, Emma finds herself contemplating her relationship with impulsive Boyfriend Owen (Cory Monteith) who proposes to her before her trip without a ring. Also, Maggie loses herself in a passionate romance with Australian Tourist Riley (Luke Bracey) who she meets in a chance encounter on the trip. How will love unfold for each of these three young ladies? And more pressingly, what will become of the three Girls when Cordelia uncovers that Grace has been impersonating her?
I'll admit that I had few expectations coming into Monte Carlo but I found myself swept away on an escape with Grace, Emma and Maggie, feeling genuinely I was a part of the Escape. Although there are occasional moments where it appears the ambitious dual role of Grace/Cordelia is a stretch for Gomez's range, she ably steps up to the task and I foresee bigger things to come from her - the raw talent definitely is there. Cassidy perhaps will benefit most from her work here taking a naïve Emma through a wave of emotions, coming out wiser through it all. Talented Gossip Girl Meester proves that she has the chops not only to deliver verbal punches and slaps, but also emote effectively in nuanced moments.
Although the Principal Cast here is geared toward a younger set,
Monte Carlo
actually presents a level of sophistication that might better be suited for an audience beyond those years. After all, the Film is based loosely on
Headhunters
by
Jules Bass
, centering around a group of middle-aged Women. And true, although this story itself has a
Cinderella
-like implausibility to it, before long you will find yourself immersed in these Girls' lives and their Adventure.
Bezucha
takes this material and tells it with a degree of elegance and a timeless sensibility, communicating through some stunning Cinematography by
Jonathan Brown
.
I will go out on a limb and say that 20th Century Fox's Monte Carlo is one of the better Chick Flicks to grace the Cinemas thus far in 2011. Selena Gomez just earned herself a new Fan here. Grade: B+