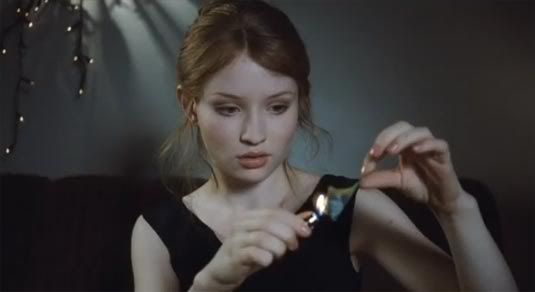 Still from Sleeping Beauty
Andrew O'Hehir
at
Salon
is one of the first to review
Julia Leigh
's
Sleeping Beauty
which is getting a tremendous amount of buzz at the
Cannes Film Festival
.
In the Review
, he calls the Australian Film "a strikingly impressive debut".
The Toronto International Film Festival's Cameron Bailey who would is on the look-out to being titles over to Toronto this September, noted on Twitter that "Realized I watched SLEEPING BEAUTY through feminist film theory goggles, but others didn't." – meaning he "got" it, despite mixed reactions. I'm expecting this one to get a Premiere at TIFF, seeing that Producer Jane Campion has a good relationship with the Festival and that TIFF is never shy of avoiding controversial titles.
Sleeping Beauty
although not directly based on
The Brothers Grimm
's
Fairy Tale
, centers around
Lucy (Emily Browning)
who enters a secret Prostitution Ring under the wings of a Madame named
Clara (Rachael Blake)
.
Lucy
's specialty however is her drinking a Special Tea (pardon the pun) which makes her fall asleep as her older Gentlemen have their way with her. Controversial and shocking.
O'Hehir
notes that
Sucker Punch
's
Browning
is seen nude through much of the Film – rather daring for this young up-and-coming Australian Actress who also happens to be
quite a Vocalist
. Am so intrigued by all of this!
See Photos from the Red Carpet, graced by the likes of
Rachel McAdams, Michael Sheen, Aishwarya Rai
and
Diane Kruger
, over at
Zimbio
here
.
(Photo credit: Paramount Pictures)