Ricky Martin at Casino Rama - April 2011
The perfect physical specimen that is
Ricky Martin
sizzled the Stage at
Casino Rama
in Orillia this evening before a packed House, which thankfully was more genuine Fans than High Rollers. Marketed as a Toronto stop-off in his
Música + Alma + Sexo
World Tour, it was a bit of a pity that Fans had to go to great lengths on a weeknight to see their favourite Latin Sexy Symbol. And I'll tell you, the most frustrating thing about having to venture two hours Northwest of the City for a Concert is seeing unappreciative Casino
VIP
Members get preferred seating and then wind-up leaving part-way through the Show.
Taking the stage shortly after 8:15 and delivering just-over 90 minutes of hip-shaking energy. Hits like
Vuelve, Livin' la Vida Loca, She Bangs, Shake Your Bon-Bon
and
Más
were delivered to an enthused crowd which by the end of the Set, was on their feet.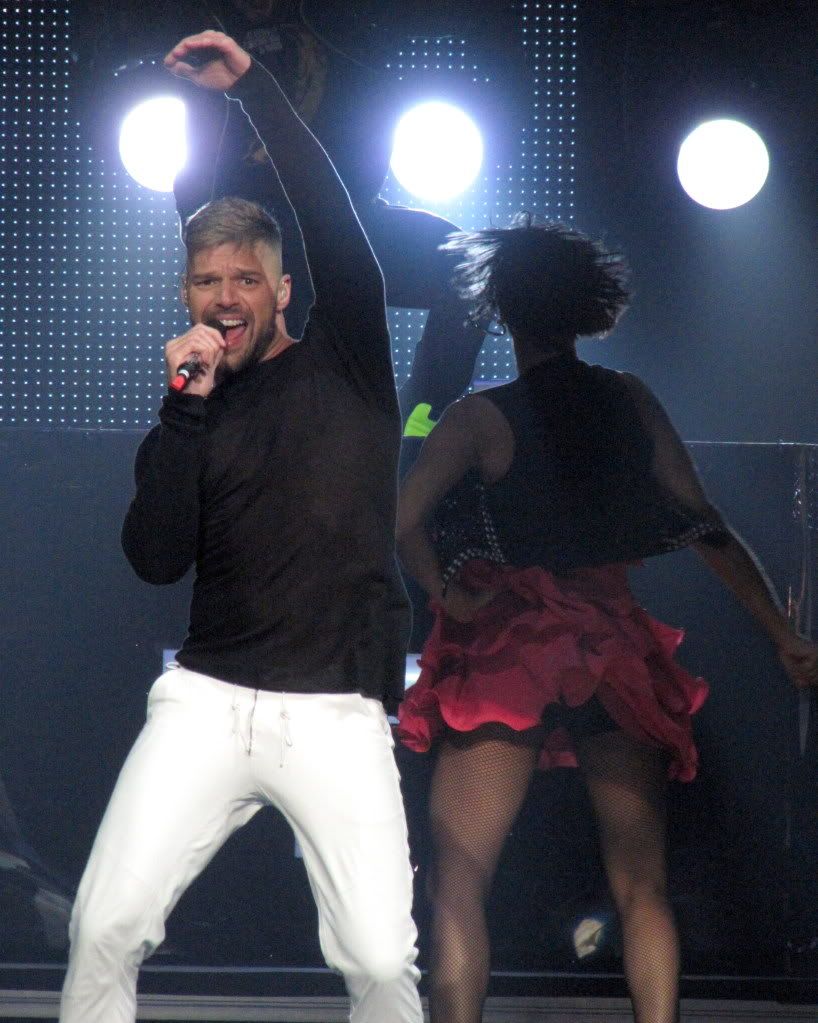 Catering to the hearts of his Spanish-speaking Fans, much of the Show's second-half was performed in
Martin
's Mother Tongue, paying homage to his native Puerto
Ricko
Rico at one point. "If you want a beautiful place to vacation, go to Puerto Rico!", he recommended to the crowd.
Cohesive, with a tightly-arranged eight-piece Band and always sexy, the Scandal factor was upped a few notches with
Martin
engaging in a series of suggestive
Tableaus
with both his Male and Female Dancers. At one point he had handcuffed some of them, while letting others place their hands allover that ripped Torso of his.
Lucky Putas.
La Copa de la Vida (The Cup of Life)
was a huge Crowd Pleaser, teasing us with a purposefully-delayed Chorus, asking repeatedly "Do you really want it?", before getting everybody's hands up in unison. And after leaving for a quick break,
Martin
returned to the Stage for an Encore of recent Single,
Lo Mejor de Mi Vida Eres Tú
(The Best Thing About Me is You)
minus
Joss Stone
. Donning a T-shirt which read, "YOU=ME",
Martin
told the audience: "All I want is equality", commenting on his recent self-outing as a Gay Man. Never for a moment should he doubt that he has the full support of his Fans.
A stupendous display of Showmanship and cause for a nice Cold Shower - you don't need to understand Spanish to understand
Ricky Martin
's appeal. His
Música + Alma + Sexo
World Tour is hot
- albeit too short - but still
hot
.
Follow
Ricky Martin
on
Twitter
here
.
See a Video I got of Martin performing Lo Mejor de Mi Vida Eres Tú (The Best Thing About Me is You):
Of course I've got more Photos. Look below:
(Photo/video credit: Mr. Will-W. | Audio content: Sony Music)