Kylie Minogue in Tokyo - April 2011
Our dear Friend MiT is an absolute Goddess! She sent over some Photos from Kylie Minogue's first Arena Tour in Japan in over two decades at Tokyo's Makuhari Messe International Convention Complex. Arriving in Tokyo a couple days ago at Narita Airport, it is said that Minogue was v. generous with Fans in signing Autographs.
Our favourite Australian import has offered her assistance in raising some money for Japanese Disaster Relief on Friday night attending a Gala which raised over $100k for the Japanese Red Cross Society. Amazing!
Although there were quite a number of empty seats at the venue, Minogue made it an intimate evening presenting a more scaled-down version of her Show, performing an array of Hits from her glitter-filled Repertoire. MiT notes that the stage set-up was rather simple, equipped only with "three sets of stairs, four dancers, no horses, no flying angels" as seen on the other stops of her Tour. Fewer costume changes too, I'm guessing?
Minogue who surprised Fans by announcing last December that she would be bringing her Aphrodite - Les Folies Tour to Japan. A total three dates were slated, including a final stop in Osaka on Monday. She will be appearing at Montreal's Bell Centre later this week, omitting Toronto completely from her Canadian dates this time around.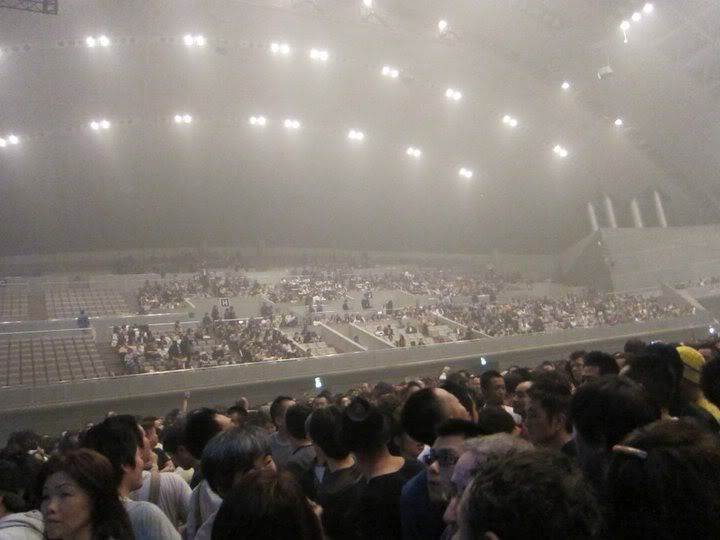 Audience at Makuhari Messe
To read my Review of
Minogue
's first-ever Toronto Show,
click here
.
(Photo credit: MiT)