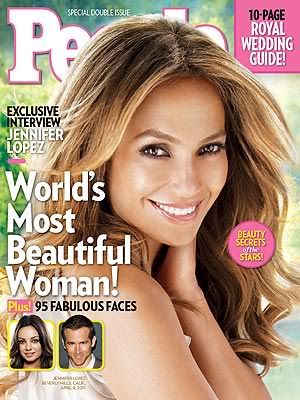 Jennifer Lopez on People Magazine
People Magazine has named Jennifer Lopez the World's Most Beautiful Woman of 2011. No surprises there and undoubtedly her turn on American Idol of late as a Judge has solidified that not only is she wonderful outside, but also has a heart.
The Mother of two tells the Magazine that she enjoys those days which she doesn't have to wear Make-up. Lopez admits, "I don't want anybody thinking it's easy. It does take time and it's hard work. HDTV widescreen is nobody's friend!". LOL
Lopez's long-awaited seventh Disc Love? hits stores April 29, 2011 and current Single On the Floor has peaked at number one on the Canadian Billboard Hot 100 and seems on its way to do so in the U.S. also, reaching the number five spot there.
(Photo credit: People Magazine)