Elizabeth Olsen & Mr. Will-W.
Don't even doubt that 22 year-old
Elizabeth Olsen
already is one of the hottest new names in Hollywood. The younger Sister of Multimedia Queens
Mary-Kate
&
Ashley
is just now working on her third Feature Film
Red Lights
, a Thriller directed by
Rodrigo Cortés
(
Buried)
. Only recently did she win accolades for her work in Horror
The Silent House
at this year's
Sundance Film Festival
in Park City. She also goes by
Lizzie
.
Olsen, who graduated from New York University's Tisch School of the Arts (yes, the School of Lady Gaga) not long ago, stars in Red Lights as the love interest of Cillian Murphy. The Film is about a Psychologist named Margaret (Sigourney Weaver) who with her Assistant Tom (Murphy) study Paranormal Activity. They then travel to Spain, visiting a world-renowned Psychic (Robert DeNiro).
Although a majority of filming for the Movie has taken place in Barcelona, two weeks' worth of Production was completed Toronto. Olsen wrapped early today and was actually a bit surprised to see that she had Fans asking for Autographs and wanting to take a Photo with her. "Ugh, I look like a mess!", she chuckled. Still though, she was incredibly friendly about posing for Photos as opposed to her Co-Star Murphy who was reported to be a little more shy about being photographed. Filming wrapped officially after midnight with Olsen being the first to finish today; Murphy was the last to leave the Set at Pinewood Studios this evening.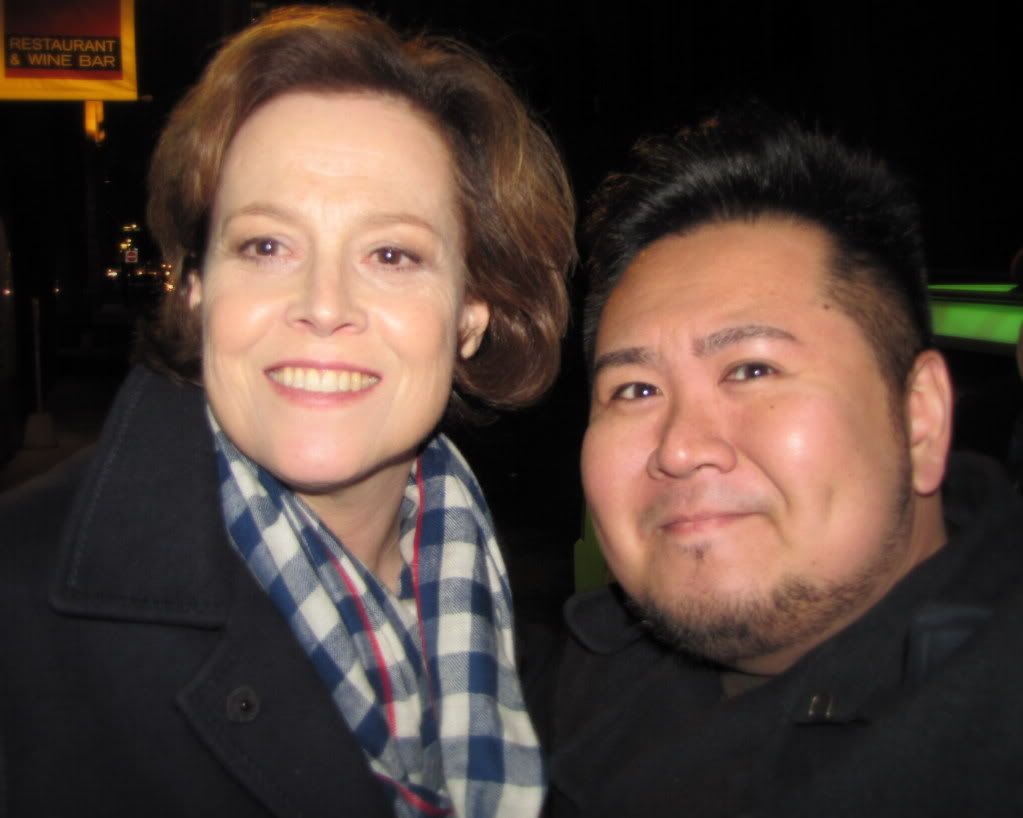 Sigourney Weaver & Mr. Wil
But guess who else I ran into also? Yes,
her
-
Sigourney Weaver
! Three-time
Academy Award
nominee. Star of
Ghostbusters,
the
Aliens
Franchise,
Avatar
,
Heartbreakers
,
You Again
,
Gorillas in the Mist
,
Working Girl
and overall
hotness
. After reporting yesterday that I spotted her out and about with a
Richtree Market
bag carrying her Dinner, I do admit to getting a bit of extra help with this one. To the kindhearted person who brought me together with one of my favourite Actresses for this Photo, I appreciate it.
Thank you!
Weaver
wrapped her portion just before midnight and despite being scheduled to speak at the
Power of Women
Conference today in Calgary, it doesn't appear that she was able to make it out due to obligations filming
Red Lights
. Known widely as a Sweetheart,
Weaver
was seen giving her Driver a generous tip and giving him a big hug. And can I say how amazing she looked up-close even with little Makeup?
Weaver
, with some of her Cast mates, is set to fly out tomorrow. For those of you who are curious,
DeNiro
was confirmed
not
to have been in Toronto despite rumours and alleged sightings.
Signed Photo from Cillian Murphy
Red Lights
is slated for a 2012 release. With
Cortés'
last Film
Buried
being a hit at
TIFF
2010, perhaps we'll be seeing a
TIFF
Premiere for this one?
(Photo credit: Mr. Will-W.)