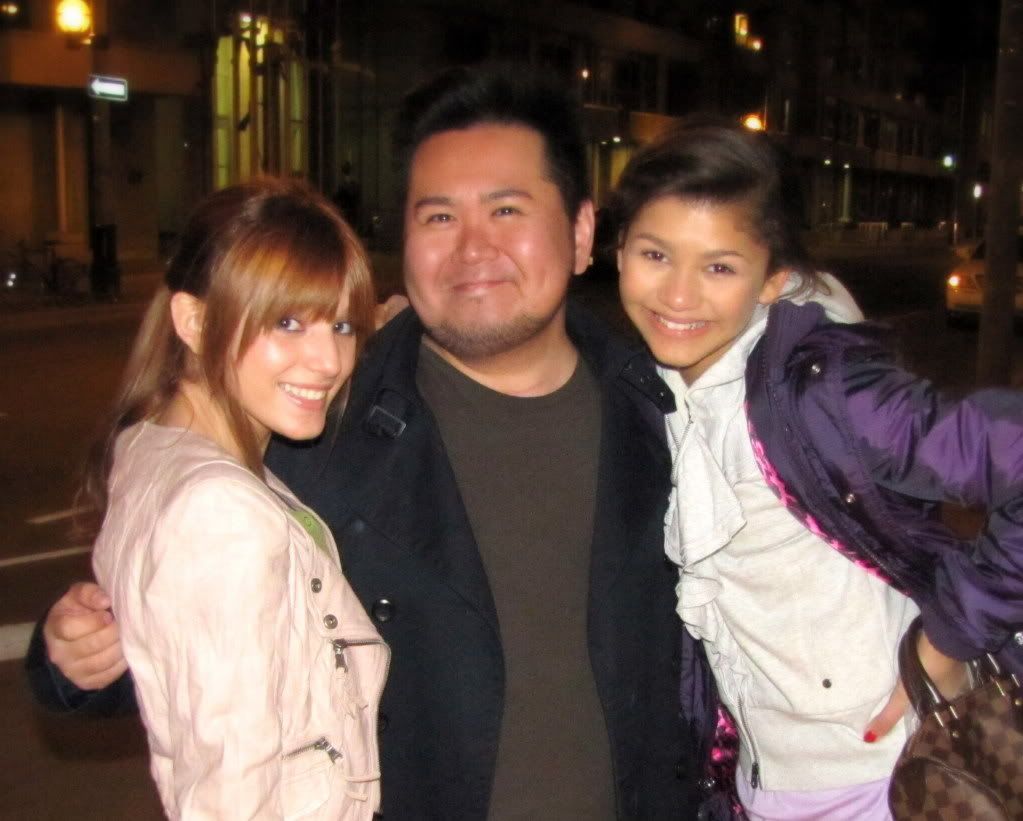 Bella Thorne, Mr. Will-W. & Zendaya
All work and no play makes for no fun. Disney Divas Bella Thorne and Zendaya, known best for their work on the hit Series Shake it Up, arrived in Toronto earlier in the week. Since then, they have been in and out of Production Meetings all week long. That hasn't stopped them from having a good time though, Tweeting about how much they love our Eaton Centre and restaurants like Gretzky's and Fionn McCool's!
Bella and Zendaya had a fun Girls' Day Out which included Manicure/Pedicures. Earlier in the day they were seen out by the TIFF Bell Lightbox with their Parents - Bella with her Mom (to whom she bears a striking resemblance!) and Zendaya with her Dad.
The Girls weren't shy at all about their love for Toronto Fans, posing for Photos and signing Autographs generously. Myself and a few Fans caught the Girls playfully egging each other on after their Nails were done, with a light Takeaway Dinner from
Subway
in-hand. They even had matching
Louis Vuitton
Bags! Talk about
BFF
s!
Zendaya
told us that she has been in Toronto a few times before
but hasn't had much time to go out and enjoy the City
yet
.
Bella opted for amazing Glitter 'n' Gold matching her fun spirit while Zendaya opted for Fire Engine Red, proudly flaunting the fruits of their patience at the Nail Salon. And they were unbelievably friendly and down-to-earth, taking turns posing for Group Shots with Fans while Zendaya's accommodating Father helped take Photos. He also took Photos of Fans on his iPhone too!
Bella and Zendaya are currently at work on a TV Movie tentatively titled Frenemies, by the same Production Company which brought us the Camp Rock Franchise. Details are nil on its Plot, but whatever it is about, expect their passionate legions of Fans to love-it-up! Frenemies films in the City from April 11 through May 16, 2011. All the best with Filming, Ladies. You are awesome!
Now for the fun stuff. I will be awarding one lucky Mr. Will-W.:Pop Maven Reader a set of guaranteed authentic signed Photos (above) from Bella and Zendaya! One Winner, two signed Photos. To qualify for the win, tell me in the Comments section, all about your biggest Frenemy. You have until May 15, 2011 midnight to qualify. Good luck, Mavenati! All are welcome to enter.
(Photo credit: Mr. Will-W.)